Cranberry Sauce and Thanksgiving Ideas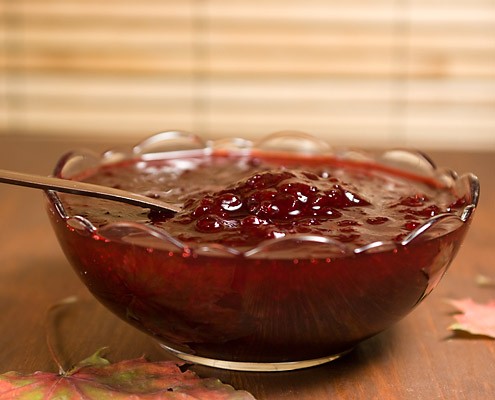 Nancy Lopez Mc-Hugh with a great collection of Thanksgiving ideas, and her own cranberry sauce recipe.
By Nancy Lopez-McHugh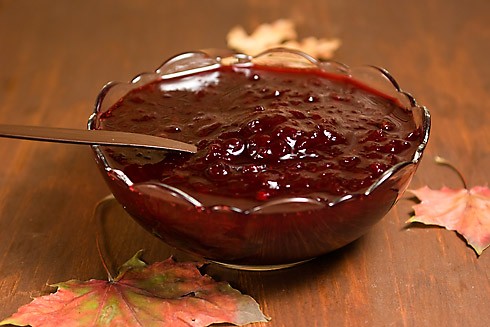 The holiday season is upon us. Thanksgiving day is in a few day, and that means many of you have already started planning your dinner menus. A must have staple on the American Thanksgiving Day table is cranberry sauce. Tough it is a staple on many American tables in my family's Mexican American fusion holiday table it was not to be found. Secretly I was always glad it never made an appearance. It wasn't that I disliked cranberries, no it was the way I saw it come out of cans. To me it looked like the gelatinous globs that collect on top of soup stock with nothing but preservatives to get it to that state. No knock on those who enjoy it. Actually I've never even tasted those cans so I might very well change my mind. I don't know. Have you guys tried it and what do you think of it ?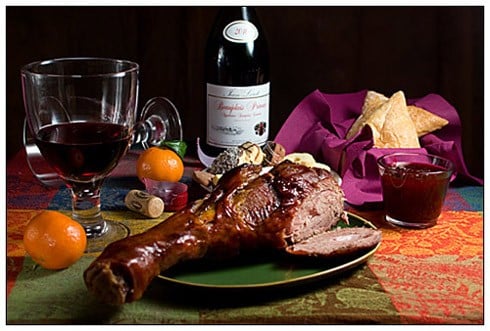 Last Thanksgiving, for the first time in a long time, when we decided to have a small dinner of our own we included cranberry sauce. The good thing about being in Europe is that those cans of cranberry sauce are not to be found,(well at least not in my local shops.), so homemade was the only option. As I began doing research for a good basic recipe I came across so many great recipes. But in the end I just winged it and added as I went. So this is the simple and boozy cranberry sauce recipe I made. Hope you like it and please continue to the bottom for more Thankgsiving recipes ideas by Honest Cooking contributors.

Cranberry Sauce and Thanksgiving Ideas
Easy, boozy cranberry sauce for the holidays.
Author:
Nancy Lopez-McHugh
Ingredients
½ lb. (230 grams) frozen whole cranberries
¾ cup water
1 cup brown sugar
¼ cup Merlot
½ tsp. ground cinammon
pinch of ground nutmeg
pinch of ground cardamom
4 whole allspice
2 whole cloves
Instructions
Pour the water, wine and sugar into a pot. Stir and allow the sugar to melt completely, then add all of the spices and frozen cranberries. Stir ingredients well. Simmer over medium low heat, stirring occasionally. Simmer until the cranberries break down and the liquid thickens. Taste the sauce and adjust the sugar to the sweetness desired.
Notes
Adjust the sugar amount to fit your personal taste.
While checking (read wasting time) Facebook I came across a great video someone had shared. It is comical yet has great tips on both preparing and really enjoying the Thanksgiving holiday.
Just Put the F**king Turkey in the Oven
See Also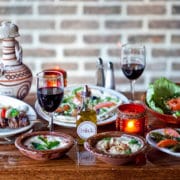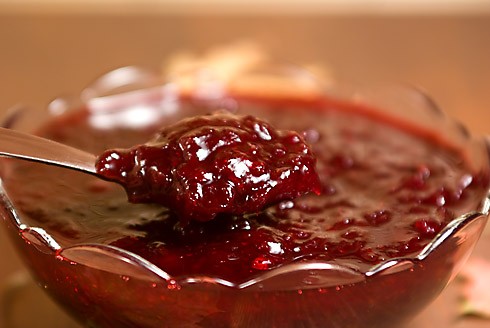 Need more Thanksgiving ideas? Check out these yummy recipes:
– Chocolate Pecan Pie by Taylor Kadlec
– Mushroom Wellington (for your vegan guest) by Jennifer Donoghue
– Sweet Potato and Butternut Squash Bisque by Niki Fox
– Green Beans with Toasted Walnuts and Dried Cranberries by Natalie McLaury
– Pumpkin Caramel Cheesecake by Tamara Novacoviç
Happy Thanksgiving Day!
Nancy Lopez-McHugh
Nancy Lopez-McHugh is a food blogger, photographer and published author. Most recently she has published "Yummy Pics: A Food Blogger's Guide To Better Photos".