This crisp and fragrant granola is easy to make and impossible to resist.
By Alexia Kannas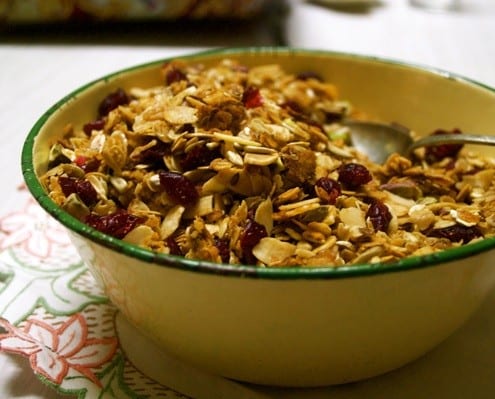 Making this muesli on a Saturday afternoon to get me through a busy week ahead always makes me feel sort of virtuous. As the crisp, golden, cinnamon-scented cereal cools on my kitchen bench, I pull out the big old jar I like to store the crunchy granola in and feel I'm preparing myself to conquer anything the world could throw at me. I feel organised, on top of things and self-sufficient; after all, I'm one of those people who make their own granola. But then, as I'm gently breaking up the maple-crusted chunks of toasted oats and seeds and nuts, I sneak a taste. And I remember that this granola has never lasted me beyond a Tuesday.
So now I've leveled with you: really, I'm one of those people who can eat granola for breakfast lunch and dinner. I'll splash cold milk onto bowl after bowl until all that is left in the big old jar are the cinnamon-flecked memories of a week that never was. You, dear reader, may have more restraint. But for me, this stuff is ambrosia (read: crack of the gods). Now, I'm not about to pretend that chowing down on a big bowl of this constitutes a particularly healthy start to the day. It is packed full of nuts and linseeds and sunflower kernels and cranberries which, of course, are all very nutritious. But after drizzling the whole lot with maple syrup and baking it until fragrant and crisp, I dare say this is a not a low-calorie affair. With some restraint however, this can definitely be part of regular weekday breakfasts. I love a scoop with good yogurt and fresh berries – and (usually) I'll gladly have a little of anything over none at all.
See Also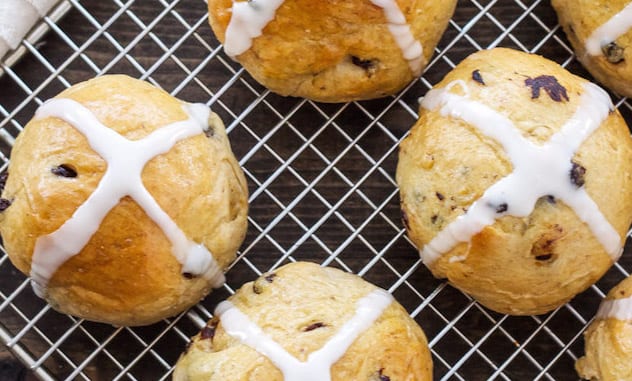 I'm not sure if making muesli at home is actually any cheaper than buying it, but I'd like to imagine that it is. In any case, it is a million times better than buying it from a store, because you can put whatever you want in and leave out all those bits that spoil your otherwise favourite store-bought blend. Don't care for cinnamon? Add some shredded coconut. Replace the maple syrup with more honey, or use pumpkin seeds instead of sunflower. Take out the cranberries, add apricots, or dried apple, or…goji berries or chopped dark chocolate (!). The world is your oyster – at least until Tuesday.

Cranberry, pistachio and cinnamon granola
This crisp and fragrant granola is easy to make and impossible to resist. Fill a vintage jar with this homemade cereal and tie a ribbon around the top for a perfect homemade gift.
Ingredients
2 cups rolled oats
1 cup flaked almonds
¾ cup sunflower kernals
⅓ cup linseeds
1½ teaspoons cinnamon
½ cup maple syrup
2 tablespoons grapeseed oil
2 tablespoons honey
¾ cup dried sweetened cranberries
½ cup pistachios, roughly chopped
Instructions
Preheat oven to 180C/350F. Line a baking tray with non-stick baking paper. Place syrup, honey and oil in a small saucepan over low heat until combined and runny, about 2 minutes.
Combine oats, almonds, linseeds, sunflower kernals and cinnamon in a bowl. Toss until the cinnamon is all evenly distributed all the way through the mixture. Spread the mixture in an even layer on your baking tray, then drizzle with warm syrup mixture.
Bake for around 12 - 14 minutes or until toasted and golden, stirring once during cooking. For a darker, more toasted finish, leave in up to 18 minutes. Keep an eye on it and test every few minutes to achieve the texture and flavour you like best. When done to your liking, remove and cool to room temperature.
Meanwhile, combine the cranberries and pistachios in a large bowl. Add the cooled oat mixture and stir until well combined, breaking up larger clusters to desired size. Store your muesli in an airtight container at room temperature. It's best within 14 days.
Alexia Kannas
Alexia Kannas is a writer and academic based in Melbourne, Australia, who spends her days thinking and writing about cinema - and food. Fascinated by the relationship between food and memory, she writes about how cooking, meals and taste recall moments from film, literature, history and imagination. Her dream dinner-party guests are Jarvis Cocker and all her non-single friends. The two things she fears most are i) guests leaving hungry and, ii) a world without gin.