Natalie McLaury considers herself a bit of a hoarder when it comes to magazines. Never one to pass up a good deal on a subscription, it's to the point where she now finds herself receiving a magazine in the mail several times a week. Most of the time, she rips out pages of recipes but fails to actually create the recipe in her kitchen. Not anymore! Join Natalie as she cooks the magazines.
By Natalie McLaury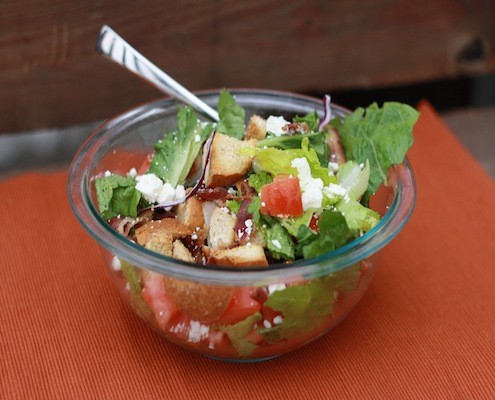 There isn't much I have to say about this salad. If you love BLTs, you'll be a fan of this slightly lighter version of the sandwich. I almost think it's more fun to eat than the sandwich version…does anyone else tend to scrape the roof of their mouth anytime they use toasted bread on a sandwich? Use whatever bread you have on hand for the croutons. I used small whole wheat rolls instead of a French baguette. The feta was a tasty addition to the salad and in re-reading the recipe now, I realized I completely forgot to add the green onions.
Whoops! I also misread the dressing instructions and didn't save bacon drippings to include in the dressing. Even without, the dressing served its purpose of lightly coating the salad. The job of the dressing here isn't to steal the show anyways…it's all about the B, the L, and the T anyways!

BLT Bread Salad
The ever-popular BLT sandwich is transformed into a salad! Inspired by Half & Half Restaurant
Ingredients
6 oz. French bread baguette, cut into ½ inch cubes (I used 5 small rolls, cut into cubes)
Cooking Spray
4 slices smoked bacon
1 tbsp (15 ml) olive oil
¼ cup (2 oz) red wine vinegar
¼ tsp (1 ml) freshly ground black pepper
⅛ tsp (.5 ml) salt
6 cups (900g) torn romaine lettuce
1½ lbs plum tomatoes, cut into ½ inch wedges
3 green onions, thinly sliced
½ cup (2 oz.) feta cheese, crumbled
Instructions
Preheat oven to 350F. Cover a baking sheet with foil and place bread cubes on it. Spray with cooking spray and bake for 15-18 minutes, until toasted.
In a large nonstick skillet over medium heat, cook bacon until crisp. Remove from pan and set aside. Reserve 1 tbsp bacon drippings and add oil to the pan. Remove from heat and stir in vinegar, pepper, and salt.
Crumble bacon and toss with lettuce, tomatoes, and onions. Drizzle with vinaigrette and toss with bread cubes. Top with cheese and serve immediately.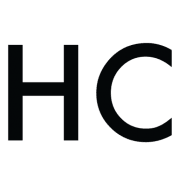 Natalie McLaury
Natalie McLaury is a St Louis based food writer with a passion for real food and experimenting in the kitchen. Her cooking ranges from healthy three course meals to decadent desserts, and she shares many of her food tips and recipes on her successful The Sweets Life blog . As an avid runner and fitness expert, she also gives the occasional tips on how to combine a serious interest in health with a sweet tooth.