Eggs are a sensitive, important topic for many people. They are an ingredient that nearly all of us share, regardless of what corner of the globe we are from. Follow Denise's steps for the perfect breakfast egg.
By Denise Browning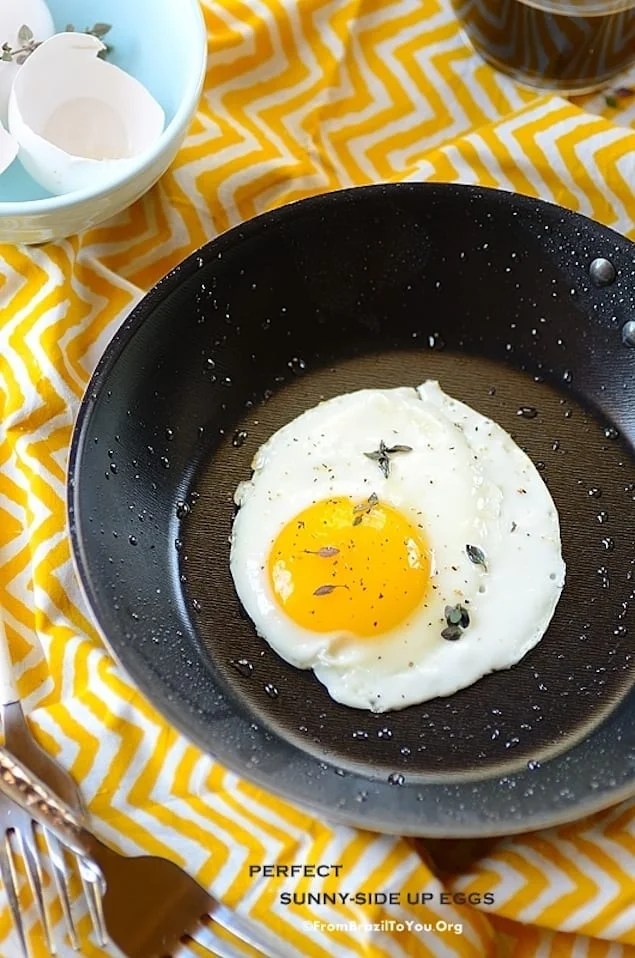 Eggs are a constant in baking, and frequently enjoyed at our breakfast tables as well as at other mealtimes. In Brazil, we love to serve them on top of a grilled steak which we call Bife à Cavalo ("Horseback-Riding Steak"). I decided it was time to present a simple and easy method or technique for how to cook PERFECT sunny-side up eggs (also known as fried eggs). For some, cooking perfect sunny-side up eggs is as easy as riding a bike… but for many others, not so much! Many just cannot seem to get them to come out soft and silky instead of producing crispy whites ends with hardened yolks…. With the simple technique that I am about to show you (my favorite of several), we are going to wind up with set yet soft whites, and runny yolks. Time and temperature play a big role in how to cook PERFECT sunny-side up eggs.

How to Cook Perfect Sunny-Side Up Eggs
Easy method for how to cook PERFECT sunny-side up eggs.
Ingredients
1 Tablespoon vegetable oil, bacon fat, or butter
2 large eggs
Instructions
Heat a large, non-stick frying pan over medium-low heat. A large pan would be spacious enough to hold 2-3 eggs at a time with a bit of space between them and thereby prevent generating steam. Pour about ½ teaspoon of water into the heated pan. If water sizzles and evaporates on the pan, it means that pan is hot enough to hold the eggs in the right form.
Lightly coat the bottom of the pan with olive oil or any vegetable oil of your preference, butter, or bacon fat (approximately 1 Tablespoon). If using butter, let it melt. You don't need a large amount of fat to fry the eggs because the pan is non-stick and you don't want the eggs to turn out greasy.
Crack the eggs gently into the pan to keep the yolks intact (remember: do not overcrowd the pan. Rather, keep a space in between the two eggs). Note: An egg ring can be used to keep the eggs round and yolks centered if desired. As the eggs cook, their color will change from clear to opaque white. Cook until the tops of the whites are set but the yolk is still runny. This will take about 2 to 2-1/2 minutes. Meanwhile, if the oil starts to spit it is a sign that the oil is too hot…In this case, please turn the heat down to low.
When sunny-side up eggs are ready, remove the pan from the heat. Use a large, metal spatula (not rubber) to remove the eggs from the pan one at a time and place on a serving plate. The metal spatula blade is thin enough to slide underneath the eggs without tearing them. And the large size of the blade will give more optimal support to keep the soft yolk intact while transferring from the pan to the plate. Some people like to dab them gently with paper towel to soak up any excess oil but I don't dab mine because fat is flavor!!! Sprinkle salt and freshly ground black pepper — and also fresh or dried herbs if desired. Serve immediately and enjoy!
Denise Browning
Denise Browning is a native Brazilian foodie, trained Chef, cooking instructor, restaurant menu/recipe developer, and former lawyer. She is also the author of From Brazil To You - a blog that features Brazilian, fusion, and international dish recipes, stories, and photography of Brazil. Her writing has appeared in Cia Brasil Magazine, while her photography is frequently featured on Foodgawker, TasteSpotting, and Foodepix. She lives in Texas with her American husband and two children.