Jessie Chien Bryson provides an easy weeknight trout recipe that might just convert your fish haters into fish lovers.
By Jessie Chien Bryson
I've been yearning to mix up my repertoire lately. Pastas and salads are good, but every so often you need something fishy in your diet.
But I've found that husbands and kids seem to have a natural repulsion towards seafood, unless it comes raw and wrapped in vinegary rice and seaweed. Such strange beings those two groups are. So, I'm always fishing around for recipes to introduce scaly swimmers as a viable competitor on our dining room table.
I've always loved seafood, so have been a major proponent for the advocacy of more fish in our household. In addition to being tasty, fish is an excellent source of vitamins and nutrients that we humans lack from eating just meat and veggies and pastas. Fish can promote a healthy heart, smooth skin and enrich hair, and it'll even make you younger. Well, that last one is simply wishful thinking.
Fish like salmon and sea bass- two of the more popular and "easier" to prepare fish, have been outfished and outsourced in the last decade. However there are ethically caught and environmentally friendly options: Arctic Char is a great substitute in lieu of salmon, and Silver Hake (or whiting) is an excellent white fish that provides to be a good replacement for sea bass. Click on over to the Monterey Bay Aquarium seafood guide for more details on what fishes are both good for your tummies and good for the environment as well. Luckily, trout is on the list!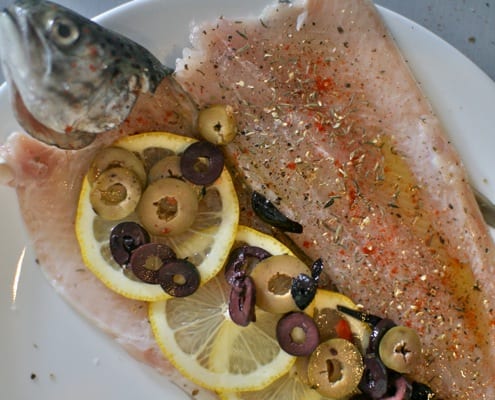 I'm a huge fan of whole fish, and our local Whole Foods grocer sells these whole, deboned trout on a regular basis. Cheaper and significantly more local than Branzino (although if you are reading from the Mediterranean, I encourage you to use Branzino instead!). Since I've slowly tricked my husband over time into eating fish by slathering single-filets of wild caught salmon with mustards and herbs, I figured it was about time to introduce other options into the mix – head, tail, and everything in between. Hence this simple yet tasty trout recipe, a great addition to spice up your usual mix of dishes, for which my husband can attest to.

Citrus and Olive Stuffed Trout
Baked whole fish is a healthy, easy, and fast option for dinner. Lemon and olives compliment the fish with savory and zingy flavors.
Author:
Jessie Chien Bryson
Ingredients
3 whole trout (about 2-3 lbs)
salt and pepper
pinch of cayenne
pinch of oregano
extra virgin olive oil
1 whole lemon, sliced thinly
12-15 olives, a mixed variety, sliced
Instructions
Ask your fishmonger to scale, debone, and butterfly your fish for you. When you get home, check for additional bones by running your fingers over the filets. Use a tweezer to extract more bones, if desired.
Rinse the inside and outside of the fish clean with cold water. Pat completely dry.
On a large baking sheet lined with foil, open all three butterflied trout, skin side down, and season the insides with salt and pepper, cayenne and oregano. Drizzle a bit of olive oil onto each fish. Slightly overlap lemon slices on each filet, so that at least 3-4 fit on each. Divide your olives and portion an even amount on top of the lemon slices.
Close the butterflied fish, and press down to ensure the lemons and olives are kept from spilling out.
Bake at 325 degrees (F) for 20 minutes. The flesh should be firm and the skin dry and slightly browned.
Notes
When buying fish like trout, whose filets are smaller than, say, tuna, one fish can generally serve two people.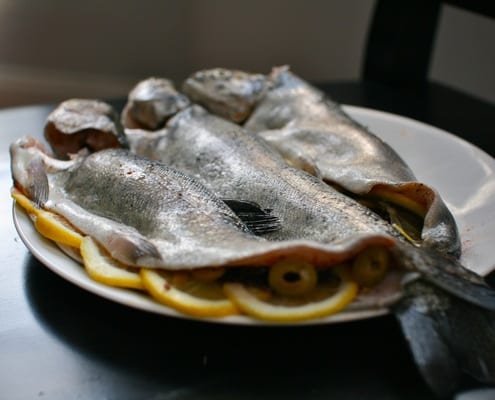 Jessie Chien Bryson
Jessie Chien Bryson grew up spending sunny California Thanksgivings eating 20lb. free-range turkeys along with sides of Chow Mein, which is what she thinks cemented her insatiable interest of food cultures and sustainable methods as an adult. She recently spent two years in Guangzhou, China, where the locals were said to eat anything with four legs but a table and anything that flies but a plane. She's now on the other side of the world in Dar es Salaam, Tanzania, where she keeps a diary of food, travel, and expat adventures at www.jessbopeep.com