South American papas rellenas get a gluten free make over. Plus a little added Mexican flair.
By Nancy Lopez-McHugh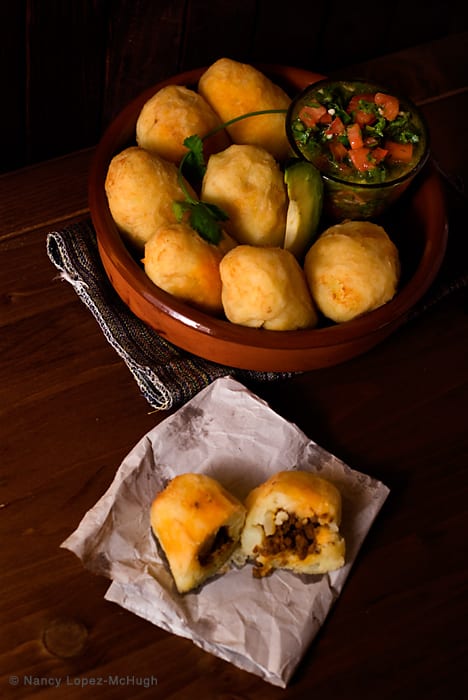 Papas rellenas con chorizo or chorizo stuffed potatoes is one of the best ways I have eaten potatoes. What I love most is how versatile the recipe is. You can stuff them with meats, cheese, or other vegetables. Additionally they can be battered with eggs and breadcrumbs or just dusted with flour, and either deep fried or baked. So many options and all of which I have tried.
These type of stuffed potatoes are not a traditional Mexican dish, they are from South America. In fact I first discovered them many years ago in a Columbian restaurant. I have tried to stay as true as I could to those stuffed potatoes I tasted so many years ago. But I have experimented and tried out new ideas to make them with a Mexican flair –the chorizo.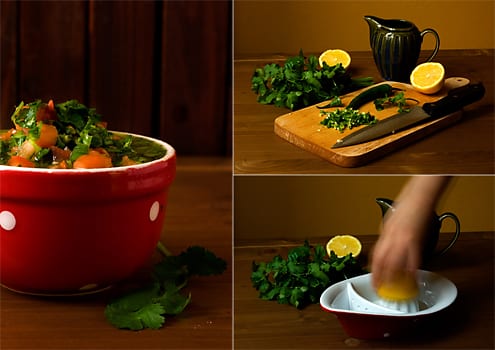 These little potato balls may be eaten as an appetizer or made larger for a main meal. The stuffed potatoes you see in these pictures were part of an appetizer for a small dinner party. One of our guest follows a gluten free diet so to accommodate her I prepared a gluten free version. Rather than dredging the potatoes in egg batter and breadcrumbs, I only rolled them in a plain gluten free white flour. The outer texture wasn't as crunchy as the breadcrumb coated ones but they were a hit with everyone. If you'd like feel free to use both regular flour and breadcrumbs.
See Also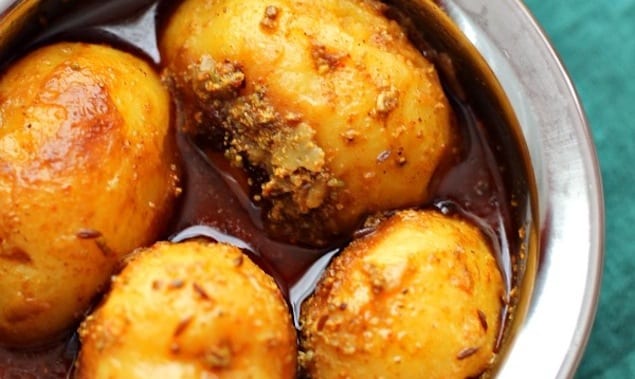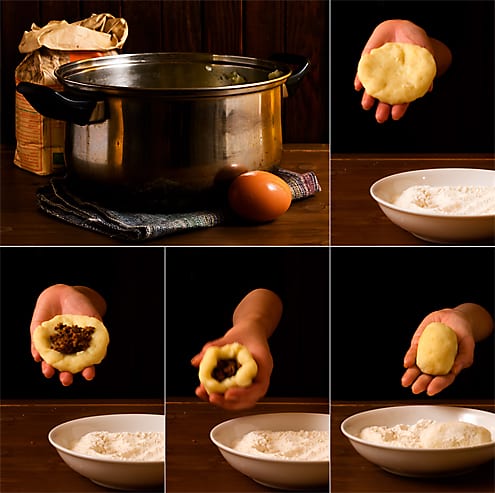 Mexico On My Plate: Chorizo Stuffed Potatoes
South American papas rellenas get a gluten free make over. Plus a little Mexican flair is added too.
Author:
Nancy Lopez-McHugh
Recipe Type:
Appetiser, Main, Entree
Ingredients
POTATO INGREDIENTS:
1 kilo or 2 lbs starchy peeled potatoes, evenly cut (weight is before peeling)
salt, to taste
1 medium egg
200 gm or 7 oz Mexican chorizo, cooked
½ cup plain gluten free white flour
oil for frying or prepared baking sheet
SALSA INGREDIENTS:
2 bunches or large handfuls finely chopped cilantro
2 lemons
1 finely chopped medium tomato
2 tbsp rice vinegar or white vinegar
50 ml olive oil
3 tbsp water
salt, to taste
Instructions
SALSA INSTRUCTIONS:
Combine all ingredients and allow to sit in refrigerator until ready to use.
POTATO INSTRUCTIONS:
Boil peeled potatoes until fork tender. While the potatoes are prepare the salsa by simply mixing all ingredients in a large bowl, then place in refrigerator until ready to use. Once potatoes are ready, drain and use a potato masher to mash, sprinkle with salt and set aside to cool. Make sure the potatoes have cooled enough for you to handle comfortably.
Prepare a bowl for the flout. Grab some mashed potato and make a flat disk between your palms. Lift it away from your palm to make sure it peels off in one piece. Place about 1 tbsp of the chorizo in center, and bring all ends together to form a ball. If need be add more mashed potato to help form the ball. Another way to shape the filled potato ball is to first make the flat disk on you palm, add the filling in the center, then use more mashed potato to cover, then shape the ball. Roll the potato ball in flour set aside and continue until all of the mashed potatoes have been used.
Heat enough oil to deep fry the shaped potatoes. The oil amount will depend on how large you have shaped the potatoes. Heat the oil to 375º F or 190º C. Gently place the potatoes into the oil and fry for about 3 minutes or until the potatoes are lightly golden brown.
Allow to cool for a few minutes before serving. Top with the salsa and serve as an appetizer, snack, light lunch or dinner.
Notes
This recipe makes 14-16 medium sized balls.
Nancy Lopez-McHugh
Nancy Lopez-McHugh is a food blogger, photographer and published author. Most recently she has published "Yummy Pics: A Food Blogger's Guide To Better Photos".