Chocolate Hazelnut Cupcakes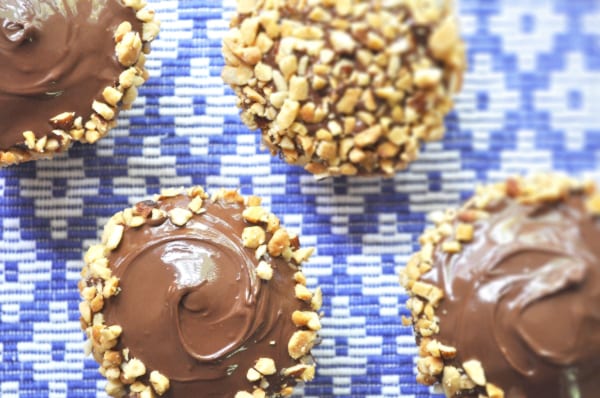 This is a classic yellow cake recipe with just a little bit of cocoa powder and hazelnut extract added.
By Liz Swartz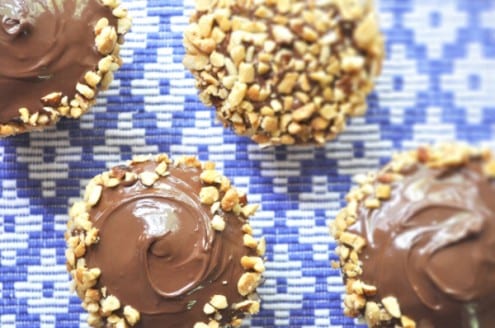 he cupcake is subtle so that the Nutella frosting can take center stage. As for the frosting…I just scooped it out of the jar and added some nuts.
Chocolate Hazelnut Cupcakes
This is a classic yellow cake recipe with just a little bit of cocoa powder and hazelnut extract added.
Ingredients
1 cup butter
1½ cups white sugar
8 egg yolks
¾ cup milk
1½ teaspoons vanilla extract
2 cups cake flour
2 teaspoons baking powder
½ teaspoon salt
⅓ cup cocoa powder
½ tbsp hazelnut extract (if you get lower quality you'll need more)
Instructions
Preheat oven to 350 degrees F. Line two cupcake pans. Sift together the flour, baking powder and salt. Set aside.
In a large bowl, cream together the butter and sugar until light and fluffy. Beat in the egg yolks one at a time (you can save your egg whites for breakfast tomorrow!), then stir in the vanilla and hazelnut. Beat in the flour mixture alternately with the milk, mixing just until incorporated. Pour batter into prepared pans.
Bake in the preheated oven for 20 to 25 minutes, or until tops spring back when lightly tapped. Cool them 15 minutes before turning them out onto cooling racks.
I just spread a little Nutella on these and dipped them in chopped nuts (they don't have to be hazelnuts). It is super easy and super attractive!
Lizzy Wolff
Lizzy Wolff, creator of Sugar + Butter, loves to make you drool on your keyboard. It's a real thrill for her. For more recipes, click 'website' below.