These are adult chocolate chip cookies. With a healthy dose of espresso, dark chocolate chunks, and spiked with coffee liqueur, they are a rich dream come true.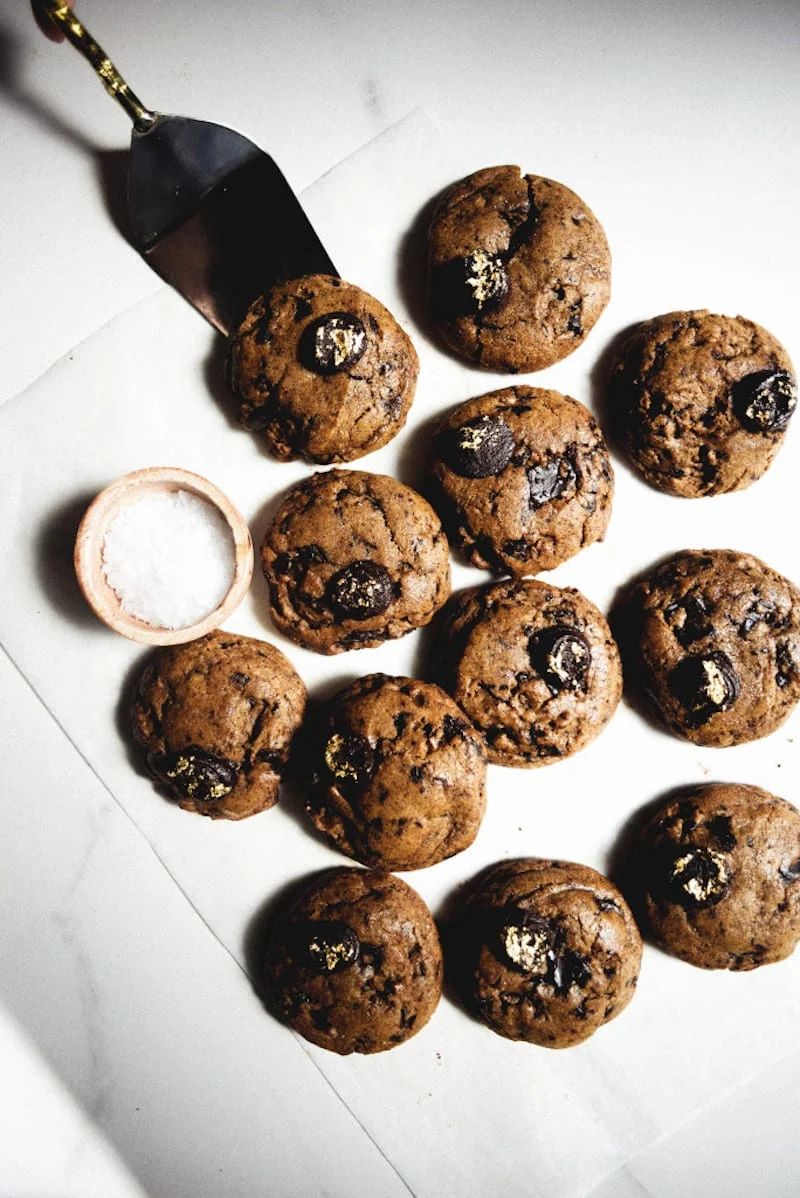 Espresso is one of my favourite ingredients to bake with. And eat too. It feels bold to proclaim these words out into the open, but I believe it the truth. It reminds me of cool winter mornings, black coffee in hand, pottering about and organizing breakfast. It reminds me of warm summer evenings, sharing tiramisu beneath the moonlit flecked sky. It reminds me of crisp autumn sunsets, the air singed with moody shadow and illuminated by the atmosphere of nostalgia. In each moment and memory, the flavour of espresso, brings comfort. And I'm sure it's the same for you too. We are a coffee loving culture.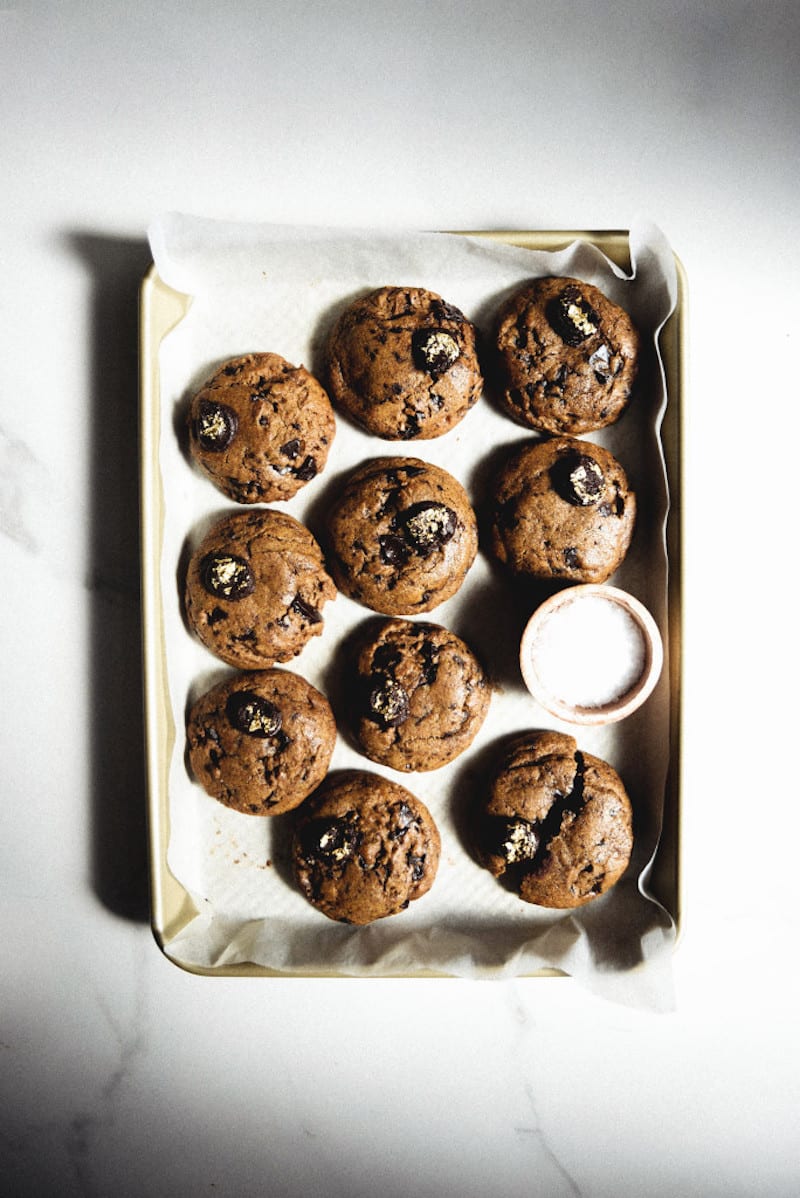 I like the flavors of espresso best in a cookie. These Chocolate Chip and Espresso Kiss Cookies take me to a special place. They are a good, chocolate chip cookie. An adult chocolate chip cookie, if you will. Rich in espresso, laden with dark chocolate chunks and spiked with a bit of coffee liqueur.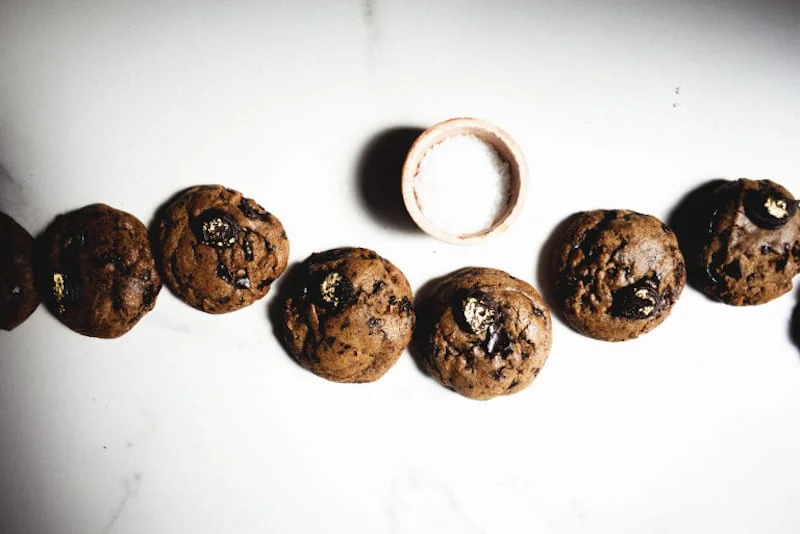 See Also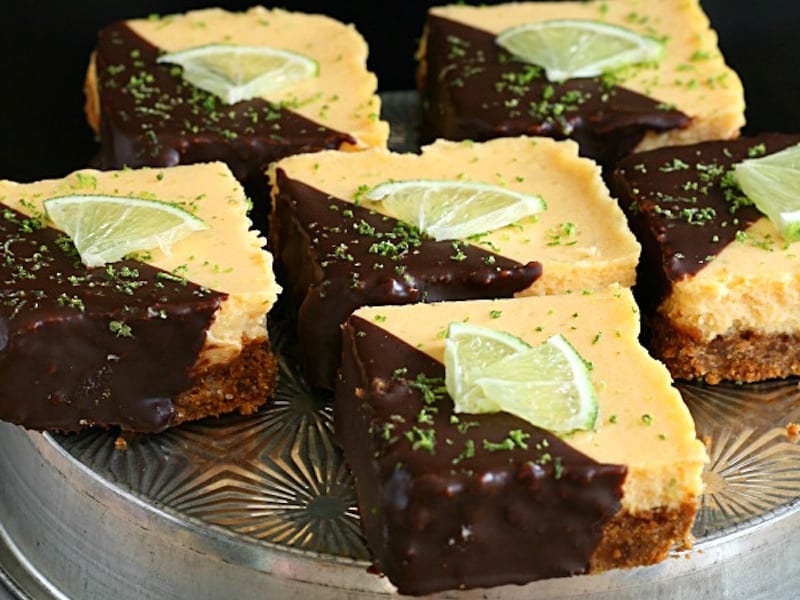 The cookies are densely chewy but light and incredibly soft. Moorish and addictive, perfect for snacking. Even better for dunking.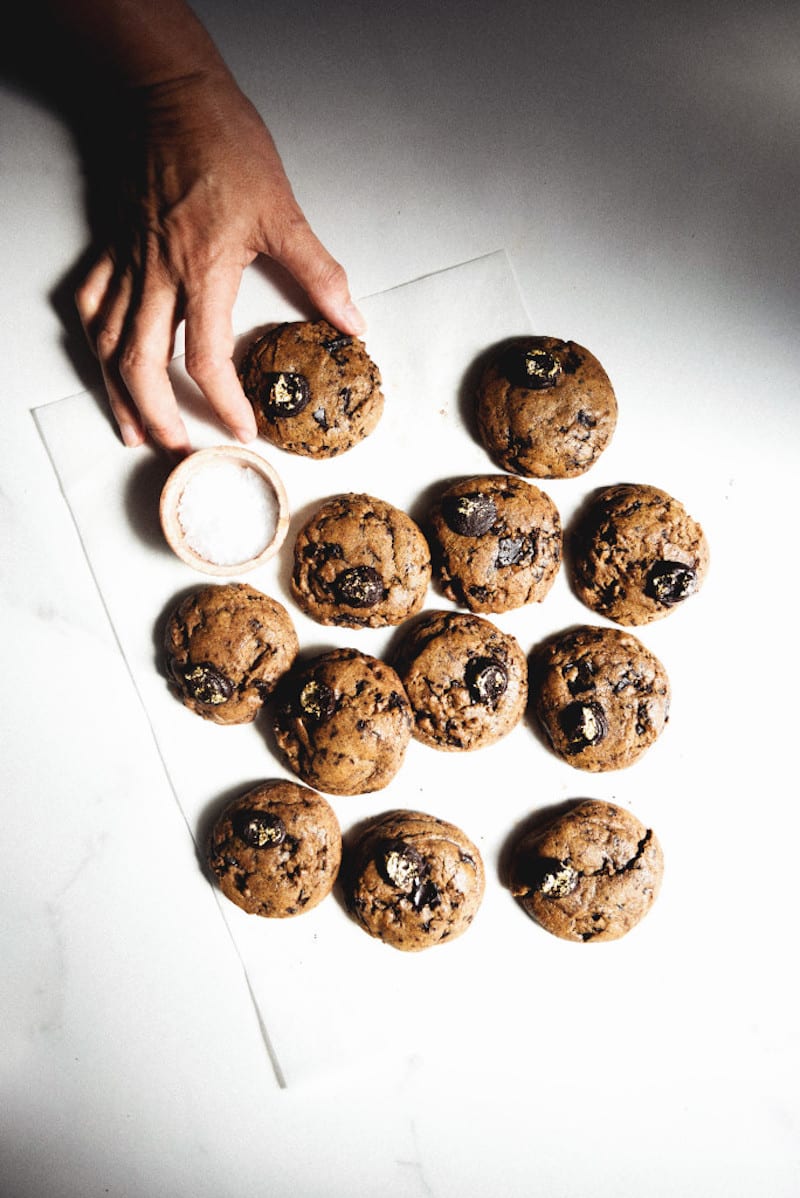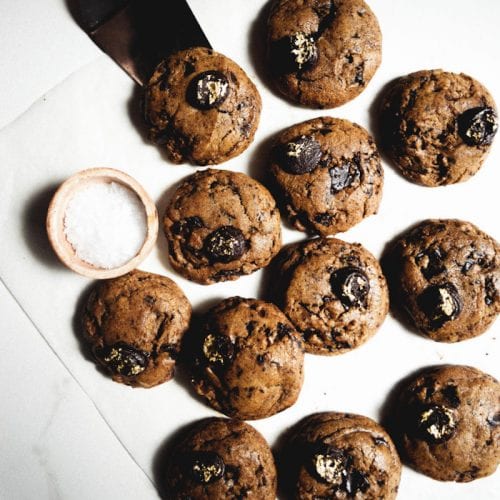 Thalia Ho
Course
Baking, Chocolate, Cookie
Ingredients
For the espresso kisses:
200

grams

7 ounces dark chocolate, very finely chopped

75

ml

2.7 ounces heavy cream

½

tablespoon

finely ground espresso powder

Edible gold leaf

optional
For the cookies:
120

grams

4.2 ounces unsalted butter, at room temperature

50

grams

1.8 ounces light brown sugar

170

grams

6 ounces dark brown sugar

2

large egg yolks

at room temperature

1

teaspoon

vanilla bean extract

1

tablespoon

coffee liqueur

optional

240

grams

8.5 ounces plain flour

¾

teaspoon

baking soda

1

tablespoon

finely ground espresso powder

¾

teaspoon

sea salt

170

grams

6 ounces bittersweet (70%) dark chocolate, roughly chunked
Instructions
For the espresso kisses:
Place the chocolate in a heatproof bowl. Set aside.

Place the cream and espresso powder in a small saucepan set over low heat. Heat, stirring occasionally, until the mixture reaches a light rolling boil.

Pour the hot cream mixture all over the chocolate and let it stand for 1 minute to acclimatise.

Using a rubber spatula, gently stir the cream into the chocolate until it is melted and smooth.

Set the bowl aside to reach room temperature then chill in the fridge until firm but smooth enough to pipe, 15 to 20 minutes. Stir occasionally.

Spoon the chocolate mixture into a piping bag fitted with a 1 cm / ½ inch round nozzle. Pipe out 16 x 2 cm (3/4 inch) chocolate kiss drops onto a baking tray lined with parchment paper. Chill in the refrigerator until hard then decorate with gold leaf, if using.
For the cookies:
In the bowl of a stand mixer set on medium speed and fitted with the beater attachment, or with handheld electric beaters, beat the butter and sugars until light and fluffy, 4 minutes.

Increase the speed to medium-high and add in the egg yolks followed by the vanilla bean extract and liqueur, if using. Beat until well combined. Pause mixing to scrape down the bowl as needed.

In a separate medium sized bowl, whisk together the flour, baking soda, espresso and salt.

Set the mixer speed to low then add the dry ingredients to the beating butter mixture in two separate additions. Beat until just combined. Pause mixing to scrape down the bottom and sides of the bowl as needed.

Remove the bowl from the mixer and using a rubber spatula, fold through the chocolate.

Wrap the dough bowl in clingfilm and chill for at least 1 hour, preferably overnight.

When you are ready to bake, pre-heat the oven to 180 C (350 F). Line three baking trays with parchment paper and set aside. Remove the dough bowl from the refrigerator and let stand at room temperature for 30 minutes before using.

Use an ice-cream scoop to scoop out 16 even sized balls of dough, or use a generous tablespoon as a measure. Place the dough balls onto the baking trays, spaced well apart to allow for spreading.

Bake for 10 to 13 minutes or until golden, crisp on the outside but slightly soft in the centre. Make sure to rotate the sheets halfway through baking to prevent unevenly baked cookies.

Remove the cookies from the oven and immediately press a chocolate kiss drop onto the sides of each cookie.

Let the cookies harden on their trays for 8 minutes before transferring to a wire rack to cool slightly before serving.
Notes
The cookies are best eaten on the day of baking but can be stored in an airtight container at room temperature for up to 3 days.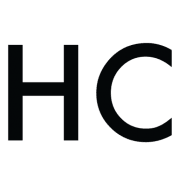 Thalia Ho
thalia is a law student by day, blogger at butter and brioche by night and all around francophile. In her free time you'll find her spending hours on end in her kitchen, testing recipes, baking decadent treats, exploring cookbooks and getting lost in the digital world.