This dish is both inticing and comforting for cool winter evenings, but still with a fresh flair.
By Rinku Bhattacharya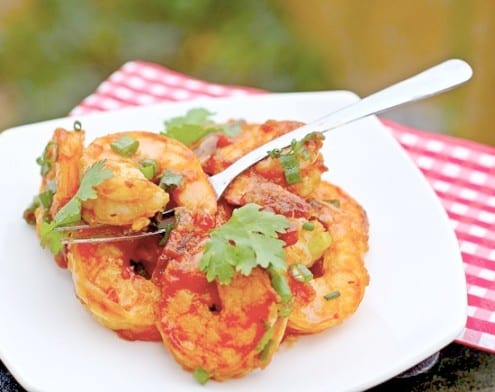 This shrimp recipe side steps some of the negatives of Indo-Chinese cooking and lays off the deep frying. I have pan crisped it without much effort, as for the name. Tell me, how authentic are Indo-Chinese names anyway, they are an art unto themselves.
Chili Garlic Hakka Shrimp Recipe
This dish is both inticing and comforting for cool winter evenings, but still with a fresh flair.
Author:
Rinku Bhattacharya
Ingredients
For the Shrimp
1 pound of large shrimp, shelled with tails on if desired
1 tablespoon fresh lemon juice
1 teaspoon soy sauce
2 tablespoons cornstarch
3 tablespoons canola or other mild tasting vegetable oil
For the tossing sauce
1 tablespoon oil
11/2 teaspoon freshly grated ginger
¼ cup ketchup
1 tablespoon sriracha
1 teaspoon horseradish sauce
1 tablespoon lemon juice
1 teaspoon honey
4 tablespoons chopped scallions
1 tablespoon finely chopped cilantro
Instructions
In a mixing bowl, place the shrimp and mix it with the lemon juice, soy sauce and the cornstarch.
Heat the oil in a wide bottomed pan for at least a couple of minutes until almost smoking.
Place the shrimp in a single layer and cook for about 3 minutes on each side, until the shrimp crinkles and curls and turns nice and crisp.
Gently remove the shrimp on to a plate.
Add in the remaining tablespoon of oil and add in the ginger and saute lightly.
Mix in the ketchup, sriracha, horseradish, lemon juice and honey and bring the sauce to a simmer.
Lightly toss the shrimp into the sauce and stir in the scallions. Turn off the heat and garnish with the cilantro and serve with steaming white rice as a meal or on its own as an appetizer.
Rinku Bhattacharya
Rinku Bhattacharya, is a teacher of Indian Cooking and the author of the blog, Spice Chronicles. A busy working mother Rinku is committed to offering a practical approach of flavorful, everyday cooking often with an Indian Accent. An author of three cookbooks, Instant Indian, Classic Foods for Every Region of India made easy in the Instant Pot, Spices and Seasons, Simple, Sustainable. Indian Flavors and The Bengali Five Spice Chronicles. Rinku's passion for food starts with cooking and trying new recipes and extends to pairing and drinking wine with food and trying usual combinations by fusing various culinary influences. Rinku and her family are very committed to a sustainable lifestyle, and she uses mostly local produce for her recipes. She is joined in this effort by her husband who is an avid gardener and her children, Deepta and Aadi.