Chickpea Salad with Feta and Cilantro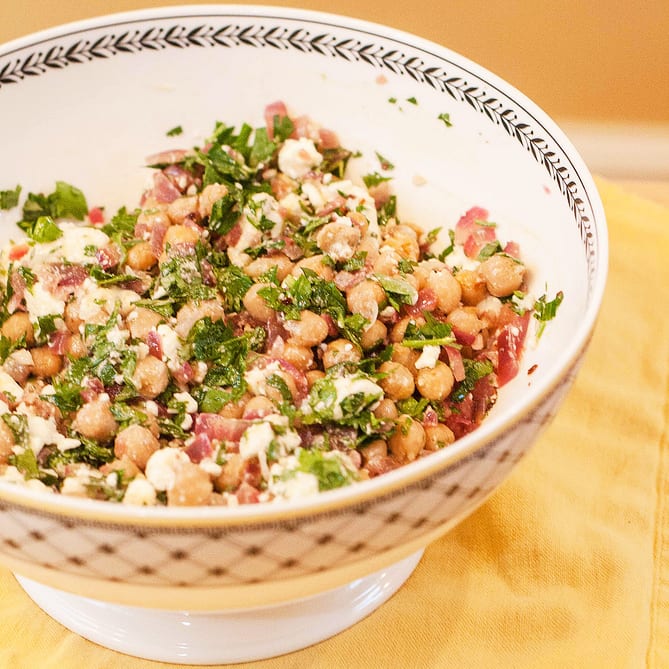 This is a filling salad thanks to the chickpeas, but the herbs and jalapeño keep it tasting bright and fresh.
By Sara Clevering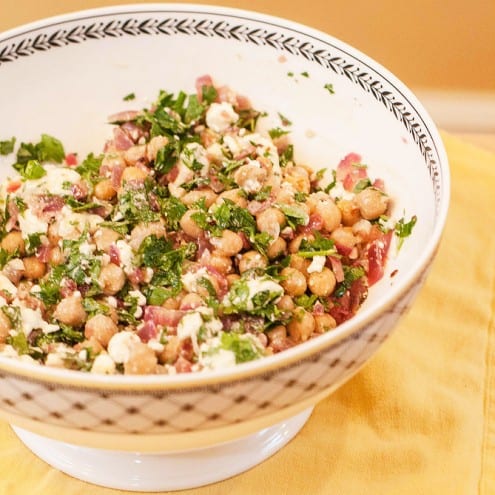 Chickpea Salad with Feta and Cilantro
This is a filling salad thanks to the chickpeas, but the herbs and jalapeño keep it tasting bright and fresh.
Author:
Sara Clevering, adapted from Tessa Kiros
Ingredients
1¼ cup chickpeas, soaked overnight, and cooked OR two cans.
½ c olive oil, divided
1 large red onion, finely chopped
1 jalapeno or other pepper, seeded and chopped fine OR ½ t red pepper flakes (or to taste)
5 cloves garlic, chopped fine
juice of one lemon
1 cup feta
½ cup chopped cilantro
1 cup chopped parsley
Instructions
Cook the chickpeas until soft if using dried chickpeas (about 1½- 2 hours). Drain the beans.
Sautee the red onion gently in ¼c of olive oil. If using dried pepper flakes, cook together with the red onion. When the onion has softened and the red has turned to a slightly translucent magenta, add the garlic and fresh pepper if using. Cook for another 30 seconds or so until you can smell the scent of the garlic, and remove from the heat and allow to cool slightly.
Squeeze the juice of the lemon into a bowl. Add the chickpeas and the remaining olive oil, and season with salt and pepper (but be careful with the salt as the feta will be salty). Pour the onion mixture over (including the oil) and stir in. (I like to add while it's still warm to help the flavors meld).
Crumble in the feta, and finally stir in the chopped cilantro and parsley. Adjust for salt, and serve at room temperature.
Sara Clevering
Sara sees cooking and baking as a delicious way to connect with the past and travel the world from her kitchen. She is commited to preparing homemade, unprocessed meals for her family and is always looking for tricks to fit this into a busy schedule. Sara is currently in the Boston area after several years living in London, Spain, and the Czech Republic, and travelling extensively in Eastern and Western Europe, always making sure to experience local culture through food. She also blogs with her sisters at www.threecleversisters.com