Dig into this beautifully-spiced side dish made of eggplant stuffed with flavorful basmati rice and chickpeas.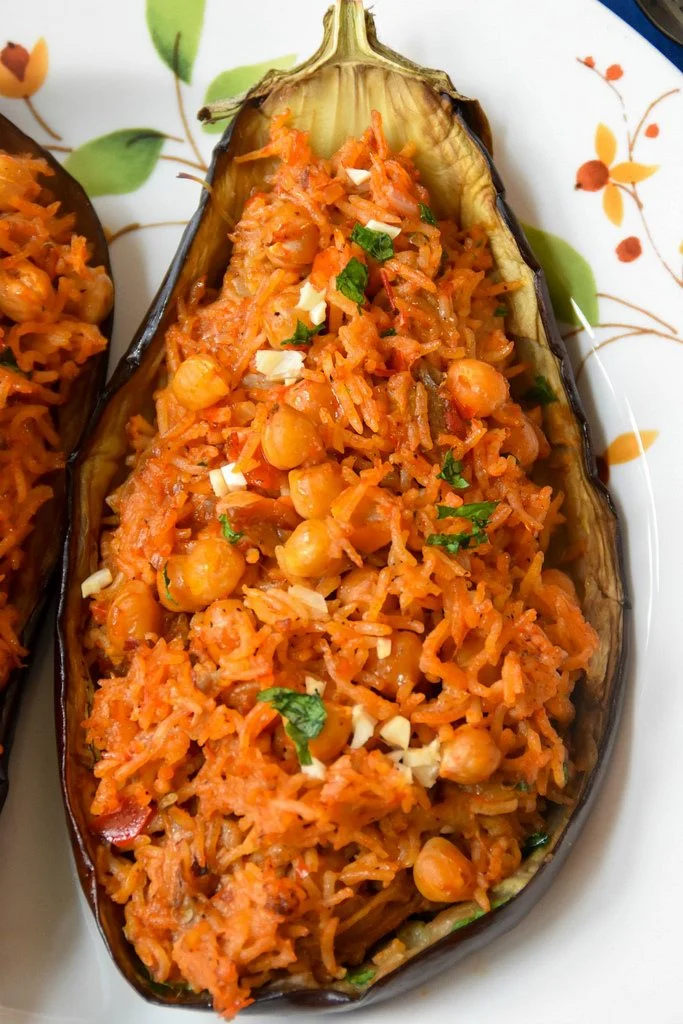 While growing up we used to eat rice a lot, and on occasions we had rice or rice dishes 3 times day. Now I have changed that habit, I still love rice, but it is mainly for lunch. When I saw this Denizli eggplant dolma recipe in the Turkish delights book by John Gregory Smith I loved it. The original recipe uses lamb, but I don't eat lamb, so I added Chickpeas in its place. Thus, I made Chickpea and Basmati Rice-Stuffed Eggplant. I used both oven and Instant pot to make this recipe.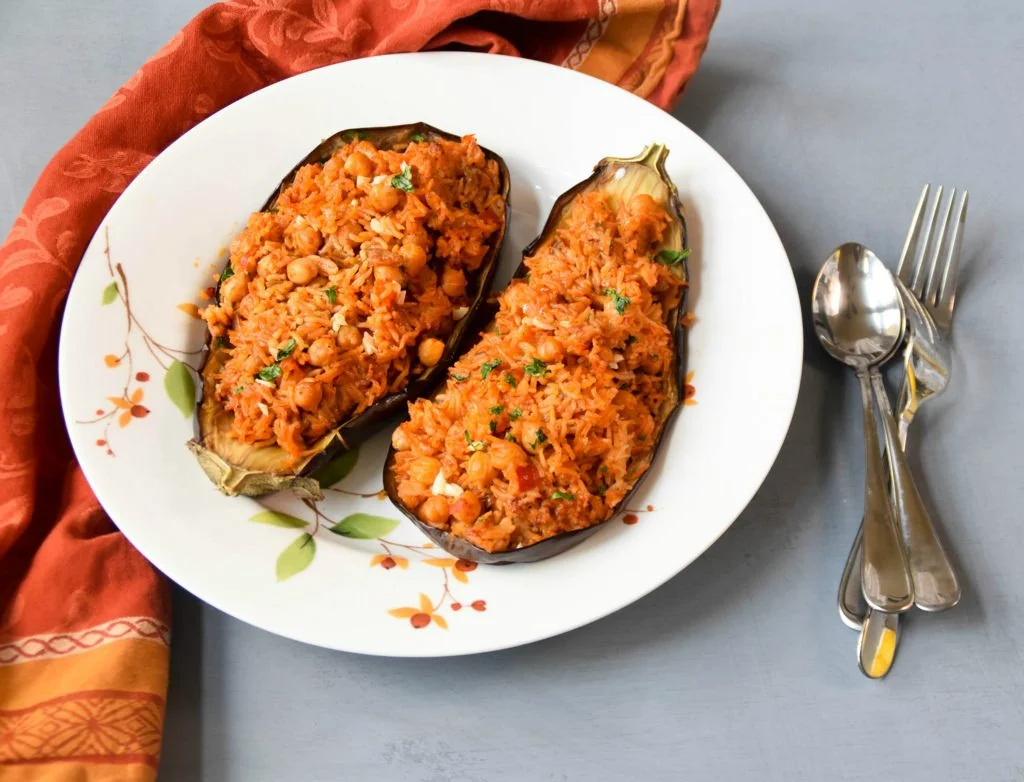 Dolma in Turkish means the word dolmak, "to be stuffed. Since Dolma without meat is sometimes called yalanc? dolma'fake dolma' in Turkish, I think my version is that. I have made this recipe few times as my final photography got tanked due to lack of sunlight or due to bad basmati rice. I also tried with potato instead of chickpeas, but I liked the version with chickpeas the most. I used same spices as written in the recipe. The eggplant that he used is small, but here in US you get big Japanese eggplant, so I used that.
Original Denizli eggplant dolma is made with dried eggplant which they hollow out the flesh and is dried during summer. Getting a dried hollowed out eggplant here is not possible so author used the technique of roasting eggplant in the oven and then flesh is scooped out, I used that method.
Nowadays I am not cooking rice in stove top and uses Instant pot to cook it. I modified the original recipe little bit because of that.
See Also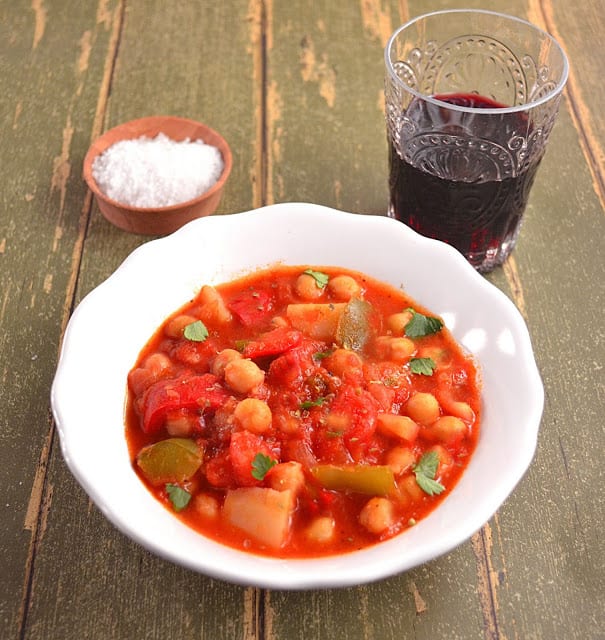 Make sure to buy red bell pepper paste from middle eastern store that gives the color to the dish. I have earlier tried a few pastes from other store, but it doesn't give the color as it supposed to be. Once the rice is done it is scooped into eggplant shell and baked for another 5 minutes to crisp up a bit. This is really flavor full dish. If a person from the land of spices and biryani tell you that it is good, it means it is good.
Print
Chickpea and Basmati Rice-Stuffed Eggplant
Prep Time:

10 minutes

Cook Time:

40 minutes

Total Time:

50 minutes

Yield:

4

servings

1

x
4 tablespoons

olive oil

1

large egg plant cut in half lengthwise and flat sides scored into a crisscross pattern

3/4 cup

chopped onion

1

13.5 oz/459g can of cooked chickpeas

1 cup

of basmati rice

2 tablespoon

tomato paste

2 tablespoons

red bell pepper paste/ Hot Ajvar

1 ½ teaspoon

red pepper flakes

1 teaspoon

ground black pepper

3/4

–

1

cup water

2 tablespoon

finely chopped parsley

1

garlic clove finely minced.

½ teaspoon

salt
Instructions
Preheat the oven to 400F and Line the baking sheet with aluminum foil. Drizzle ½ teaspoon oil over each halved eggplant and place it on baking sheet. Roast it in oven for about 30-35 minutes until it soft. Set aside to cool enough to touch. Remove the flesh with spoon and keep the eggplant shell aside.
Set Instant pot in Sauté mode and heat 2 tablespoon of olive oil then add onion and fry for about 2-3 minutes until it turns the color.
To this add tomato, red pepper paste, red pepper flakes, black pepper, salt, rice, chickpeas and water cook in high pressure for 5 minutes. Then manually release the pressure after 10 minutes of natural pressure release. Add half of parsley and fluff the rice.
Scoop the rice into the egg plant shell and add garlic. Then topped with parsley and drizzle olive oil over the top. Put the stuffed eggplants into the oven for 5-6 minutes to allow the rice to bake for some time and infuse eggplant flavor.
Serve immediately with yogurt.
Swathi Iyer
Swathi ( Ambujom Saraswathy) loves to explore cuisines from all over the world, and write about the ones that she and her family enjoyed on her blog Zesty South Indian kitchen. She loves to gives an Indian touch to several of the world cuisine, and has weakness for freshly baked bread. She is also a mom to two wonderful young kids who gives a up or down vote to the food she creates.