Celebrate Christmas with a traditional Italian Feast of Seven Fishes. Serve cioppino and Baccalà for a real Italian feast.
By Laura Rothman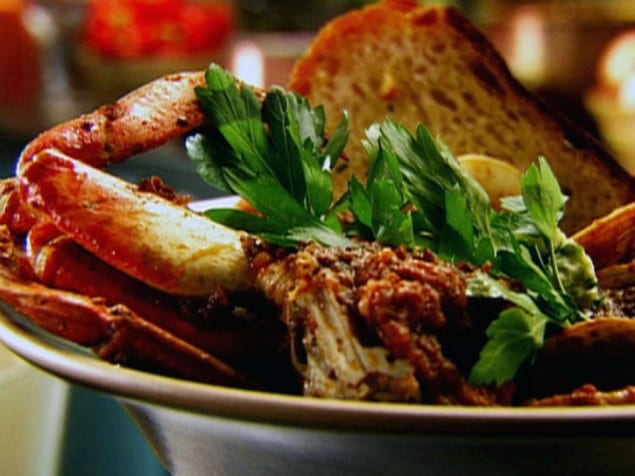 Like many Christmas traditions, The Feast of the Seven fishes was started as a combination of religious and geographical customs. Originating in Southern Italy, "La Viglilia di Natale" was the celebration of the midnight birth of baby Jesus.  Because Catholics cannot eat meat or dairy during the period of Advent leading up to Christmas, La Vigilia was celebrated with a feast of fishes. Even now, many recipes used for The Feast of Seven Fishes are Southern Italian in nature.  Cioppino, Baccalà, lobster, and calamari are found at traditional Italian tables.  The Italian-American dinners often maintain the same recipes while adding their own regional twists.  In San Francisco, Dungeness crab might be found at the table, or in New England, you might start with a bowl of clam chowder.
The two recipes included here are traditional, both in Italian and American households.  Cioppino, a seafood stew, is a great way to reach the quota of seven (eleven or thirteen in some homes!) different fishes.  Often made with clams, mussels, and shrimp, cioppino is an easy and tasty dish to serve as an accompaniment to any meal.  Toast some country loaf and rub it with garlic for a perfect dipping addition! The second dish is Baccalà, or salt cod.  Not often regarded as a delicacy, when prepared in the traditional Southern Italian way, it is sumptuous, flaky, and flavorful.
Here is a delicious cioppino recipe.  You can make it the day before and keep it refrigerated, heating it up immediately before serving.

Baccalà
A traditional preparation of salt cod for the Christmas Eve celebration of The Feast of the Seven Fishes. Keep in mind that it will take between 1 and 3 days to soak the fish, so start early!
Ingredients
4 pounds dried salt cod, cut into 3-inch pieces, soaked
8 to 10 all-purpose potatoes, peeled and quartered
1 cup fine quality olive oil
1 bunch celery, trimmed, well washed, and cut into 3-inch pieces
1 large onion, chopped
2 cups Gaeta olives, pitted
4 (28-ounce) cans hand crushed San Marzano plum tomatoes, with juice
12 cups chicken broth
Salt, to taste
Instructions
Soak cod in water for 24 hours or until the flavor of the fish becomes more sweet than salty. To check, simply remove a little flake from the fish. Change the water frequently to insure the flavor will change--the water will be clear when the fish is ready!
Sautee the celery with oil in a heavy bottomed casserole dish. Add onion and sautee until the vegetables become soft. Add olives and cook for another minute. Stir in tomatoes and their juice. Bring to a boil, reduce to a simmer, and cook for another ten minutes.
Add potatoes and fish, cooking for ten minutes or until the potatoes are soft when poked with a fork.
Salt and pepper to taste. But remember, the salt cod is quite salty and this dish might not require any extra salt!
(recipe adapted from Uncle Vincent's Christmas Eve Baccalà)
Photo courtesy of http://www.foodnetwork.com/recipes/tyler-florence/halibut-and-cioppino-recipe.html