Nancy Lopez-McHugh goes to the museum, and comes back with a great salad idea.
Text And Photo By Nancy Lopez-McHugh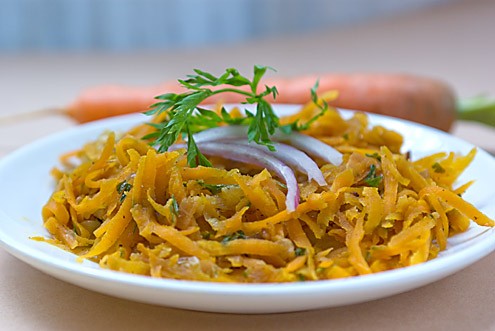 Did you know that Carrot greens or carrot tops are edible? Yuppers, they are! The other day I picked up a bunch of fresh organic carrots that were on sale with the greens still on them and I got curious, are they edible? I quickly found out that they are and in fact are quite nutritious, rich in vitamins, minerals and proteins. The carrot tops can be used raw or cooked, tossed in salads, used in soups and many other creative ways.
I found this great site full of info all about carrot greens and even some recipes, it's called Carrot Museum. On this site they also say the following, "The leaves do contain furocoumarins that may cause allergic contact dermatitis from the leaves, especially when wet. Later exposure to the sun may cause mild photodermatitis. (This is NOT the same as 'poisonous' – it will only affect susceptible people with allergies to the plant. Some people have the same reaction to yarrow, ragwort, chamomile etc.)" I handled and cooked the greens, we both ate them and we are both still alive, so no allergies for either of us. The taste is quite strong so I would suggest that you use them sparingly at first or taste to see if it's something you like the taste of. The taste was a little bit bitter and very leafy tasting. I wouldn't say I loved the taste but I also didn't hate it.
Anyways, I did really like the warm shredded carrot salad I added the greens to. It was a little sweet and a little garlicky. It is a fast and easy recipe for a great side dish or you could also eat this as a main meal. It is also vegan, healthy and low in calories without skimping on great taste. I served the salad along with steamed white rice and some sauted eggplant for a small vegan meal.

Warm Shredded Carrot Salad with Carrot Greens
Warm Shredded Carrot Salad with Carrot Greens. Great as a Vegan meal or a vegan side dish.
Author:
Nancy Lopez-McHugh
Ingredients
3 medium carrots, peeled and shredded
carrot leaf greens to taste ( I used a small handful)
1 small red onion, finely chopped
3 garlic cloves, minced
1 inch or 2.5 cm piece of fresh ginger, peeled and finely chopped
3.5 ounces or 100 grams shredded cabbage
½ tsp. salt, adjust to taste
pinch of black pepper
¼ tsp. ground Turmeric
1 Tbs. sunflower oil
Instructions
Heat the oil in a large pan then add the finely chopped red onion and saute until soft. Add the garlic,ginger and saute for 3 minute. Next add the shredded cabbage stir to combine with the pan ingredients, cover and allow the cabbage to soften completely. Once the cabbage is soft add the carrot and carrot leafs stirring to well combine all of the ingredients. Lastly sprinkle in the spices and stir the vegetables well. Continue to cook until the carrots have softened, about another 5 minutes. Serve as a side dish or as a main meal with some steamed white rice, it's delicious as a vegan meal or snack.
Nancy Lopez-McHugh
Nancy Lopez-McHugh is a food blogger, photographer and published author. Most recently she has published "Yummy Pics: A Food Blogger's Guide To Better Photos".