This is tailgating food, meant to be paired with good beer and football.
By Maggie Cubbler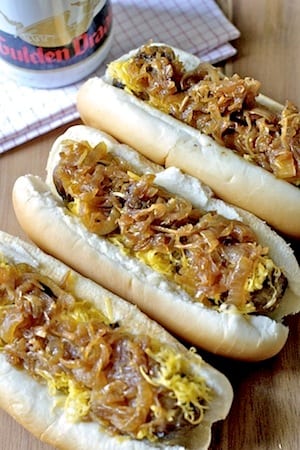 Print
Caramelized Beer Onions and Cheddar Bratwurst
---
Author:

Maggie Cubbler

Total Time:

40 mins

Yield:

4

1

x
Description
This is tailgating food, meant to be paired with good beer and football.
---
---
Instructions
Finely slice the onion in half-moon shapes.
In a medium stainless steel saucepan, heat about 1TB of olive oil over medium-low heat. Add the onions and cook, without stirring for about 10 minutes or until you start to see some dark caramelization on the pan. Stir the onions, scraping off the color from the sides and bottoms of the pan.
Add a pinch of salt to the onions and stir. Let the onions sit, checking in every 5 minutes or so to see if there is more caramelization to scrape off the pan. (I used a wooden spoon to scrape it.)
Keep repeating the process until the onions are a rich, dark color. Do not increase the heat or allow the onions to burn!
Once the onions have reached the desired color and you are unable to scrape any more color off the pan, deglaze with the 2TB of beer. Quickly stir using the liquid to scrape off all the caramelization possible. Set aside.
Place the brats in a separate large saucepan and cover with beer. If it doesn't cover, just top it off with water. Simmer over medium heat for about 7-8 minutes or until cooked. Keep an eye on the pan because the beer will boil over!
Once par-boiled, you can finish off the brats over a grill or in a skillet with some olive oil over medium heat. Cook until desired color is achieved.
Serve in a nice hot dog/hoagie bun and top with sharp grated cheddar cheese and caramlized onions.
Prep Time:

10 mins

Cook Time:

30 mins

Category:

Main
Maggie Cubbler
Maggie Cubbler is a beer-and-food-loving Yankee living in North Yorkshire, England. When she's not pulling pints at a traditional Yorkshire pub, she devotes her time to her Labrador, husband, and working on her blog: Loaded Kitchen. She loves to pair beer with food, cook with beer, and drink a (half) pint or two with the natives. Besides blogging and drinking, Maggie is currently studying to become a certified Cicerone while trying to figure out why Yorkshire men like lime cordial syrup in their lagers. Take a swing by her blog and check out the party in her pans.