Rum-soaked vanilla buttermilk cake layers are stacked up with creamy ricotta and mascarpone cannoli filling and coated in a cinnamon and citrusy buttercream before being glazed with rich chocolate ganache. We're in dessert heaven.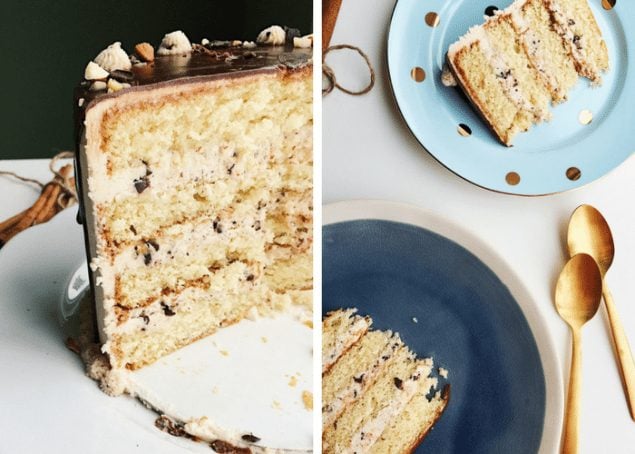 As an Italian growing up in New Jersey, cannolis had a quintessential role in my life. They were a prominent part of any dessert table or special occasion, happily placed next to a colorful cookie tray and sfogliatella ("lobster tails," another cream-filled pastry).
My family would debate about what local Italian bakery made the best cannoli, each having their passionate opinion. And when a bakery they loved had an off day or put out an inferior product, they weren't afraid of expressing their disapproval with fiery Italian fever. They'd give them a second or even third chance, sure, but if they didn't redeem themselves the bakery would become per me sei morto ("dead to me").
As a kid, I didn't care much for cannoli filling. It wasn't sweet enough for my overly sugar-favored palate. I would lick the chocolate chips off the edges and sneak the cannoli back into the pile, chocolate-less. I never dare touched the pistachio ones, not trusting a nut that was bright green; true to my skeptical and questioning nature.
As an adult, I grew to love cannolis. Although, moving out of New Jersey and to the West Coast at 21 has made it impossible to find a good cannoli for the past 10 years. Or, at least, what I was raised and trained to define a good cannoli as.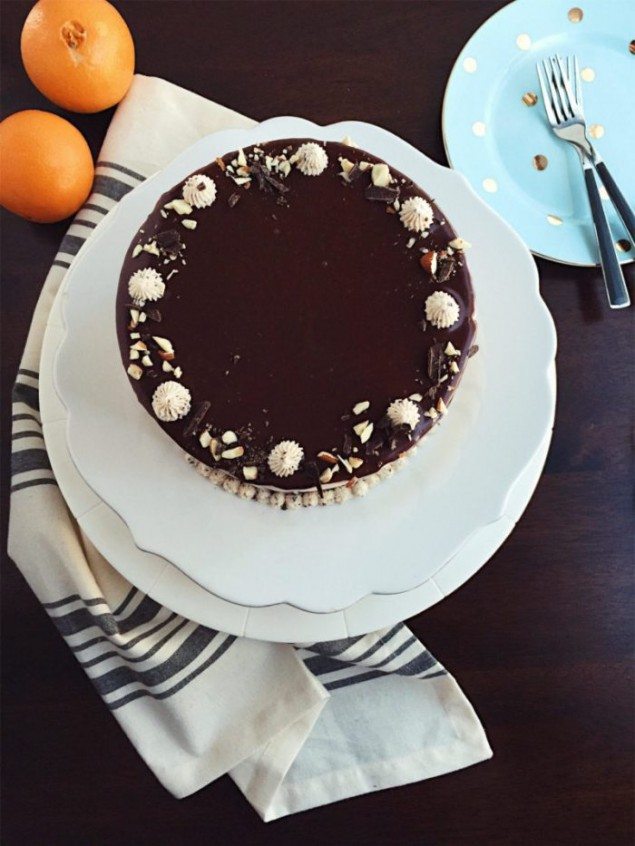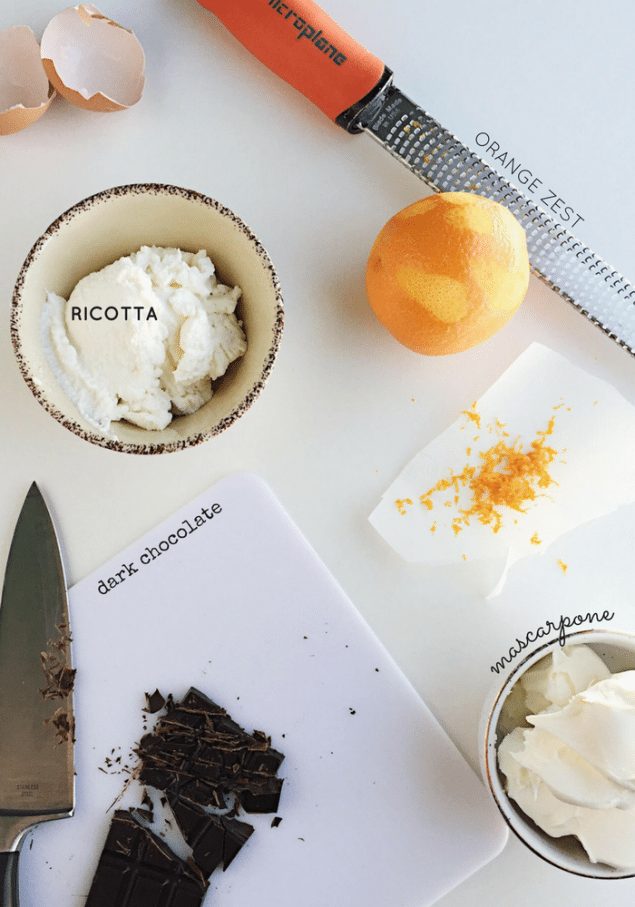 A few years ago, I was working at an Italian-themed hotel and restaurant in downtown Portland as a Pastry Chef. I was in charge of all of the desserts for the bakery, restaurant, and catering, in addition to wedding cakes. I would talk to the brides, set up the tastings, design the cake. I got a phone call one day from a sweet, lovely Italian woman who kept me on the phone for a half hour.
"I heard you are from New York," was the first thing she said to me.
"Well, I'm from New Jersey."
"No, no. Listen. I heard that you're the Pastry Chef and that the Pastry Chef is from New York," she replied, sweetly yet sternly, as if I was lying. Trust me, I'd rather tell people I'm from New York than tell people I'm from New Jersey, lady, I thought.
"Well. I grew up and was raised in northern New Jersey, right outside of Manhattan. I did go to culinary school in New York and worked at restaurants and bakeries there for several years. Maybe that's why you heard that." Wait… why was this woman even questioning my birthplace? "Why?"
She proceeded to tell me that her anniversary party was coming up and that her favorite cake was a Cannoli Cake, but that she couldn't find a decent one in all of the Pacific Northwest. She also proceeded to tell me her strict requirements for a cannoli cake—how it must be soaked with rum, filled with mascarpone, include orange, and be speckled with chocolate bits and almonds. In between all of this, I also heard this sweet woman's entire life story, putting her on hold every so often to check on my cheesecake in the oven, and feeling too bad to tell her that I really should be getting off the phone and attending to my catering order.
Thankfully, she was happy with her cannoli cake tasting, and she hired me.
Now, to her, a proper cannoli cake had to be frosted in whipped cream. But, I'm sorry—that wasn't able to happen with a huge, 5-tier version, in the middle of summer, being transported an hour and a half away. She got a buttercream exterior, but she fought me on it every step of the way. I made her a small, whipped cream-frosted version just for her at no charge, and told her that she'd been warned if it melted. She told me she'd eat it on the drive there, and we were both happy.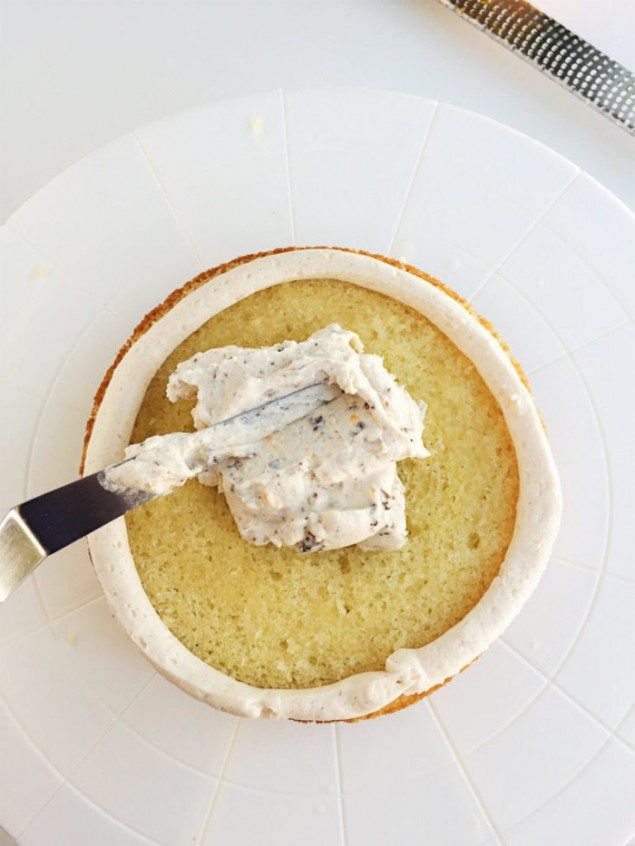 This delicious Cannoli Cake is composed of layers of a rich, vanilla-scented buttermilk cake that I've adapted from Nick Malgeri. It's then soaked with a rum simple syrup and filled with a mascarpone and ricotta cannoli cream that's spotted with dark chocolate.
An orange and cinnamon buttercream ices the outside, before being glazed with a rich chocolate ganache and studded with almonds.
Is it just me, or does rum and chocolate make any cake that much better?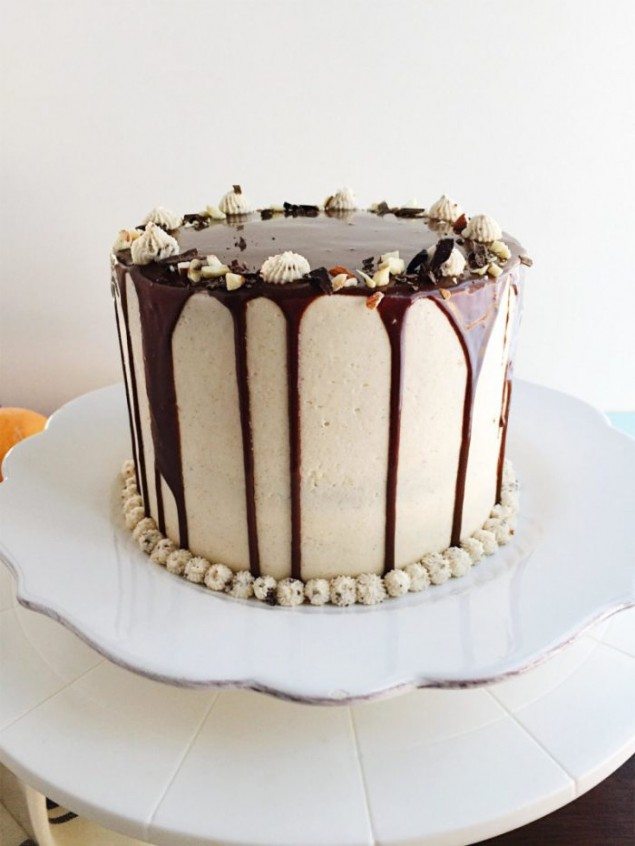 Click here for the buttercream frosting recipe.
Cannoli Cake
Rum-soaked vanilla buttermilk cake layers are stacked up with creamy ricotta and mascarpone cannoli filling and coated in a cinnamon and citrusy buttercream before being glazed with rich chocolate ganache. We're in dessert heaven.
Recipe Type:
Baking, Cake
Ingredients
For the Cake:
1 stick unsalted butter, room temperature
1 cup sugar
1 teaspoon vanilla
2 eggs, room temperature
1¼ cups all-purpose flour
¼ teaspoon salt
1 teaspoon baking powder
¼ teaspoon baking soda
½ cup buttermilk, room temperature
For the Filling:
¾ cup drained ricotta*
¾ cup mascarpone
½ cup confectioners sugar
1 teaspoon vanilla
¼ teaspoon cinnamon
¼ teaspoon orange zest
½ cup finely chopped dark chocolate
Pinch salt
For the Buttercream:
Get the recipe by clicking the link above this box
For the Rum Soak:
3 tablespoons simple syrup
3 tablespoons rum
½ teaspoon orange extract
For the Ganache:
½ cup semisweet chocolate
½ cup heavy cream
Instructions
Make the Cake:
Preheat the oven to 350 and spray two 6" cake pans with baking spray or coat with butter and flour.
In a standing mixer, beat the room temperature butter with the sugar until light and creamy, about 5 minutes. Beat in the eggs, one at a time, combine well. Beat in vanilla.
Mix the flour, salt, baking powder, and baking soda.Add in the flour mixture and the buttermilk in alternating additions, flour - buttermilk - flour - buttermilk - flour. Scrape down the bowl between each addition. Do not overmix.
Divide the batter between the two 6" pans and bake until the tops are springy and a tester inserted in the center comes out clean, about 22-30 minutes. Let cool.
Make the Filling:
Beat the ricotta with the mascarpone until smooth. Add in the sugar, vanilla, cinnamon, orange zest, and salt. Beat until combined. Fold in the chocolate, and refrigerate, covered with plastic, until ready to use.
Make the Buttercream:
Beat the butter and sugar until creamy and light, about 5 minutes. Beat in the vanilla, cinnamon, and orange. Beat in the Half and Half and mix until creamy and combined.
Make the Ganache and Syrup:
Meanwhile, make the ganache. Heat the cream until hot but not boiling and pour over the chopped chocolate. Let sit for a minute and whisk until combined. Let the ganache sit at room temperature until cool and pour-able consistency. It will thicken as it cools. If you use it while it is still warm, it will be too thin. Whisk the simple syrup, rum, and orange extract to make the rum syrup.
Assemble the Cake:
Slice each 6" layer in half, evenly. With a pastry brush, soak each half generously with the rum syrup, poking several holes with a toothpick in the cake beforehand.
Using a pastry bag filled with the buttercream, make a "ring" around each cake layer before you fill them to ensure the cannoli filling does not ooze out.
Fill each layer with the cannoli filling and layer 4 layers of cake high.
Frost the outside in the buttercream. You can frost a "crumb coat" and refrigerate before frosting it again.
When the cake is frosted, chill until cold. When the buttercream frosting is very cold, pour the ganache on top. You can either cover the entire cake in ganache, or cover the top and allow the ganache to drip down while still exposing the cake.
Decorate the cake with the rest of the filling, piped into rosettes, and chopped roasted almonds or pistachios. Enjoy!
Notes
It's important that everything is room temperature for this cake recipe to ensure that your batter does not break.
*Drain the ricotta in some cheesecloth before adding to the cannoli filling to get rid of excess water.