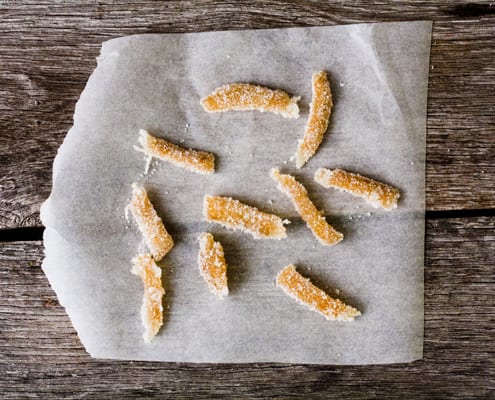 Candied ginger – sweet treats and perfect for fighting viruses or for stomach pain.
By Tamara Novakoviç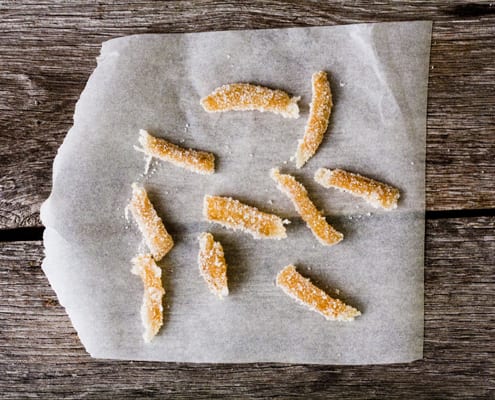 I once bought candied ginger in a supermarket here in Croatia and fell in love with it. Yes, I have a tendency of falling in love with certain food. Since it's not always available in Croatian stores, I decided to make a homemade version. It's much cheaper, and really easy. Ginger has a lot of health benefits and candied ginger is great for fighting viruses or for stomach pain. Enjoy!

Candied ginger
Ingredients
8.8 oz (250 g) fresh ginger root
14 oz (400 g) sugar
2 cups (500 ml) water
pinch of salt
sugar
Instructions
Peel ginger root, cut in thin slices and cook, together with a pinch of salt. Drain it and cook again. This way you're reducing its heat. Combine drained slices with 2 cups water and sugar and cook on low heat until the liquid reduces and transform into a syrup. Drain and roll slices into sugar. Arrange on parchment paper and let dry.
Tamara Novakoviç
Tamara Novakovic is a passionate self-taught cook, food blogger, freelance food writer and photographer behind bite-my-cake.blogspot.com. Her life journey has led her through Faculty of Humanities in Zagreb, Croatia to discovering passion for making cakes. She is currently a weekly food columnist for Croatian newspaper V magazine and food magazine Repete.