Partly pureed and partly chunky means this soup is smooth but feels substantial enough to stand on its own.
By Sara Clevering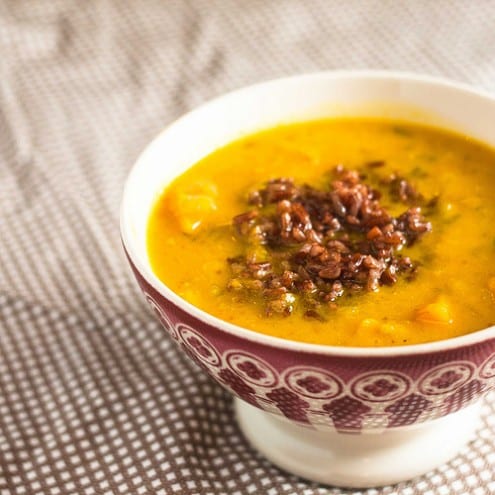 This soup is special. If I were having this at a restaurant, I'm sure it would go like this: a fancy presentation in which a wide shallow bowl is slid in front of me, with only a mound of rice artfully constructed in the center. The server would then take a miniature pitcher and pour the brightly colored soup all around, leaving me with an island of rice surrounded by a terra cotta sea.
Butternut Squash Soup with Coconut Milk, Miso and Lime
Partly pureed and partly chunky means this soup is smooth but feels substantial enough to stand on its own.
Ingredients
1 butternut squash (about 2 pounds)
2 T light sesame oil
1 large onion, finely diced
1 heaping tablespoon chopped fresh ginger
2 t crushed Aleppo Pepper
1 t turmeric
½c cilantro stems or leaves, chopped fine
salt
1 can (15 ounces) light coconut milk
juice of one lime
½c red rice
1-2 t coconut butter
2 T white miso
Instructions
Cut the squash in half crosswise, just where the neck of the squash joins with the round (seeded) end. Bring a half inch or so of water to a boil, lower to a simmer and place the seeded end in (unpeeled and uncored). Put a lid on and steam until soft, about 15 minutes, while you continue with the recipe.
Peel the neck and cut into ½" pieces.
Heat the oil in a deep soup pot, and then saute the squash cubes together with the onion and ginger. After a few minutes, add the aleppo pepper, turmeric, and cilantro stems and cook for a few more minutes. Stir in the coconut milk and three cups of water and bring to a boil. Lower to a simmer and cook, covered, for about 20 minutes.
Meanwhile, check on your round end of the squash (it's a good idea to look from time to time anyway to make sure the water doesn't evaporate fully). When soft, remove the squash and when it's cool enough to handle, cut it in half lengthwise and scoop out the seeds and discard. Then scrape the soft flesh from the skin. Puree the flesh together with a cup of the soup liquid until smooth. (You can use a blender, a food processor, or an immersion blender to do this). Pour this back into the soup, and add the lime juice.
While the soup cooks, also cook your rice. It will depend on the rice you use, but generally speaking you can count on about a cup of water for the half cup of rice. Boil the water, then add the rice, stir, and turn to the lowest heat and cook covered for about 20 minutes. When finished, stir in the coconut oil.
When the soup is done, take a cup of liquid out and mash the miso paste into that. (It's easier than adding the miso directly to the soup–mixing the miso into just a small portion of soup allows you to be certain you have fully dissolved it). Return this cup to the soup and heat through if necessary.
To serve, pour the soup into bowls and then add a scoop of rice to the center. Enjoy!
Sara Clevering
Sara sees cooking and baking as a delicious way to connect with the past and travel the world from her kitchen. She is commited to preparing homemade, unprocessed meals for her family and is always looking for tricks to fit this into a busy schedule. Sara is currently in the Boston area after several years living in London, Spain, and the Czech Republic, and travelling extensively in Eastern and Western Europe, always making sure to experience local culture through food. She also blogs with her sisters at www.threecleversisters.com