Forget mushy brussels sprouts and add this cheesy, crispy, béchamel laden vegetable side dish to your holiday spread.
By Cheyanne Holzworth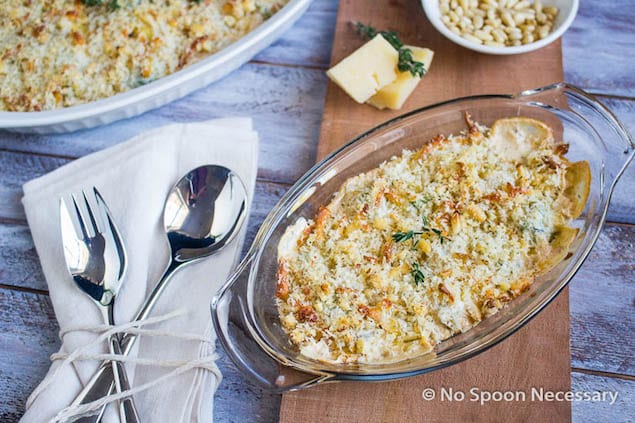 As an avid foodie, it makes my culinary heart and soul all warm and fuzzy, to see brussels sprouts finally getting their due respect in this world. They deserve it, gosh darn it! I get it, I used to not respect these green, rolly-polly, kinda smelly lil' guys. That all changed when I had them properly prepared and cooked. So, if you think you don't like them… I am here to tell you that you do! You have just been roaming this earth utterly clueless to how amazingly delicious they are!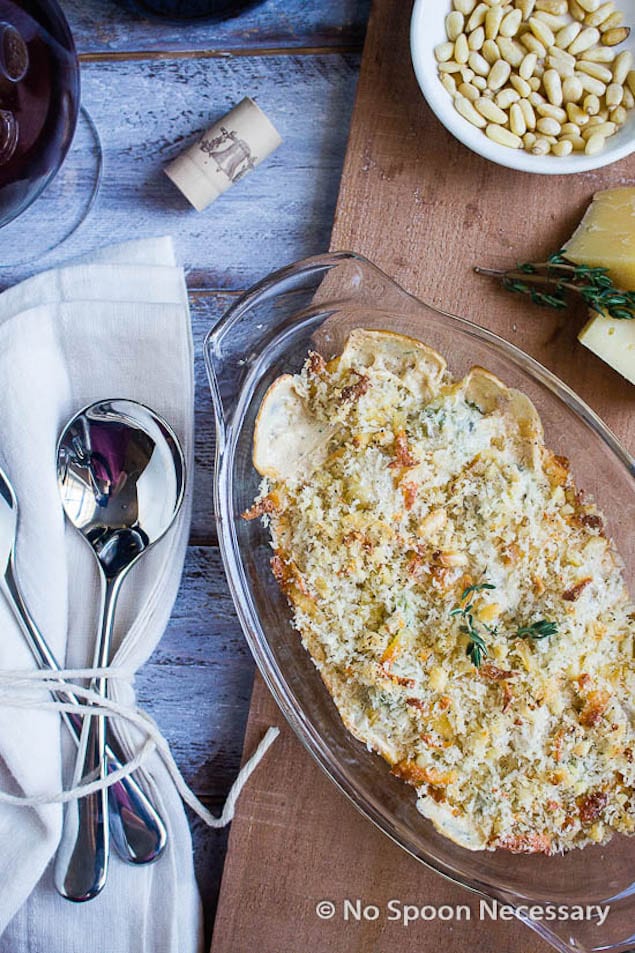 Simply roasted, or quickly sautéed over high heat, seasoned with a little salt and pepper… Mind blowing delicious. Roasted, paired with sautéed pearl onions, smothered with creamy béchamel sauce, topped with a panko-pine nut-gruyere cheese mixture topping and baked… Ohhhh. My. Gaaaaaawwwwwdddd. The brussels in this gratin are nothing like the memories you hold of your grandmother, mother, or whoever's sprouts. You know…. Over cooked, mushy, all brown, sad and lifeless. They look, kind of, like they got run over by the Butterball Turkey delivery truck. This brussels sprouts and onion gratin is seriously marvelous. I promise you will love it.
Side Note: I made this and immediately wished I added bacon. You should add bacon for me. Then leave me a comment about how brainless I was for this oversight. If you do want to add some bacon:
1. Cut bacon strips into lardons (or dice)
2. Sauté the bacon until almost crispy and cooked throughout
3. Remove with a slotted spoon
4. Mix the bacon into the gratin when combining the brussels and onions in a baking dish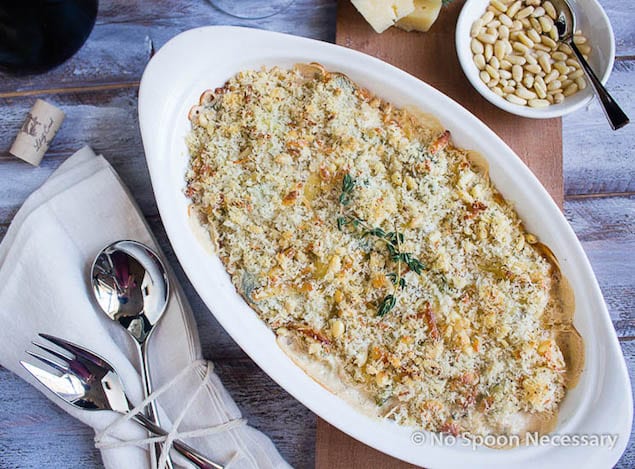 Print
Brussels Sprouts Gratin with Pearl Onions and Gruyere
Forget mushy brussels sprouts and add this cheesy, crispy, béchamel laden vegetable side dish to your holiday spread.
Author:

Cheyanne Holzworth

Yield:

4

1

x
Category:

Side
Sauce:
1 ½

TBS unsalted Butter

1 ½

TBS All Purpose Flour*

1 ½ Cups

Half and Half

4

sprigs of fresh Thyme
Pinch of Nutmeg
Salt and Pepper, to taste
Heaping

¾ Cup

Gruyere Cheese- grated (about

3 oz

.)
Sprouts & Onions:
1

Pound Brussels Sprouts- ends trimmed, outer layer of leaves removed and cut in ½ or ¼ depending on how large they are (you want them roughly the same size as pearl onions)

1

TBS Butter – melted

½

Bag of Frozen Pearl Onions (use about

8 oz

.)

2 tsp

Extra Virgin Olive Oil
Salt and Pepper
Topping:
2/3 Cup

Panko Bread Crumbs (can substitute fresh bread crumbs)

¼ Cup

Pine Nuts – roughly chopped

3

Cloves of Roasted Garlic* – minced (can substitute

1

large clove of unroasted garlic, minced)

1

TBS Butter – melted
Heaping

¼ Cup

Gruyere Cheese- grated (about

1 oz

.)

½ tsp

Sea Salt

¼ tsp

Pepper
Instructions
Preheat the oven to 425 degrees F.
Prepare the Brussels Sprouts:
Prepare an 8×8 inch baking dish by brushing the insides with some of the melted butter. Add the brussels sprouts, remaining melted butter, ½ tsp salt and ? tsp pepper. Toss to coat.
Spread the brussels sprouts out evenly and roast until almost fork tender, about 15-20 minutes, tossing once halfway through baking time. Remove from oven and set aside.
Reduce oven temperature to 375 degrees.
Make the Sauce:
In a medium sized sauce pan, melt butter over medium heat, do not let brown.
Whisk in the flour to make a roux, and cook, whisking continuously, until blonde in color, about 1 ½ minutes.
Slowly whisk in the half and half and increase heat to medium high and bring mixture to a boil. Reduce heat to a gentle simmer over medium low heat. Add sprigs of thyme. Cook until thickened, about 15 minutes, stirring occasionally.
Season with nutmeg, salt and pepper. Remove thyme sprigs with a slotted spoon and discard. Turn heat off and stir in gruyere cheese. Taste and adjust seasoning. Set aside.
Prepare the Onions:
Heat olive oil in a sauté pan over medium heat. Add the pearl onions and season with salt and pepper. Sauté until light golden in color, about 7 minutes. Remove from heat and set aside.
Prepare the Toping:
Combine all ingredients in a small mixing bowl. Set Aside.
To Assemble:
Add the pearl onions to the baking dish containing the brussels sprouts and stir to mix. Pour the sauce evenly over the vegetables.
Sprinkle the breadcrumb mixture evenly over top.
Bake uncovered, 20 minutes, or until sauce is bubbling and top of gratin is golden brown. Allow to rest 5-10 minutes before serving.
Cheyanne Holzworth
Hi there! My name is Cheyanne. I am an avid foodie, culinary school graduate, recipe developer and newbie blogger. I find peace and joy being in the kitchen and am obsessed with feeding anyone who has an appetite. I am also a lover of food porn. I picked up a camera one day and fell in love with food photography. Then I got a wack-a-me-me idea to start a food blog and the rest is history. No Spoon Necessary is a place where I share my passion for food and photography with all who care to join me. I also rant, ramble on and share my life a little. In a world filled with so many talented food bloggers, I am simply trying to carve my space in www dot com land, take you all with me on the crazy ride and cook 'n eat some delicious food along the way! So, strap on that apron and work some culinary magic with me. Cheers!