Take your butter pecan ice cream to the next level of deliciousness with brown butter and candied nuts.
Just to clarify, this is not your ordinary butter pecan ice cream, which is by all laws of nature already pretty darn good. Use brown butter and then candy those pecans, and it's like a heightened sense of sumpin' happens to your taste buds. The flavor of the pecans, the sugar, the brown butter together – oh dear!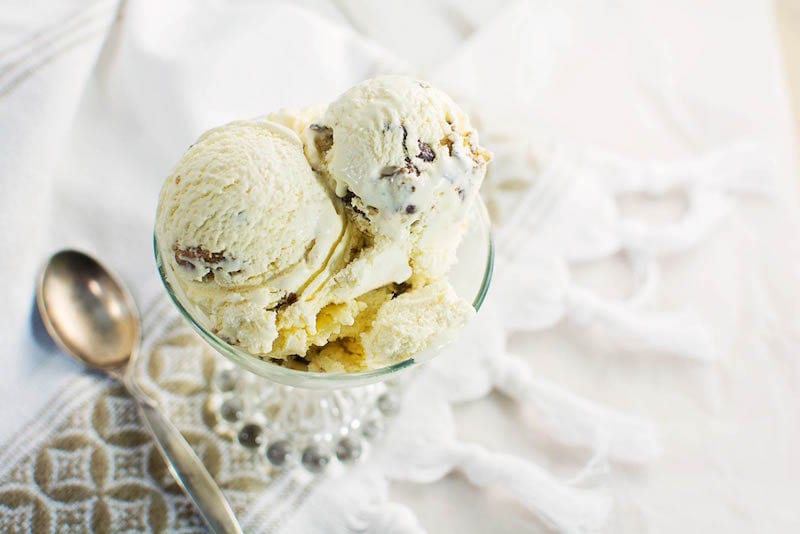 4 TIPS TIPS FOR GREAT ICE CREAM:
– Make sure that your mixture is really cold before freezing it in the ice cream maker. In so doing, you are cutting down on time, and not over working your machine or the ice cream.
– The higher the fat content in the cream, the creamier and better the ice cream will be. Sometimes I do use 2% milk in place of whole milk, and still can turn out a great ice cream – but there's no way around the fact that higher fat = better ice cream.
– Plan ahead of time. The day before you want to serve the ice cream is the best time to make it, giving your ice cream to properly freeze. I make mine the day before. Once I've made the ice cream in the ice cream maker, I transfer it to a freezer safe airtight container and allow it to freeze overnight.
See Also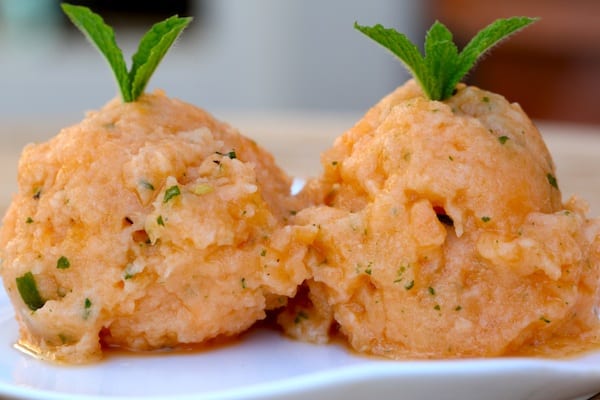 – Whenever you add the eggs into a hot mixture, it's best to "introduce" a small amount of the hot mixture first to the yolks to warm them up and with continual whisking to prevent any of the eggs from curdling. Once the yolks have warmed and with continued whisking add the "warmed" yolks into the remaining hot cream. If you do find bits in your ice cream base after adding the eggs, no problem, simply strain the cream base through a fine mesh strainer before allowing to cool and continue as directed.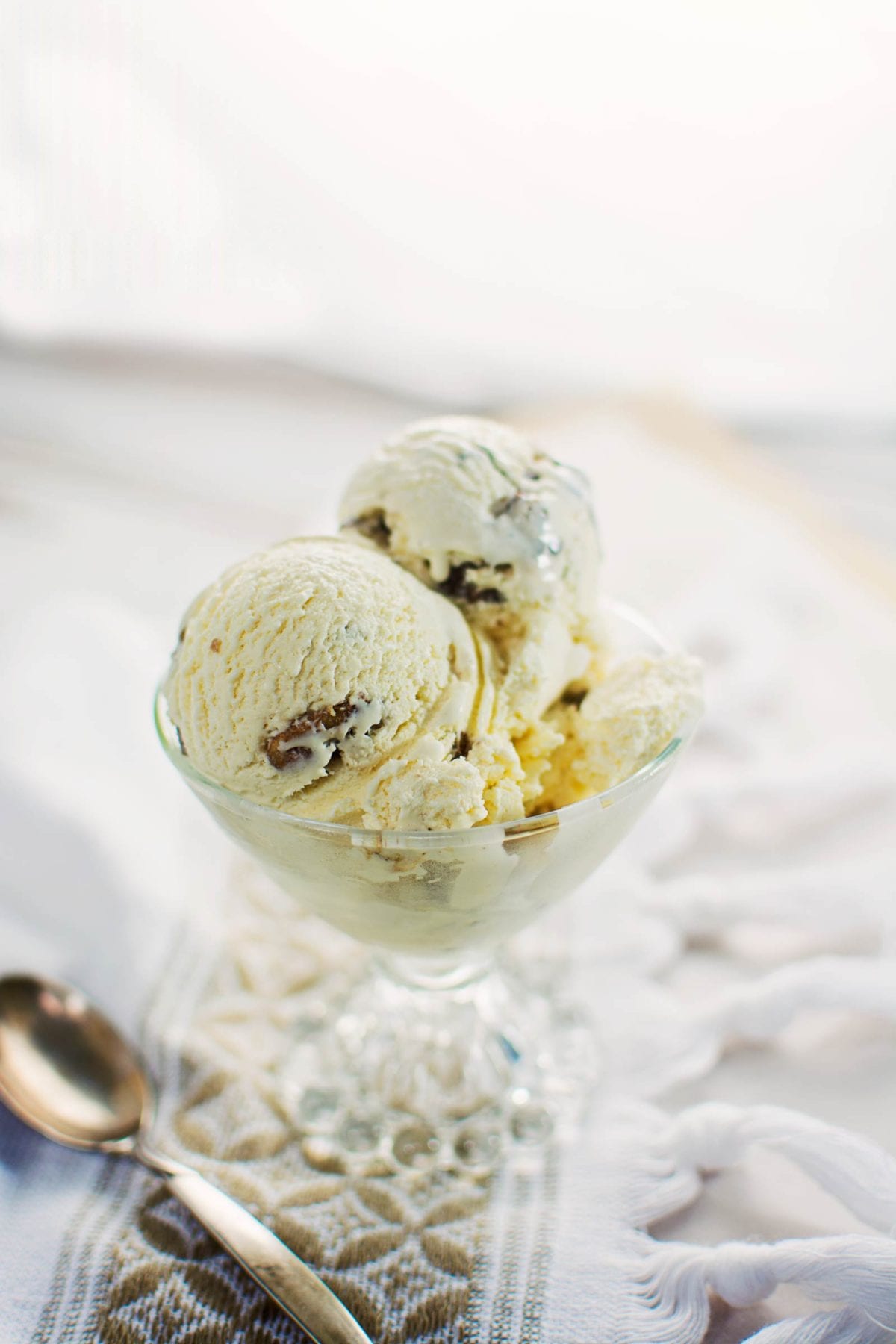 Print

Brown Butter Pecan Ice Cream
---
Author:

Stacey M Doyle

Total Time:

40 minutes

Yield:

4

1

x
Description
Take your butter pecan ice cream to the next level of deliciousness with brown butter and candied nuts.
---
Ice Cream Base:
4 tbsp

Unsalted Butter

1½ cups

Whipping Cream / Heavy Cream

½ cup

Milk (whole milk)

4

Egg Yolks (beaten)

½ cup

Sugar

¼ tsp

Salt

1 tsp

Vanilla extract
Explore Creamy Cashewmilk Frozen Desserts
For the Candied Pecans:
1/2 cup

Pecans (roughly chopped or halves)

1 tbsp

Unsalted Butter

1 tbsp

Brown Sugar
---
Instructions
For the Ice Cream Base:
In a pan over medium heat, melt 4 tablespoons of Unsalted Butter for 3 – 5 minutes or until the butter has turned a light amber in color and there's a sweet nutty aroma. Do not let the butter burn.
In a saucepan, add together the Whipping Cream, Milk and Sugar and bring to a simmer, whisk to mix well. Cook for about 3 – 5 minutes until the Sugar has dissolved.
Add the browned Butter into the cream mixture and mix well.
In a small bowl, add the Egg Yolks, gently whisked, Salt and Vanilla, pour about ½ cup of the cream mixture over the Yolks, whisking constantly to warm the eggs.
Slowly add the Yolks mixture back into the remaining cream whisking constantly until well combined and cook over medium low heat for about 6 – 8 minutes until the cream mixture thickens.
Remove from heat, allow the ice cream base to completely cool by placing the saucepan into a larger bowl that is filled with ice.
For the Candied Pecans:
While the ice cream base is cooling, it's time to make the candied Pecans.
In a (non-stick) skillet over medium heat, melt the Butter then add in the Pecans stirring to coat.
Add the Brown Sugar to the Pecans and continue to cook until the sugar has melted and has started to caramelize the Pecans, about 3 – 5 minutes. Remove from heat and allow to cool.
Freezing:
Once the ice cream mixture has completely cooled, pour into Ice Cream Maker and continue to freeze according to directions. Add the Candied Pecans to the ice cream during the last 5 minutes of freezing and make sure the Pecans have been well incorporated.
Transfer the Ice Cream to a freezer safe container and continue to freeze in freezer for at least 3 – 4 additional hours or overnight for a firmer ice cream.
Serve and Enjoy!
Notes
Can make a double batch, just make sure that your ice cream freezer is large enough to freeze the whole mixture at one time.
Make extra Candied Pecans as a topping or for snacking.
You can also strain the cream mixture before cooling to remove any solid bits. I try to skip this step by whisking constantly during the cooking process, which helps prevent any solids from forming when the yolks are added.
Prep Time:

20 minutes

Cook Time:

20 minutes

Category:

Dessert, Ice Cream
Stacey M Doyle
A Southern girl with a taste for travel, Stacey takes inspiration from her global pantry and cooks with a sense of adventure. Now she's raising her three young children to appreciate a wide world of food, even if she doesn't always tell them exactly what they're eating. Stacey is the food photographer, writer and creator of Little Figgy Food. She's also addicted to coffee. Addicted to olives. Fairly obsessed with dark chocolate.