Revamping a classic dessert with a browned butter shortbread crust and a touch of orange sweetness to make the best brown butter lemon bars ever.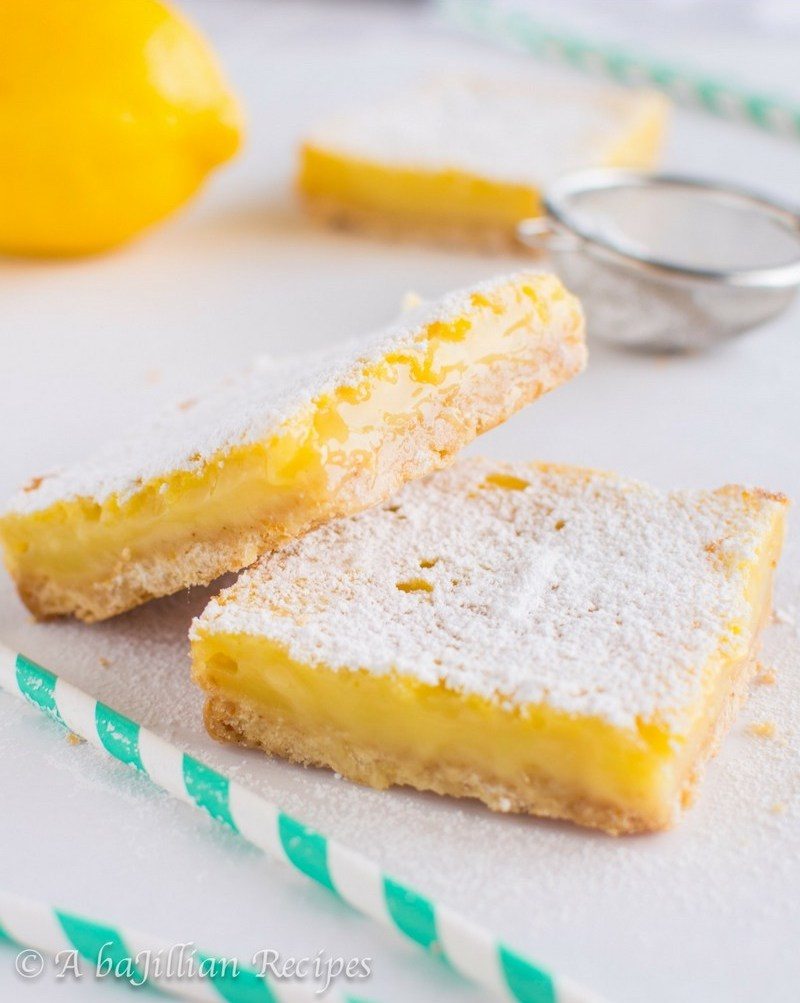 Nothing screams spring and sunshine like the delightfully simple and always classic lemon bar. Although they might seem like a snore of a dessert served only at old lady tea parties, I'm here to change those perceptions and to enlighten you on these underrated little squares of refreshingly tart sweetness.
As far as lemon bars go, there's definitely a right way and a wrong way to make them. Some can be overly tart, almost pungent to the point of salivary gland explosion. That's why a balance of citrus to sweetness is super crucial. You'll see a lot of recipes using Meyer lemons since they tend to be much sweeter and less acidic than regular lemons. They're described as a cross between a lemon and a mandarin, if that gives you a better idea. So naturally, with their sweeter taste and less pungent tang, Meyer lemons make the perfect candidate for lemon bars. The only thing is that they are seasonal (December through May), whereas regular lemons know no season. Another thing is that the Meyer variety is more expensive, and as a couponer, I tend to go the more thrifty route.
Ergo, I came up with the perfect solution. I added a little bit of freshly-squeezed orange juice to the regular lemon juice. Why not? They (as in Wikipedia) DID say that Meyer lemons are a cross between a mandarin and a lemon, so wouldn't substituting some of the lemon juice with a little orange juice work just the same?
I'm a genius, I know.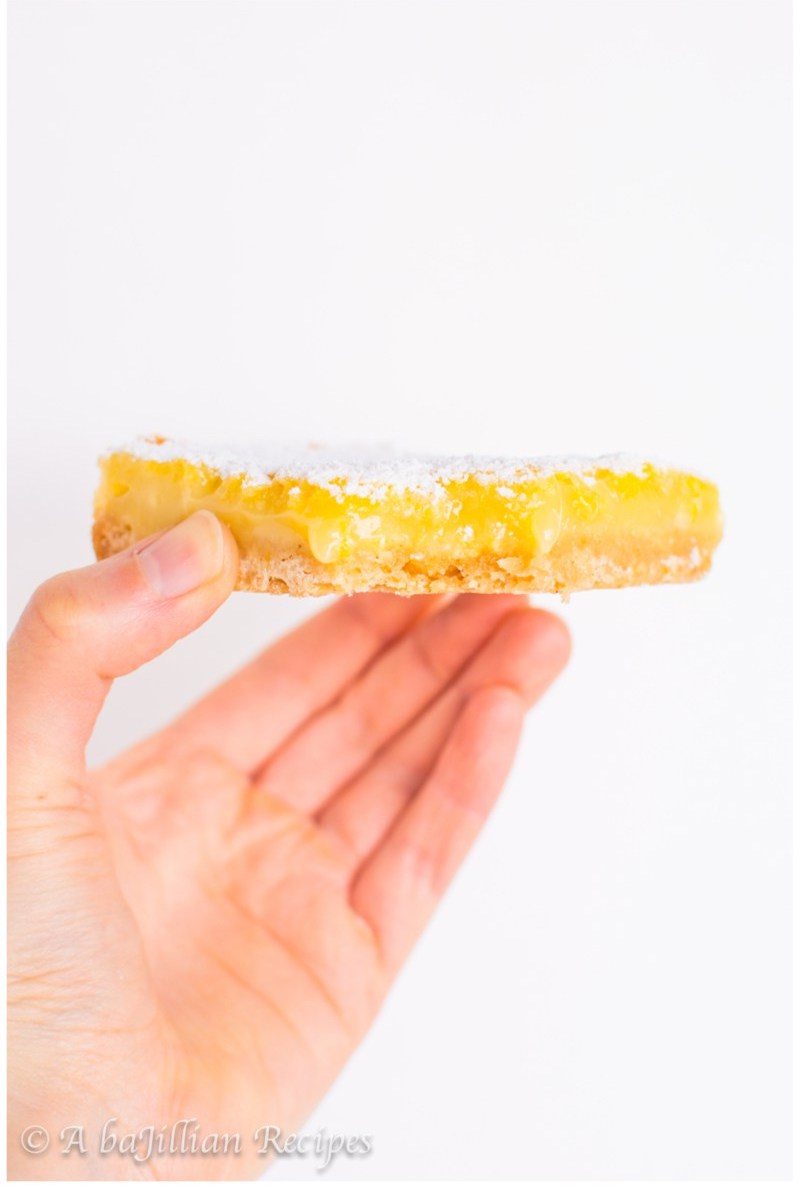 Not only did this step save me a little extra spending money (for MORE sprinkles, of course), but it resulted in that perfect balance of citrusy sweetness to tang ratio. Speaking of sweetness, for sugar I used a mix of granulated and powdered sugar–mostly granulated. I read somewhere that the tiny bit of cornstarch in powdered sugar not only helps the lemon custard to thicken properly, but it also gives it a softer, creamier texture.
As for the crust, I went thin rather than thick. To me, lemon bars are all about the LEMON. I mean, if it was about the shortbread crust, they'd be called shortbread bars, right? Nevertheless, just because the crust takes a bit of a backseat to the lemon custard, it doesn't mean that it has to be flavorless and boring. If you're going to put the effort into an amazing lemon custard, you've got to do the same with the crust. That's when two of my favorite words came to mind…browned butter.
Never have I ever seen a day when browned butter wasn't the answer for all of life's questions. It's the best flavor enhancer out there, and I just knew it would make these lemon bars "shine like a diamond," as Rihanna would say. (Yes, it's late, and yes I'm acting sillier and more delirious than I usually do.)
See Also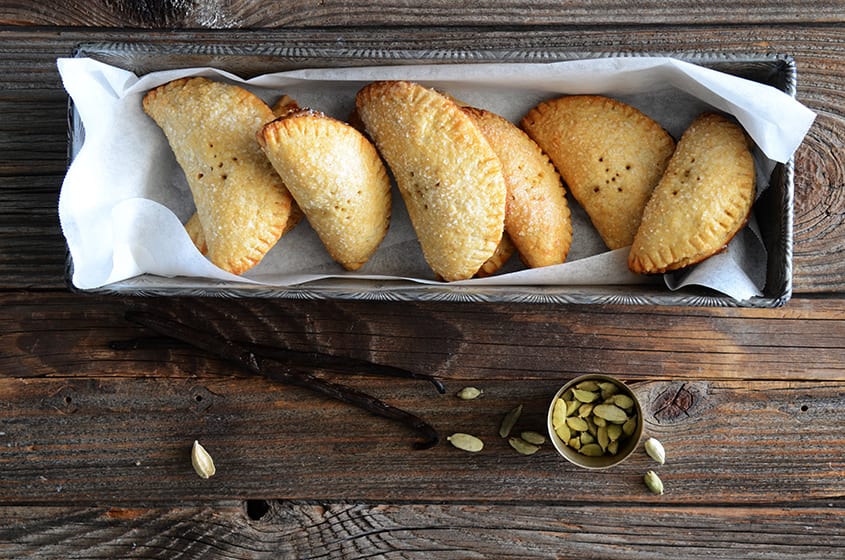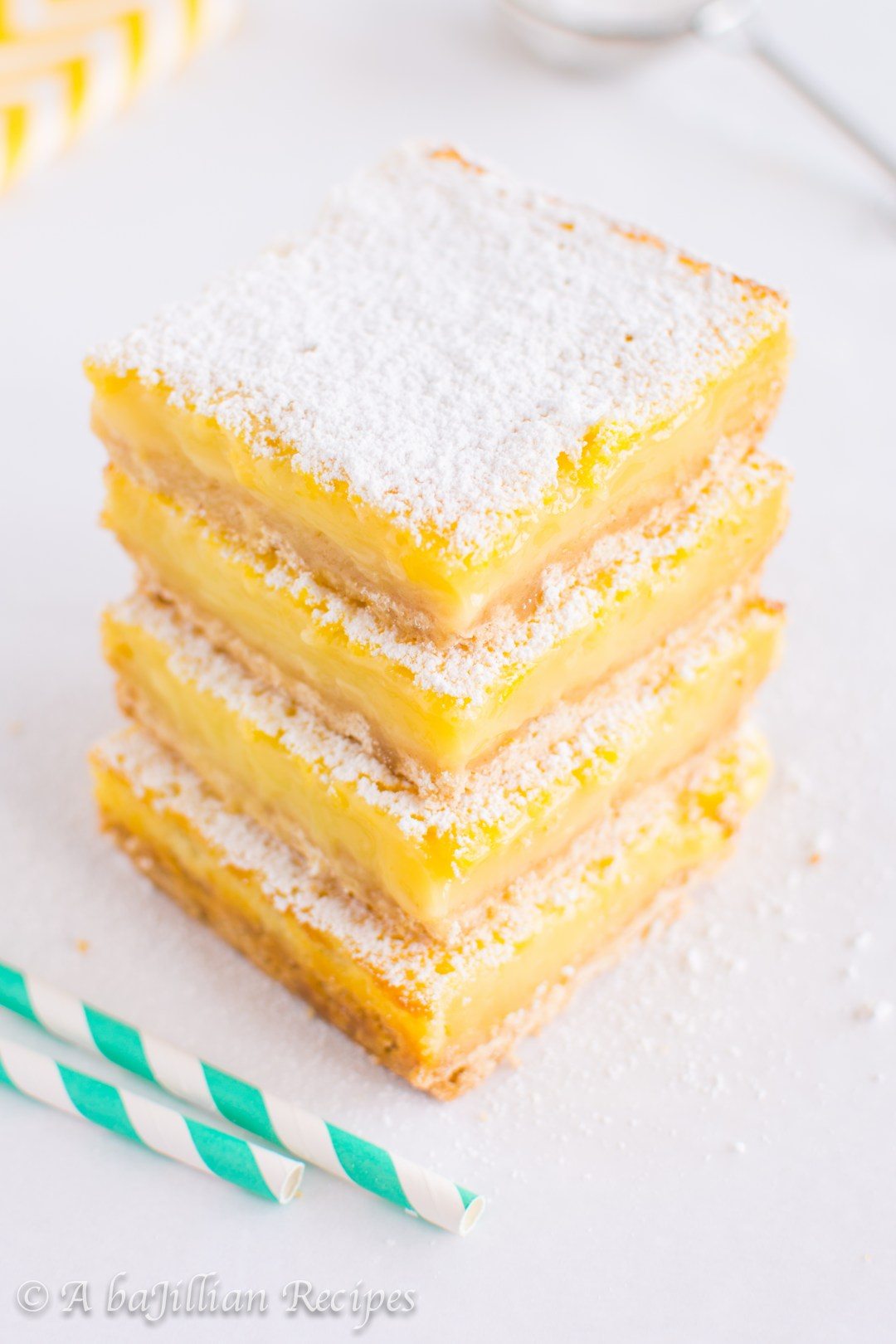 Trust me, this added step is worth it and much easier than you might expect. Just brown the butter, pop in the freezer for about 45 minutes until it's solid, then whip it up with the rest of the shortbread ingredients as you would with regular softened butter. Again, I used a combination of granulated and powdered sugar, since the powdered sugar provides a more tender crust. I also added a little vanilla for added flavor along with some of the zest from the orange I used.
Click here for the shortbread crust recipe.
Print

Brown Butter Lemon Bars
---
Shortbread Crust:
Click the link above for the recipe.
Filling:
6

large eggs

2

and 1/4 cups granulated sugar

1/4 cup

powdered sugar

2 Tablespoons

grated lemon zest

1/4 teaspoon

salt

3/4 cup

plus 1 Tablespoon freshly squeezed lemon juice

3 Tablespoons

freshly squeezed orange juice

1 cup

all-purpose flour
Powdered Sugar (for dusting)
---
Instructions
Line a 9×13-inch baking pan with parchment paper, leaving extra overhang on the sides for easy removal. Spray with nonstick cooking spray.
Click the link above to see how to make the shortbread crust.
While crust is baking, prepare the filling by whisking the eggs, granulated sugar, powdered sugar, zest, and salt together in a large bowl. Whisk in the lemon juice and orange juice, and then the flour, until combined. Remove the parbaked crust from the oven. Pour the lemon filling onto the warm crust.
Reduce oven temperature to 325ºF, and bake for 30 minutes, or until center is set. Place pan onto a wire rack to cool completely before covering and transferring to the refrigerator until chilled.
Using a sharp knife dipped in hot water and wiped dry, cut lemon bars into squares and dust with powdered sugar just before serving.
Notes
*If the dough appears to be too dry or crumbly, add a little milk, a tablespoon at a time until it holds together when pressed into the pan.
Lemon bars will keep in an airtight container for up to 5 days.
Jillian Hatsumi
I'm Jillian, the writer, baker, chef, recipe creator, and amateur (very amateur) photographer of A baJillian Recipes. Though I'm not a classically trained chef, I like to think I know my way around a kitchen pretty well. Aside from baking, cooking, and EATING, I also enjoy acting, couponing (I LOVE saving money!!), running, working out, photography, and playing with my little fluffernutter, Olivia. She's a dog, if you're wondering...