Brown-Butter Chocolate Cherry bars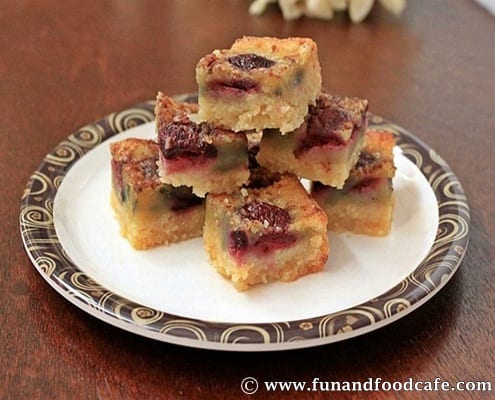 Even if cherry picking season is over, Mansi Desai stumbles over some fresh ones and creates these lovely cherry brown butter bars.
By Mansi Desai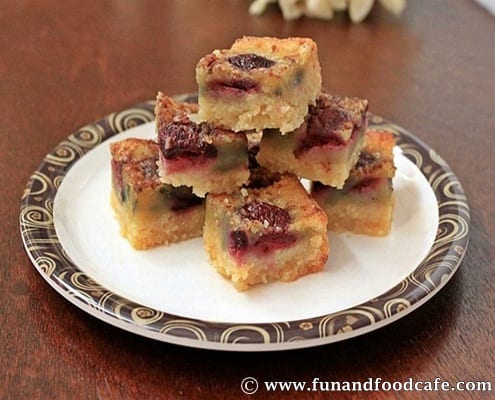 Cherry-picking season is long gone, and yet I was surprised to see nice fresh cherries in Safeway today, and I couldn't help pick up a bag. I mean, how can you pass on some Cherries?! they are a family-favorite, and though pitting them is a pain, the flavor of cherries in baked goodies is a treat we did not want to miss. So off I went, with a plan to bake one of my favorite cherry treats – Cherry Blondies with browned butter, and a layer of chocolate shavings on the top, because chocolate makes everything taste better!
Brown Butter is nothing but plain old butter, cooked until it turns light brown in color, and starts radiating a lovely nutty flavor that it acquires during the cooking process. To make browned butter, simply melt some white unsalted butter in a small saucepan on the stove. Continue cooking it on medium-high heat until the butter boils and begins to brown, attaining a deep honey-brown color. You can skimp the foam that forms on the top, but watch your butter, don't turn on the stove and go talk on a phone, because your butter can turn from brown to black in no time!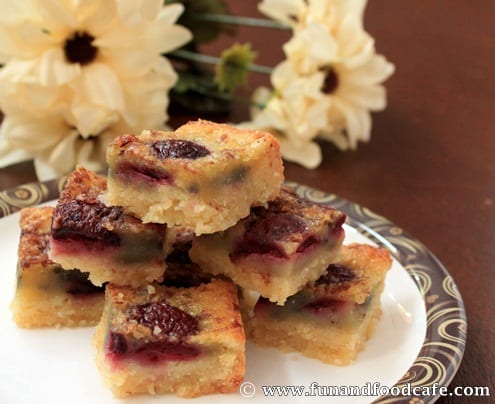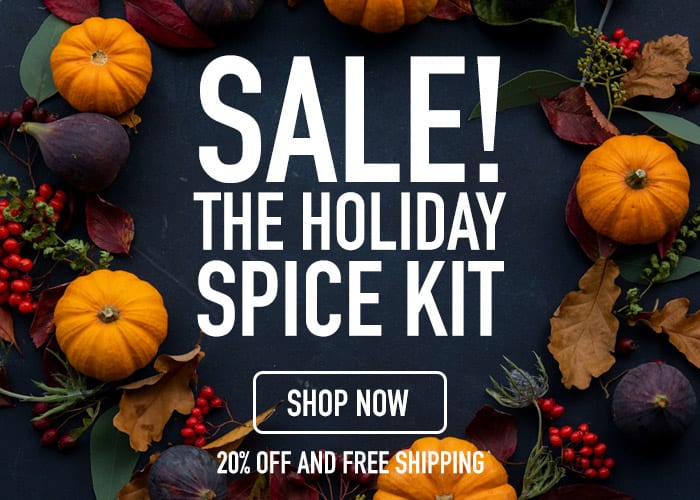 The cherries paired beautifully with the sweet, nutty, buttery flavor of the browned butter. And the chocolate shavings on the top gave it a serrated partially melted topping that was delicious to eat. Just cut them up into cute bite-sized pieces so the cherries remain intact, and you get petit-fours that you can share and enjoy, without feeling overly-guilty.
Brown-Butter Chocolate Cherry Blondies
Ingredients
For the Crust:
7 tablespoons unsalted butter, melted
⅓ cup sugar
¼ teaspoon vanilla extract
1 cup plus 1 tablespoon all purpose flour
Pinch of salt
For the Filling:
½ cup sugar
2 large eggs
Pinch of salt
¼ cup all purpose flour
1 teaspoon vanilla extract
½ cup (1 stick) unsalted butter, diced
1 pound sweet cherries (12 ounces of pitted cherries)
1 bar of semi-sweet chocolate – shaved
Instructions
Make crust:
Preheat over to 375°F. Cut two 12-inch lengths of parchment paper and trim each to fit the 8-inch width of an 8×8-inch square baking pan. Press it into the bottom and sides of your pan in one direction, then use the second sheet to line the rest of the pan, perpendicular to the first sheet.
Using rubber spatula or fork, mix melted butter, sugar, and vanilla in medium bowl. Add flour and salt and stir until incorporated. Transfer dough to your prepared pan, and use your fingertips to press the dough evenly across the bottom of the pan. Bake the crust until golden, about 18 minutes (it will puff slightly while baking). Transfer crust to rack and cool in pan. Maintain oven temperature.
Make the filling:
Cook butter in heavy small saucepan over medium heat until deep nutty brown (do not burn), stirring often and watching carefully, about six minutes. it takes less than 3 seconds for butter to go from brown to burnt, so be very careful and watch over this crucial process. Immediately pour browned butter into glass measuring cup to cool slightly.
Whisk sugar, eggs, and salt in medium bowl to blend. Add flour and vanilla and whisk until smooth. Gradually whisk browned butter into sugar-egg mixture; whisk until well blended.
Arrange pitted cherries, or the berries of your choice, in bottom of cooled crust. Carefully pour browned butter mixture evenly over the fruit. Now sprinkle the chocolate shavings over the top evenly. Bake bars until filling is puffed and golden and tester inserted into center comes out clean, about 40 minutes.
Cool bars completely in pan on rack. Use the parchment paper overhang to carefully remove cooled bars from pan and place them on a cutting board and cut them into squares with a very sharp knife.
Notes
If you taste them immediately, you will get an eggy taste and smell; but don't worry, this will go away as the bars cool down. In fact, they taste much better the next day! Store in an air-tight container and keep refrigerated for up to 5 days.
Mansi Desai
A part-time recipe developer and food blogger, Mansi loves to experiment with vegetarian food, taking each recipe and giving it a fusion gourmet mark, a glimpse of which you can see on her blog called Fun and Food Cafe. As a mom of a toddler, she also looks for ways to keep her food healthy and flavorful, so even kids can enjoy it.