In essence, koshari is a mixture of rice, macaroni, lentils, chickpeas, fried onions, tomato sauce, chili sauce, and "daqqa" – a liquid combination of vinegar and finely minced garlic.
By Sarah Khanna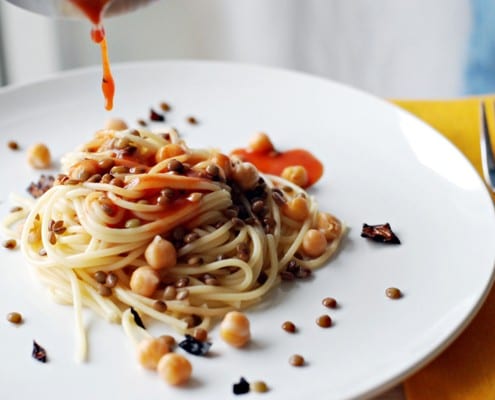 It seems like Egypt has long been looking to change, to grow, to develop, to bloom. A minor problem stands in its way – the Egyptian people hold on to outdated methods and rigid thoughts because for so long their life remained constant in its difficulty.
It's better to stick to what you know than what you don't know – this is the general mantra held in high regard.
Despite having a few recipes that have become intrinsically Egyptian throughout the years, we cannot seem to invent anymore using our own fresh and fragrant ingredients. Yes, I would be the first to break down in tears if these trusted street food shops were to disappear or change from what they are now but I'm often close to tears because of the sheer absurdity of copycat shops – one after another lining up the different Egyptian roads, serving up cheap and dependable fare that has always tasted the same.
Growing up with a mother fearful of all food not cooked with her own clean hands, our homemade version of the Egyptian koshari bore no resemblance to that of the street. Street koshari was put together separately, every element cooked alone and mixed together at the end. Mom's koshari cut down on the process by cooking ingredients together.
In essence, koshari is a mixture of rice, macaroni, lentils, chickpeas, fried onions, tomato sauce, chili sauce, and "daqqa" – a liquid combination of vinegar and finely minced garlic. Our homemade version cooked the lentils and rice together, prepared the macaroni in tomato sauce, had a spicy tomato sauce and fried onions to garnish. There were never any chickpeas and I had never heard of daqqa growing up.  This all changed upon entering university.
Sneaking out in between classes, it became a new obsession to find the next greasy Egyptian food indulgence. Sitting at a long stainless steel table, sharing it with others entirely engrossed in their plates, I received my serving of koshari, street-style, for the first time. Possibly one of the best solutions to carb-cravings, the koshari experienced there, with fiery chili and a heavy serving of tomato sauce, was like nothing I had tasted at home and elevated the everyday koshari higher than I had regarded it before. If you're ever in Egypt, I urge you to avoid eating it at your hotel. Instead, step into the nearest corner koshari store. Ask for extra lentils and fried onions and be gentle on yourself when it comes to the chili sauce; depending on the store, some are real scorchers.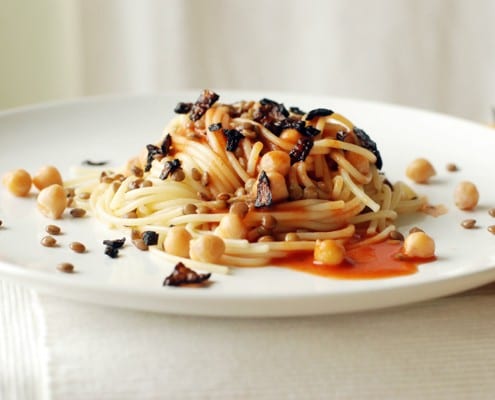 Print
Koshari-inspired Spaghetti
This is an updated version of Koshari – to do my bit to reinvent Egyptian cuisine. By eliminating the rice in koshari, you ultimately end up with an interesting pasta dish.
Author:

Sarah Khanna

Prep Time:

10 mins

Cook Time:

45 mins

Total Time:

55 minutes

Yield:

4

1

x
500

gm of spaghetti, cooked al dente

2

small onions, chopped

2 tablespoons

of ghee

400 grams

of chickpeas, cooked

150 grams

of brown lentils, cooked
For the sauce:
1/3 cup

of olive oil

5

heaped tablespoons of tomato paste

2

leveled tablespoons of all-purpose flour

5

–

7

cloves of garlic, sliced, depending on the strength

1.5 teaspoons

of chili powder

3 tablespoons

of vinegar

1 teaspoon

of cumin powder

1 tablespoon

of brown sugar

5

–

6

cups of water, depending on your preferred sauce thickness
Salt and pepper, to taste
Instructions
Begin with the sauce.
Heat your oil in a pot on medium heat.
Add the flour and tomato paste.
Constantly whisk until all is combined into a smooth paste.
Cook on low heat for a minute until it begins to sweat.
Add the sliced garlic, chili, cumin and vinegar and incorporate into the roux.
Add the water, stir then boil once and reduce heat to a low simmer.
Simmer gently until it has thickened and the sauce coats the back of a spoon.
Mix the cooked pasta with the chickpeas and lentils and set aside.
Fry the chopped onions in the ghee until they reach a deep brown color.
Serve the sauce over the pasta and garnish with fried onions.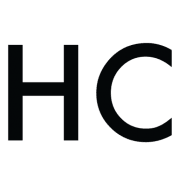 Sarah Khanna
Sarah Khanna is the half-Egyptian, half-Indian author behind Buttered-up.com who quit her Cairene career in advertising to become a full time cook, writer and photographer in Kuala Lumpur. She is also a weekly food columnist for the Daily News Egypt where she critiques Arab food culture. Raised as a hotel brat, Sarah has moved frequently but considers Egypt to be her real home. She loves butter and knives and shudders at the sight of canned tuna.