Broccoli Raab with Sausage, Black Mission Figs and Gluten-Free Penne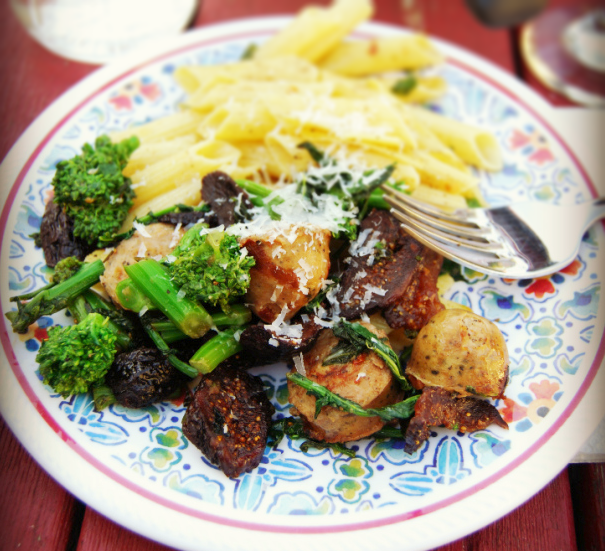 This is a fast dish to make in 30 minutes or less. Best yet, you can make it ahead and be extra host or hostess with the mostess.
By Sarah Platanitis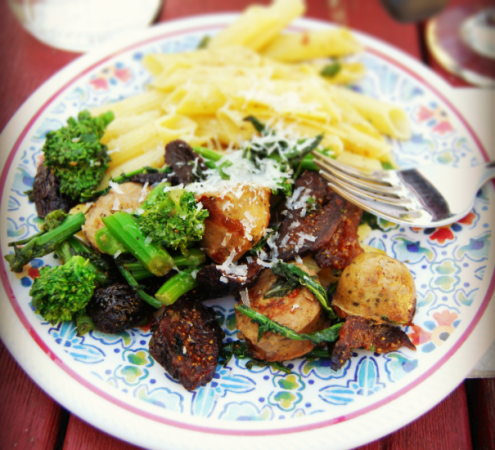 A simple spin on an Italian classic my grandmother used to make when I was growing up. This amazing appetizer can certainly make a meal. The ingredients below make for eight wine tasting-sized servings or four invite-your-friends-over-and-let's-party servings.
Broccoli Raab with Sausage, Black Mission Figs and Gluten-Free Penne
This is a fast dish to make in 30 minutes or less. Best yet, you can make it ahead and be extra host or hostess with the mostess.
Ingredients
1-1/2 lbs broccoli raab, trimmed and cut
1 lb garlicky sausage
½ pound dried California black mission figs, sliced
2 cups gluten-free ziti
2 tbsp olive oil
Hot pepper flakes, salt and pepper to taste
Instructions
Boil and steam broccoli raab until it is bright green and starting to get tender. Drain and shower with cold water to stop the raab from cooking. Gentle squeeze out cold water and rough chop on a cutting board. Set aside.
Bring water to boil in a medium-sized pot for gluten-free ziti. Cook until al dente. Drain and set aside.
Cook the sausage over medium-high heat in a large skillet with olive oil until lightly browned. Remove and carefully cut sausage into bite-sized pieces. Put back in the skillet and continue until nicely browned.
Add broccoli raab to the skillet and stir in with sausage for a few minutes. Add figs last and cook through, about five minutes. Add salt and pepper to taste. Transfer to serving dish and cover to keep warm.
Add gluten-free ziti to skillet on medium-high with olive oil. Mix in hot pepper flakes, salt and pepper to taste. Transfer to serving dish.
Sarah Platanitis
Sarah grew up a "restaurant kid" and spent most of her childhood pretending to be Julia Child. Her blog (sarahinthekitchen.com) is a place for kitchen musings and her food writing, photography and illustrations.