This broccoli pesto pasta dish can be a very easy-to-make weeknight meal.
By Zita Nagy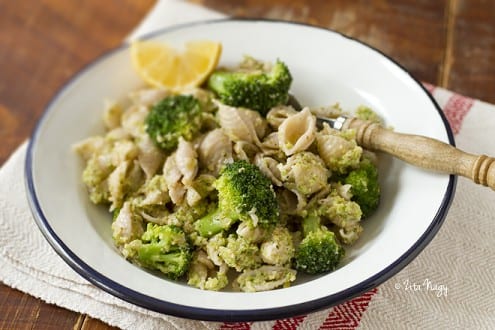 This broccoli pesto pasta dish can be a very easy to make weeknight meal. Although broccoli is not very seasonal I wanted to use another vegetable to make a delicious meal that reminds me of summer.
Print
Broccoli Pesto Pasta
This broccoli pesto pasta dish can be a very easy-to-make weeknight meal.
Author:

Zita Nagy

Prep Time:

5 mins

Cook Time:

15 mins

Total Time:

20 mins

Yield:

3-4

Category:

Main
– 350 g broccoli, peel stalk, then stalk and florets chopped
– 50 g walnut
– 40 g grated parmesan
– 50 ml extra virgin olive oil
– 3 cloves garlic, peeled
– juice of 1/2 lemon
– salt, pepper
– 350-400 g pasta
Instructions
In a dry non-stick pan toast walnuts for 4-5 minutes and set aside.
In a medium sized pan bring water to a boil. Add salt into the boiling water and blanch the broccoli stalks and florets for 2 minutes. With the help of a drain spoon, take out the broccoli and set aside. Use the same water to cook the pasta al dente. Drain (in the meantime save about 100-150 ml cooking water) and set aside.
Add 200 g blanched broccoli (save a few florets), toasted walnuts, grated parmesan, olive oil, garlic, salt, pepper and lemon juice to your food processor and pulse until it gets smooth. Pour this creamy pesto mixture over the cooked pasta, add a bit of cooking water and toss until combined. Add the leftover broccoli florets and serve immediately with a handful of grated parmesan and a drizzle of lemon juice over the top.
Zita Nagy
Zita's love for cookbooks and delicious food started at the age of 9. Whenever she went home from school her little brother and she would wait for mom to make dinner for them. Until the dinner was ready, she was turning the pages back and forth and was staring at photographs of amazingly looking dishes in mom's cookbooks to kill her appetite somehow. She couldn't have known then, that she would be collecting cookbooks after reaching adulthood and would still be, just like in her childhood, staring at awesome photos of delicious dishes. The only difference is that she does the cooking now. She loves traveling, going to the organic market and browsing foodblogs. Her vegetarian food and travelblog is Zizi's Adventures.