This budget-friendly take on osso buco replaces the traditional veal shank with beef.
By Dawn Myers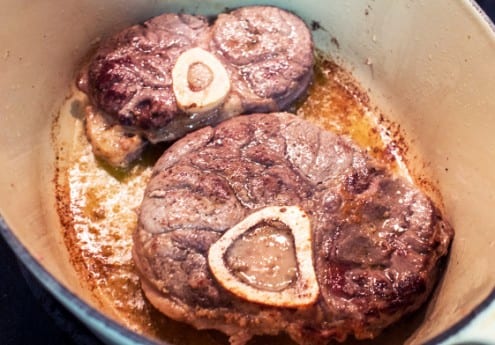 Braised Beef Shanks
This budget-friendly take on osso buco replaces the traditional veal shank with beef.
Ingredients
¼ cup olive oil
Salt and Pepper
4 beef shanks, about ¾ lb-1 lb each
1 medium onion, medium dice
1 small carrot, medium dice
2 ribs of celery, medium dice
4 ounces mushrooms, sliced
1 tablespoon of tomato paste
1 teaspoon dried rosemary
1 teaspoon dried thyme
1 bay leaf
1 cup red wine (I used a zinfandel)
3 cups chicken stock or water
1 can cannellini beans
Instructions
Preheat oven to 350 degrees Fahrenheit.
In a dutch oven, heat the olive oil over medium high heat. Liberally salt and pepper the shanks. Brown in batches in the dutch oven, about 3 minutes a side. Remove and set aside.
Turn the heat to medium. Add the onions, carrots, celery and mushrooms. Sweat the vegetables until wilted, stirring the bottom of the pan to loosen any brown bits.
Add the tomato paste and rosemary, thyme, and bay leaf to the vegetables. Cook until fragrant, about 2 minutes.
Add the red wine, cook and stir for about 2 minutes.
Add the chicken stock. Bring to a boil. Cover and bake for 1½ hours.
If you are using enamel cast iron, the lid should be heavy and tight enough to maintain moisture throughout cooking. If not, you may need to check the dish occasionally to make sure you have adequate liquid.
minutes before the end of the cook time, add the beans and stir to make sure they are submerged. Check salt and pepper levels prior to serving and adjust as needed.
Dawn Myers
Wife, mother of 2 lovely children, MBA, lawyer, bureaucrat. I adore reading old cookbooks and am endlessly inspired by their simplicity, economy, and true connection with the food being prepared. My blog explores "historic" recipes and more modern recipes that embody the same ideals.