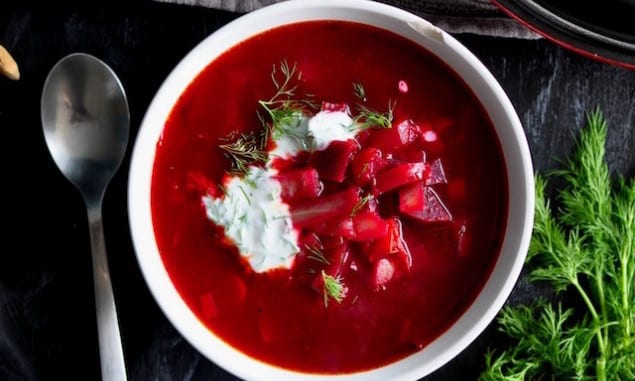 A delicious way to feature beautiful beets, this traditional soup is a perfect way to warm up, swirled with dill and horseradish yogurt.
By Sami Berger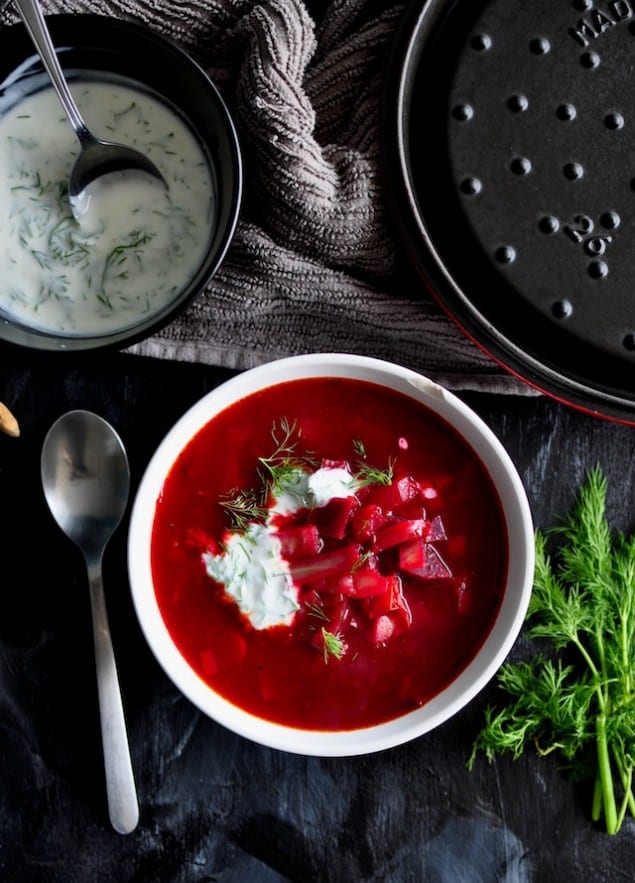 I never learn when it comes to beets. I always buy them, come home, stare at them, and have no idea what to do with them. I don't love beets in juice and never really eat more than a couple of bites of roasted beet salad.
Don't ask me why: they are gorgeously sweet and earthy and have a lovely, firm texture but beets just aren't my thing. So, last week when I went to the store and bought a bag of beets, I came home not knowing what to do with them, again. That is, until I remembered borscht. I love borscht. And I can proudly say that this soup is great and I won't mind eating bowl after bowl of it in the coming days (this recipe makes a lot of soup!).
One of the things that made me think of borscht was that I am planning on making some potato verenikas with some friends this weekend, which are perfect with borscht.
This soup is full of cabbage, leeks, onion, and beets, exactly what borscht should be in my mind. Dill is the only real seasoning in the soup (other than salt and pepper) but it's not overpowering. Beyond the fact that the soup is delicious on its own, the yogurt topping takes it to the next level.

Borscht Soup
A delicious way to feature beautiful beets, this traditional soup is a perfect way to warm up, swirled with dill and horseradish yogurt.
Ingredients
Borscht
2 tablespoons olive oil
2 carrots, diced
1 leek, dark green parts removed, remaining light parts diced
1 small yellow onion, diced
2 garlic cloves, finely chopped
350g (about 2 cups) green cabbage, sliced
8 cups vegetable stock
800 ml (27 ounces) canned whole tomatoes
350g (about 2 cups) red beets, diced
½ packed cup dill + extra for serving
salt and pepper
Dill Horseradish Yogurt
½ cup plain yogurt
¼ cup dill
½-1 teaspoon freshly grated horseradish, to taste
⅛-1/4 teaspoon salt, to taste
Instructions
Borscht
In a large pot, heat up olive oil over medium high heat.
Sauté carrots, leek, onion and garlic cloves until they begin to soften (3-5 minutes).
Add cabbage, stir and cook for another 3-5 minutes, until the cabbage begins to wilt and soften.
Add stock, tomatoes, beets, dill, salt and pepper.
Simmer, uncovered for about 40 minutes. Stir occasionally. The beets should be cooked through but still have some texture.
Serve hot with a swirl of the dill horseradish yogurt and extra, fresh dill.
Dill Horseradish Yogurt
Mix all ingredients together in a bowl. Taste and adjust amount of horseradish and salt.
Sami Berger
Sami Berger is the author of My Second Breakfast, a mostly healthy, mostly vegetarian blog. Inspired by her travels and life in a new city, My Second Breakfast is a space to tell stories and experiment with sometimes new, sometimes familiar and most importantly, always delicious, flavours.