Famed Boqueria restaurant brings the deeply rooted flavors of Barcelona to the Big Apple.  A destination where excellent wine and dishes embody the distinctive bold flavors of Spain. Serving traditional tapas like crispy patatas bravas; crispy potatoes coated in a spicy tomato sauce and crema, pulpo a la plancha octopus grilled to perfection, tender and immensely flavored with smoked pimentón served atop mashed potatoes and fennel. Craving to die for Spanish cuisine head to Boqueria.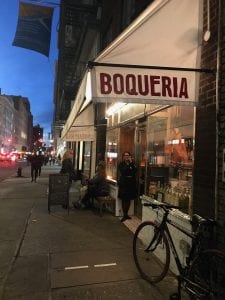 On a chilly Thursday night in the never so quiet Flatiron district, groups of friends, family and dates gather at the tapas facade. Inside Boqueria the experience is buzzing, resembling Spain's renowned food market "El Mercado de la Boqueria".  There are plates on plates of tapas, streaming from the open kitchen lead by Executive Chef Marc Vidal, delivered to the tables surrounded by chatters and clinks in the vibrant room.
Inspired by his grandmother's simplicity  and attention to quality ingredients used in their family's restaurant in Barcelona, Chef Marc Vidal fuses this with his wealth of culinary knowledge in the kitchen and menus of Boqueria. Featuring classics and seasonal specials from Spain's ever-evolving food scene. These include; patatas bravas, a classic dish of fried potatoes served with aioli and a spicy tomato sauce,  bacalao, fried cod and potato balls, bacon wrapped dates; smoked Ibérico bacon and creamy baby Manchego cheese wrapped around a medjool date. The latter is a combination of rich, smoky, sweet and savory flavors in the mouth- a definite MUST TRY try when dining at Boqueria.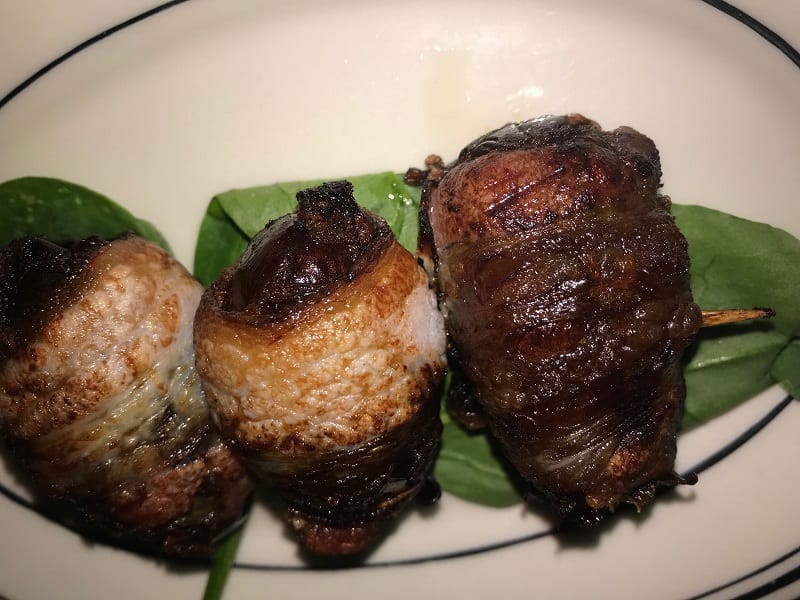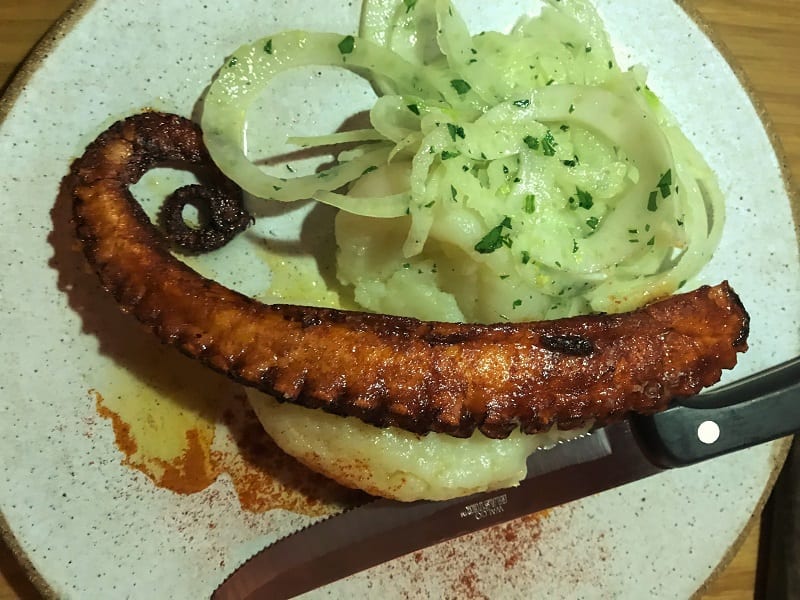 Come fall, chef Marc Vidal incorporates seasonal ingredients with his Spanish roots to create dishes that are fresh and timely, but also pay homage to his hometown of Barcelona. On a separate menu; the market menu guests can choose market options; calabaza con mojo canario ( roasted butternut squash, spicy labne, mojo verde, hazelnuts and cilantro), anxoas (salt cured anchoives with bread and butter) or carne a la plancha.
"At Boqueria, when it comes to showcasing beautiful protein like steak, it is often done via La Plancha. At the heart of every Spanish restaurant kitchen is the plancha, a hot flat-top grill. Its intense, direct heat is known for caramelizing the exterior of proteins and vegetables while keeping the interior moist. The simplicity of plancha-cooking makes it a go-to for chefs looking to spotlight great products with little muss and fuss. Throw something on the plancha and dress it with a little salsa verde, romesco, or herbed yogurt for an effortless stand-out meal." – Boqueria
Other highlights from the menu include  The Paella of course! – Boqueria uses a Catalan-style seafood paella that is beautiful with saffron and a mix of fish. Beyond the smokey sweet bacon wrapped dates, sweet notes off the menu include the churros con chocolate and stuffed churros with either a choice of nutella or chocolate.  Paired with a cappuccino and the Barcelona night is perfection.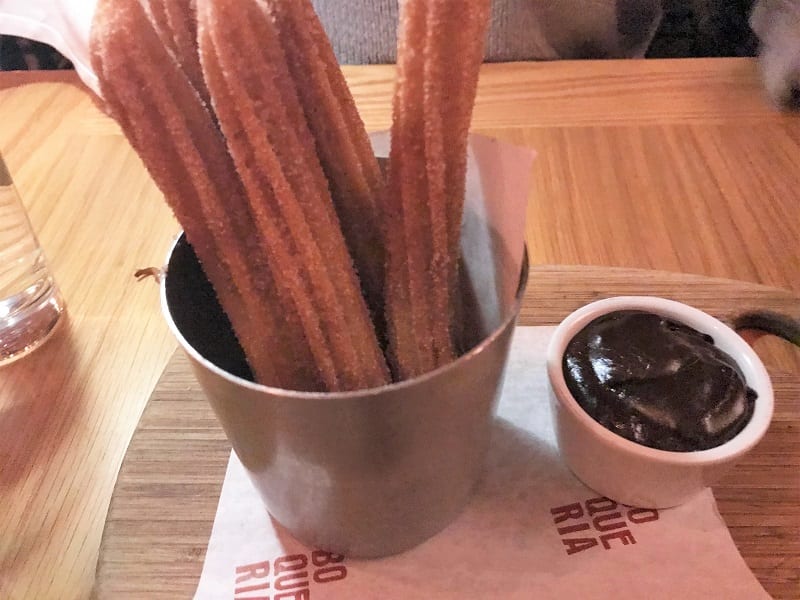 Come visit Boqueria, the buzzy, Barcelona-style tapas bar serving a menu of Spanish classics and market seasonal specials at several outposts in NYC or Washington DC.Or bring the tapas bar at home with recipes from his book; Boqueria, a cookbook: From Barcelona to New York.