A luscious chocolate mousse sitting atop a fudgy cake, shot through with cracked black pepper. Not for the faint-hearted.
By Amrita Chowdhury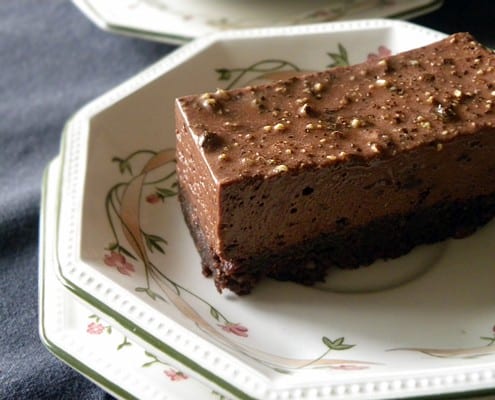 I really do not want to start with a half-hearted excuse but I don't really have a choice: this one slipped under the radar.
It somehow got lost in the crowd. Which is ironic because this is not a cake you want to forget. I made this mousse cake a month back – and somewhere between all the mushroom-roasting and crispy-frying and egg-ruining, I forgot to tell you all about it. Excuse me while I go hang myself by the neck.
The cake was put together in the blink of an eye and was devoured even quicker. I think I was in the middle of readying the fourth camera shot when the slices started disappearing off the table. Plus I blame my camera for running out of juice. And I got busy with work the very next day – structural plans and sections wreak havoc when you least expect them too.
Does it seem like I'm making too many excuses?
I don't know why though, because this cake is worth a thousand compensations. It's set in chocolate through and through and speckled beautifully with cracked black pepper. Its chocolate mousse sitting atop a dense fudgy base and I highly recommend eating light before you attempt to dig into this, although I have a sneaking suspicion that you'll be able to handle it easily.
Now that the introductions have been made, I'll leave you two alone.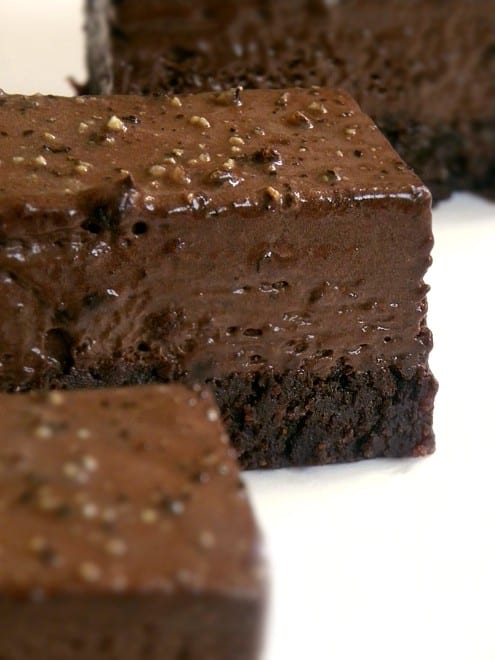 Black Pepper and Chocolate Mousse Cake
A mousse cake set in chocolate through and through. Fudgy cake base, creamy chocolate mousse with a heavy shot of cracked black pepper.
Ingredients
For the cake base
¾ cup ground almonds
4 tbsp natural unsweetened cocoa powder (not Dutch processed)
4 tbsp all-purpose flour
1 pinch salt
2 eggs
½ cup granulated sugar
⅓ cup vegetable oil (eg, canola, peanut, sunflower etc but not olive)
⅓ cup sour cream
For the mousse
4 eggs, separated
2 tbsp freshly cracked black pepper + more to sprinkle on top
⅔ cup (150ml) double cream
10 oz (about 300gm) dark bittersweet chocolate
2 tbsp powdered sugar (granulated sugar ground in a processor)
Instructions
Cake Base
Pre-heat oven to 180 deg C and grease a 8?X8? square tin or a 8-9? dia round tin.
Line the bottom with parchment. Grease the parchment too.
Mix almonds, cocoa, flour and salt in a small bowl.
Whisk eggs, sugar, oil and sour cream in a bigger bowl till the sugar dissolves.
Add the dry mixture into the wet and stir till just combined. Do not overwork the batter.
Bake for 20-25 minutes and cool in the cake tin for a half hour before turning out on the rack.
Line the same cake tin (washed and dried) used to bake the cake in, with cling film, making sure the film hangs over the edges of the tin. This just makes it easier to lift the mousse cake out after its frozen.
Place the cooled cake back into the cling-film lined tin and leave to rest in the refrigerator for a couple of hours.
Mousse
Melt the chocolate in the microwave in short bursts, or in a heat-proof bowl sitting over a pot of boiling water. Keep aside to cool for minute.
Whisk the egg yolks and pour in the warm chocolate while whisking continuously. Whisking continuously will prevent the yolks from scrambling.
Whisk the double cream till soft peaks form.
Fold the egg-chocolate mixture into the softly whipped cream. Use a large bowl for this, since the egg whites will also be folded into this later.
Whisk the egg whites in a separate (clean) bowl with the electric beaters on high, till the whites start foaming (this will take about a minute).
Start adding the sugar a teaspoon at a time while still whisking the whites, till the whites form stiff glossy peaks.
Take ⅓ of the whisked meringue and stir it quickly into the chocolate-cream mixture.
Add the rest of the meringue and the black pepper in and fold gently.
Pour this mousse on top of the cake and smooth out the top with a palette knife.
Sprinkle the top with freshly cracked black pepper.
Notes
The cake base uses a recipe based loosely on a birthday cake that I make, with a few obvious tweaks (no baking soda or powder, because you don't want the cake to rise much). And the mousse recipe that came on an issue of BBC Good Food was a plain classic version of the dessert. The black pepper I added was totally on a whim. A planned whim.
Amrita Chowdhury
Amrita Chowdhury is a self-confessed chocoholic, a compulsive picture taker and a food-obsessed British-Indian. She loves to travel and her food is a manifestation of every city she has lived in. An architect by profession, Amrita is the author behind the food blog The Subjectivist. She loves to write, enjoys oak-matured Scotch and is inexplicably addicted to collecting stationery.