Kalle Bergman on how to make the ultimate mother-approved Swedish meatballs.
By Kalle Bergman – Photo By Mads Damgaard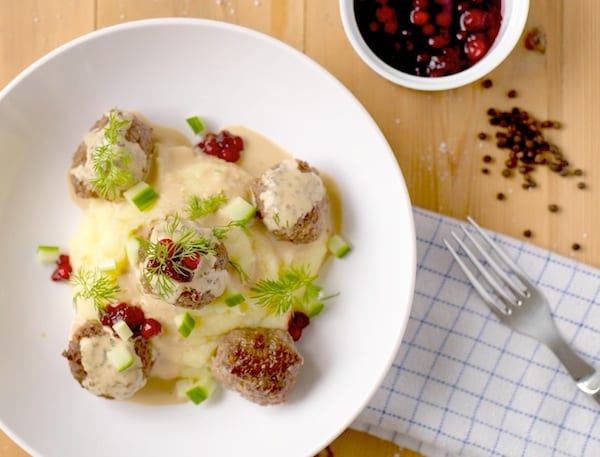 Swedish Meatballs. The King Of Swedish Cuisine. The Classic Of Classics. Titan Of Titans, if you will.
This ultra classic has a very special place in the hearts of most Swedes. And why shouldn't it? It is after all a miniature version of the entire Swedish cuisine. It tastes like Sweden, and it has all the classic ingredients that we see all across Scandinavian food culture. Pickled cucumber. Lingonberries. Mash. Cream sauce. Powerful and smooth at the same time. Sweet and sour. Simple but refined.
There are as many Swedish meatball recipes as there are Swedish mothers. All with their individual secrets and tweaks, and all claiming to the be "the original". Most use a bread and milk mixture to make the meatballs smoother, others mix pork and beef to make them lighter. Some season with everything from allspice to nutmeg. I use a little cream, dark beer, onions and stock to make the meatballs slightly lighter, chunkier and juicier. And they are Mother approved.
Print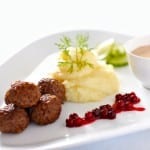 Swedish Meatballs Recipe – The Ultimate Version
---
Author:

Kalle Bergman

Total Time:

50 mins

Yield:

4

1

x
Description
Kalle Bergman gives us his mother approved recipe for Swedish Meatballs with cream sauce, mashed potatoes, pickled cucumber and lingonberry jam.
---
Meatballs
1 1/3

Ib (600 g) of ground beef

2 Tablespoons

of breadcrumbs

3 Tablespoons

of heavy cream

2 Tablespoons

of beef stock

2 Tablespoons

of dark beer

1

Onion

1/2 Teaspoon

of allspice
Salt
Pepper
Cream Sauce
1/2 Cup

of beef stock

1 1/2 Cup

of heavy cream
Salt
White pepper

1

Small knob of organic butter
A pinch of sugar

1 Teaspoon

of corn starch, mixed with a little cold water
Mashed Potatoes
2

Ib of potatoes

1/2 Cup

of warm milk (you might not need it all)

3 Tablespoons

of organic butter
Salt
Pepper
Pickled Cucumber
Cucumber
Cup of Vinegar
Cup of Water
Tablespoon of salt

1/3 Cup

of sugar

1

Bay leaf
Lingonberry Jam
1 1/2 Cups

of lingonberries

1 1/2 Cups

of sugar
Garnish
---
Instructions
For the cucumber
Start by preparing the pickled cucumber. Mix water, sugar, salt and vinegar in a large bowl. Whisk until sugar and salt is disolved completely. Finely slice the cucumber, and add to the bowl. Make sure they are completely covered by the fluid. Add bayleaf, and put in the refridgerator for at least one hour.
For the lingonberry jam
Rinse the lingonberries thoroughly and put them in a bowl. Pour in the sugar, and gently stir until sugar is disolved. Store in the refridgerator until serving.
For the meatballs
Peel and grate the onion coarsely. Then gently fry it on a medium warm pan together with a little bit of butter until golden brown.
In a bowl, mix bread crumbs, heavy cream, beer and stock. Set aside for 5 minutes.
Place the ground beef in a large bowl, add the browned onions and the beer / bread mixture . Season with salt and pepper, and mix together well. Leave for 10 minutes.
Roll the meat into small balls with a diameter of roughly one inch. Fry them in batches together with a little butter or sunflower oil. They are ready when they are slightly crispy on the outside. Set aside while making the sauce.
For the sauce
Deglace the frying pan with a littlewater and add the stock. Reduce by half, and then add the cream. Bring to a simmer, and thicken with butter and corn starch. Let it simmer for 5 minutes.
Taste and season it with salt, sugar and white pepper.
Add the meatballs to the sauce, or serve them separately.
For the potatoes
Peel the potatoes and boil them in salted water until soft. Pass through a sieve into a large bowl to get the finest and smoothest mash. Add the butter, and then the milk slowly as you whisk the potatoes. Do not add ALL milk at once, you might not need more than just a few drops, depending on what potato you are using. Season with salt and add more butter if you want a creamier taste.
Plating
Garnish with dill
Notes
If it's completely impossible to get a hold of lingonberries, or lingonberry jam (usually found in that Swedish furniture store) – you can substitute red currant jelly. It's not the same, but it works.
Prep Time:

20 mins

Cook Time:

30 mins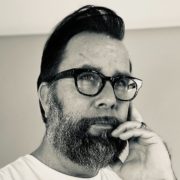 Kalle Bergman
Kalle Bergman is a food writer and media entrepreneur who is the founder of Honest Cooking and PAIR Magazine. As a food writer, his writing has been regularly featured in publications like Gourmet, Los Angeles Times, Huffington Post and Serious Eats. He is obsessed with simple food, more often than not from his native Scandinavia.