The pot roast goddess, Chef Suzanne Tracht, weighs in on where to 'steak' out the best steakhouses in Los Angeles and beyond.
This story was originally published on Citizine.
Chef Suzanne Tracht loves a good steak. Some would even say she is the Queen of Meat in Los Angeles—though she's quick to add that she loves her veggies too. The mastermind behind JAR, the long-running (15 years!), critically-acclaimed steakhouse, Suzanne dishes out a menu filled with broils, sautées and braises. But it's her signature pot roast that's perpetually praised. LA's ultimate foodie Jonathan Gold calls it, "superlative."
A self-taught chef, she began an apprenticeship under Siegbert Wendler at the four-star Arizona Biltmore at age 19 before migrating to the illustrious kitchen at Hotel Bel-Air. She would go on to become chef de cuisine at LA's famed Campanile, where Republique now stands, and executive chef at Jozu. Under Suzanne's adroit command, Jozu ranked number two in LA Magazine's "Best New Restaurants."
In 2001, Suzanne popped open the chophouse JAR (which stands for 'just another restaurant') alongside her longtime Chef de Cuisine, Preech Narkthong, where they have served cozy, familiar American food with a side of modern flair ever since. With continuous inclusions in many of LA's top restaurant lists, including Jonathan Gold's annual compilation, they've certainly proved that meat and potatoes are still a winning combo.
Suzanne has been inducted into the Fine Dining Hall of Fame and honored at the Women in Food James Beard Awards. Fans of the show Top Chef Masters will never forget her winning dish utilizing vending machine ingredients: fried shallot rings dusted with Frito flour and reduced with Dr. Pepper Aioli. Sounds good, right?
So how does Suzanne Tracht like her own meat prepped?
I love my meats medium rare, not a touch over. A perfect medium rare.
But a perfect medium rare is tough to master, so we wanted to know who she trusts to sear it for her just right. Read on for her top picks for when she's craving steak in Los Angeles (and beyond):
Where to Dine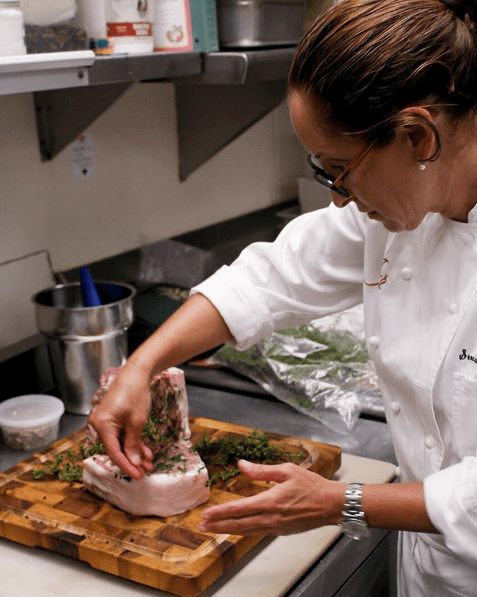 Suzanne prepping steak. Image courtesy of @suzannetracht
Beverly Grove, $$$
There are so many great steaks at JAR, but my favorite is the ribeye. I start off with some oysters on the half shell, then maybe an iceberg lettuce wedge with blue cheese and thinly shaved red onions and then comes a 14 oz. ribeye, cooked medium rare. I usually invite a friend to have dinner with me because my eyes are always bigger than my stomach—and because that's what friends are for.
See Also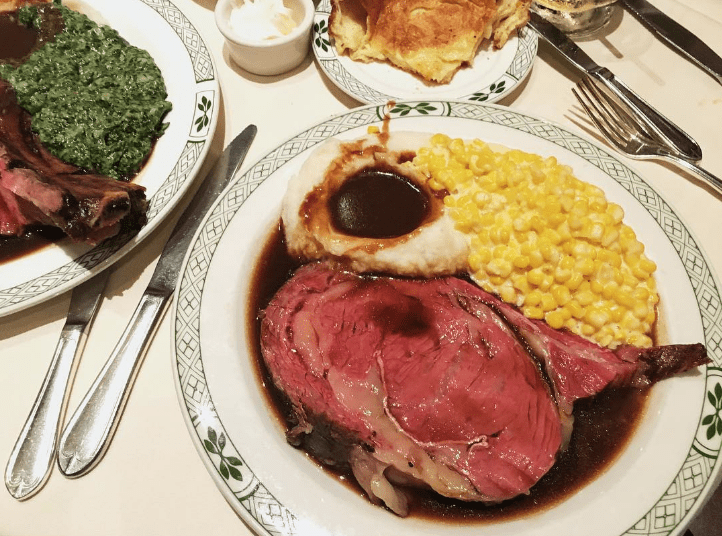 Lawry's Prime Rib with Yorkshire pudding and spun salad. Image courtesy of @lisaacui
Beverly Hills, $$$
Every couple of years I like to go to Lawry's for prime rib dinner. Medium rare. My favorite is the Yorkshire pudding and the spinning salad.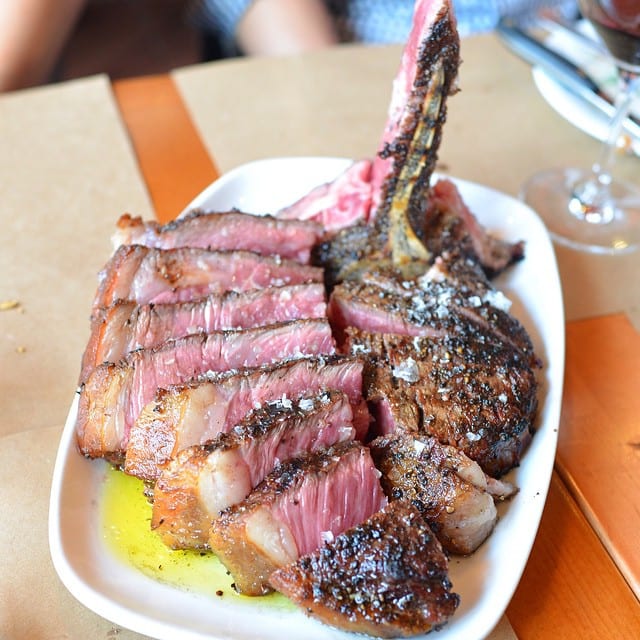 Bistecca fiorentina at Chi SPACCA. Image courtesy of @darindines
Hancock Park, $$$$
One of my favorite places to go is Chi Spacca. Even though I have my own chophouse, once in a while you have to get out of your house and eat somewhere else. I like the bistecca fiorentina. Definitely bring an appetite when you eat there, because not only are the portions huge, you'll want to order everything on the menu.
Click here for the rest of the top steak places to dine and shop in LA and beyond.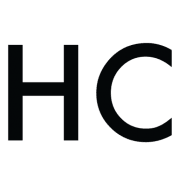 Citizine
Citizine is a lifestyle platform that highlights the culture of Los Angeles through the people who shape it. Create a Citizine profile and follow us on social media to keep up with the best events, places, and people taking LA by storm.