Summer time means ice cream time, but it doesn't mean you have to go in search of the refreshing treat—sometimes, the ice cream comes to you. Beat the heat with a visit to one of the country's most delicious ice cream trucks.
By Kara Sherrer
This article has been posted with permission and originally appeared as Best Gourmet Ice Cream Trucks Around the Country on Relish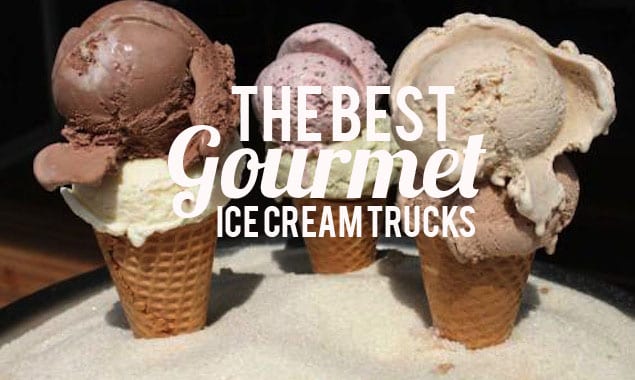 Summer time means ice cream time, but it doesn't mean you have to go in search of the refreshing treat—sometimes, the ice cream comes to you. Below, we round up the 10 best gourmet ice cream trucks in the country.
Parfait Organic Artisan Ice Cream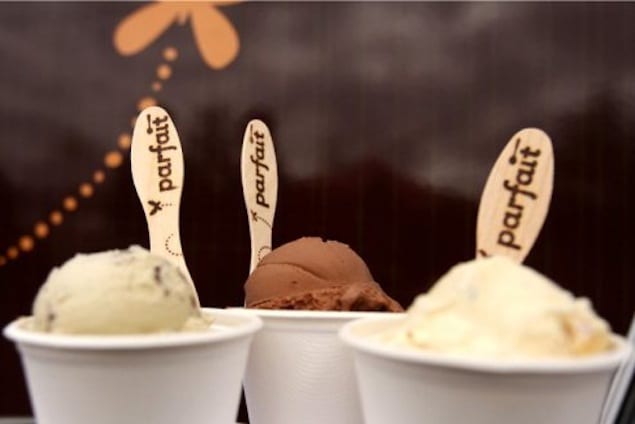 Parfait Organic Artisan Ice Cream
Where: Seattle, WA
Why They're Awesome: All of the ice creams and sorbets are gluten free, and several of the sorbets are vegan as well, ensuring that anyone can indulge in the truck's delicious desserts. But just because Parfait accommodates dietary restrictions doesn't mean their flavors are limited: there are 25 varieties currently listed on the website, some of which are named after the local farms that provided signature ingredients, like the Ballard Bee Honey and Alm Hill Farm Blueberry ice creams.
First Thing to Try: The summer-only Hayton Farms Strawberry ice cream, which is made with fresh strawberries from a local farm in Skagit Valley.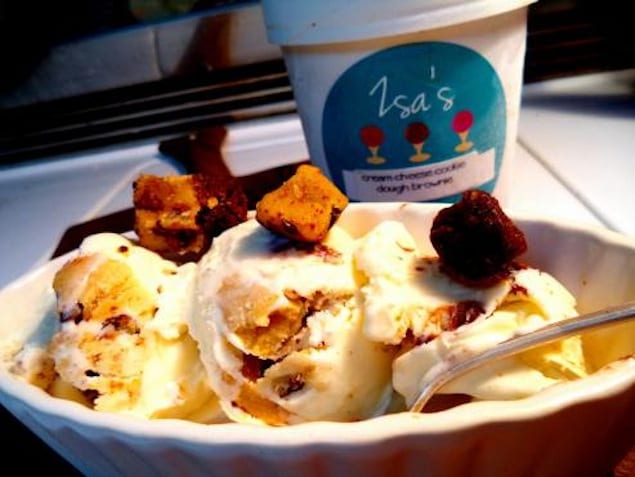 Zsa's Gourmet Ice Cream
Where: Philadelphia, PA
Why They're Awesome: Zsa's cheerful blue 1963 International Harvester van—named Gatsby—offers small batch, artisanal ice cream by the scoop and by the pint, so you can have your ice cream now and save it for later, too. Zsa's doesn't use any artificial flavorings or colorings, and it goes through more than 100 lbs of sugar a week to make its own caramel for one of its most acclaimed flavors, Salted Caramel.
First Thing to Try: Get a scoop of Salted Caramel and/or Zsa's other uber-popular flavor, Black Magic.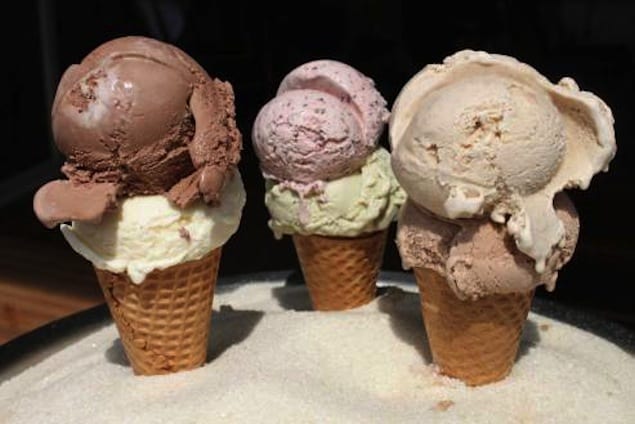 Van Leeuwen Artisan Ice Cream
Where: New York City, NY
Why They're Awesome: Van Leeuwen has not one, not two, but six trucks that frequent the Brooklyn and Manhattan areas. If you can't find one of the trucks, there are also three brick-and-mortar stores located in NYC so you can get your ice cream fix no matter what. All of Van Leeuwen's trucks and stores use local, hormone- and antibiotic-free ingredients as well as biodegradable utensils made from 100% renewable materials, so you can feel good about the tasty ice cream you're eating.
First Thing to Try: Try out one of the special flavors that are made in small batches on rotation, such as Sweet Sticky Black Rice.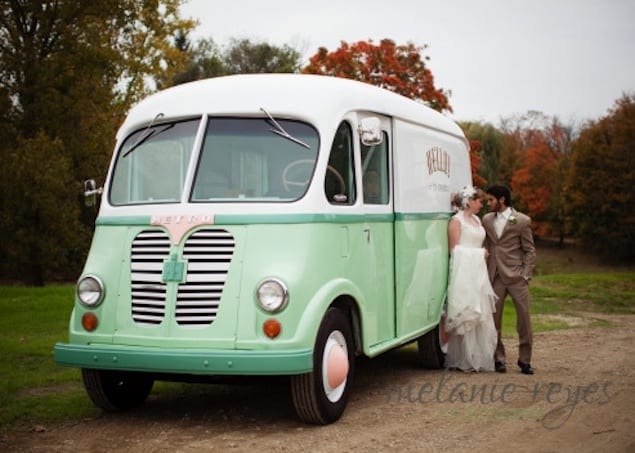 Hello! Ice Cream
Where: Ann Arbor, MI
Why They're Awesome: Despite the name, Hello! Ice Cream actually serves up mouth-watering gelato-based treats out of its 1965 International Metro van named Ingrid. Ingrid drives all over the South Michigan area during the summer, bringing gelato, sorbetto, and other delicious Italian desserts everywhere she goes. Flavors range from American favorites like espresso to Italian specialties like zabaglione (a custard made of eggs, cream, and marsala wine).
First Thing to Try: Grab yourself a cup of one of the traditional Italian gelato flavors.
Twirl and Dip Organic Soft Serve Ice Cream Truck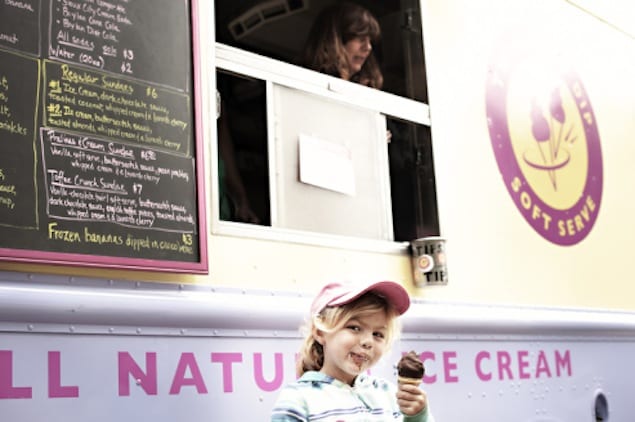 Twirl and Dip Ice Cream
Where: San Francisco, CA
Why They're Awesome: Twirl and Dip gets their name from its soft serve twirl cone (Organic Vanilla Bean and Organic Chocolate swirled together) and its chocolate dip (made with TCHO chocolate and Maldon sea salt). While their flavors are certainly classic, Twirl and Dip adds a new spin on old dessert by making its organic goodies with fresh, local ingredients. If you're not in the mood for ice cream, Twirl and Dip also offers handmade ice lollies in seasonal flavors like Cantaloupe with Honey and Watermelon Lemonade.
First Thing to Try: A chocolate-and-vanilla twirl cone dipped in chocolate, of course.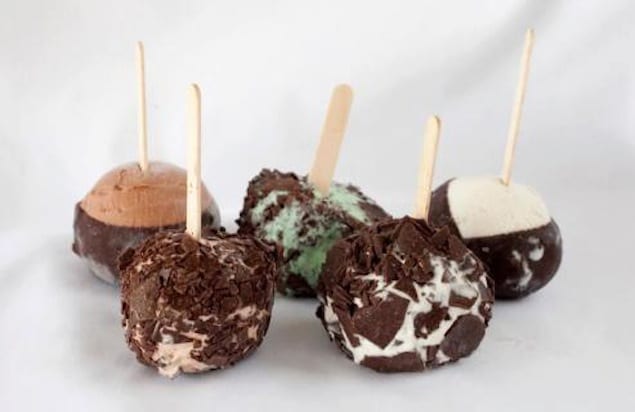 The S'Cream Truck
Where: Los Angeles, CA
Why They're Awesome: Sarah Reinhardt and Louise Browne-Gonzalez decided that ice cream trucks should offer healthier treats for kids without artificial colors or ingredients—and thus was the S'Cream Truck born. Not only is their ice cream better for you, it's also delicious and fun to eat.
First Thing to Try: Be sure to try their signature S'Cream Balls (ice cream balls on a stick dipped in chocolate toppings).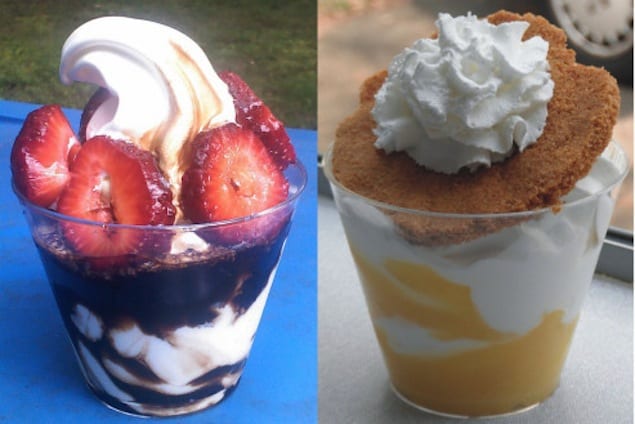 Sticks and Cones Ice Cream
Where: Charlotte, NC
See Also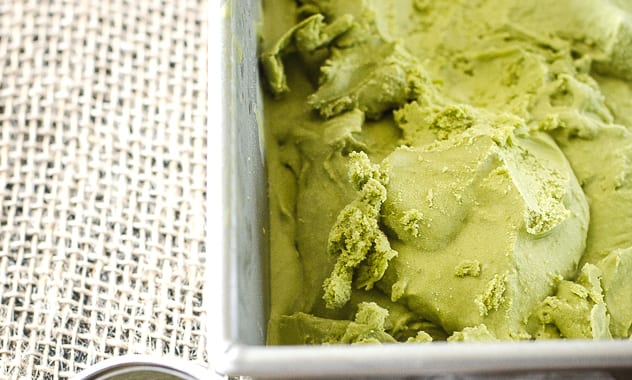 Why They're Awesome: Sticks and Cones Ice Cream takes its name from their two trucks: the Sticks Truck and the Cones truck. The Sticks Truck offers regular ice cream truck fare, but the Cones Truck goes a step beyond with creations like the Granny Gene (above right), which combines homemade lemon curd and graham crackers with vanilla soft serve ice cream. Many of the other sundaes also incorporate homemade baked goods, which the Cones truck often sells a la mode as well.
First Thing to Try: Any premium sundae that includes a home-baked goodie in it.
Fifty Licks Handmade Ice Cream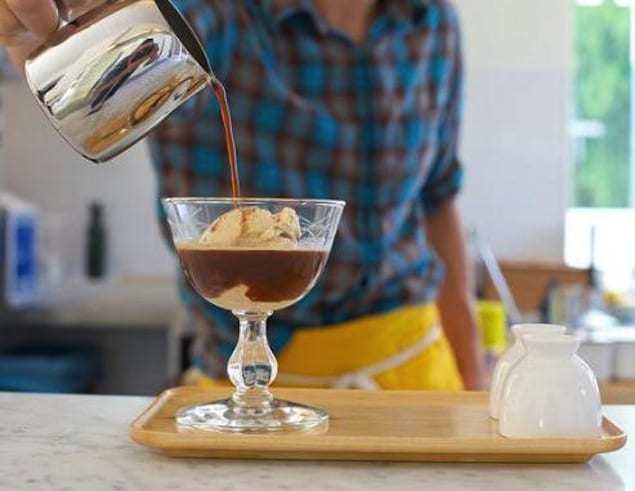 Fifty Licks Handmade Ice Cream
Where: Portland, OR
Why They're Awesome: Fifty Licks makes its seasonal ice cream flavors with a unique French custard-style base for the perfect creamy consistency. Founder Chad Draizin won't sell a flavor until he perfects the taste, leading to standouts like Buttermilk Blood Orange Creamsicle and Jasmine Rice with Fragrant Pandan Leaf. The truck is only open during the summer, but the brick-and-mortar location is open year round and serves sorbets, cuban coffee, and sorbet cocktails in addition to ice cream.
First Thing to Try: If you want a true Portland experience, try the Pip's Original Salted Honey Doughnut ice cream, which incorporates doughnuts from another local stop.
Treatbot Ice Cream
Where: San Jose, CA
Why They're Awesome: If you like to listen to music while you eat ice cream, then Treatbot is the truck for you: it offers karaoke along with sweet treats. Unfortunately, an accident a few weeks ago totalled the original truck, but a new pink one now roams the streets of San Jose and will be outfitted for more karaoke soon. The plucky Treatbot truck offers fun flavors like East Side Horchata and Bananutella—but if you can't shake the urge to sing, stop by the Treatbot Factory in the San Pedro Square Market.
First Thing to Try: The 408 flavor—named after a California area code—combines caramel ice cream, fudge, and Oreo cookies. Yum!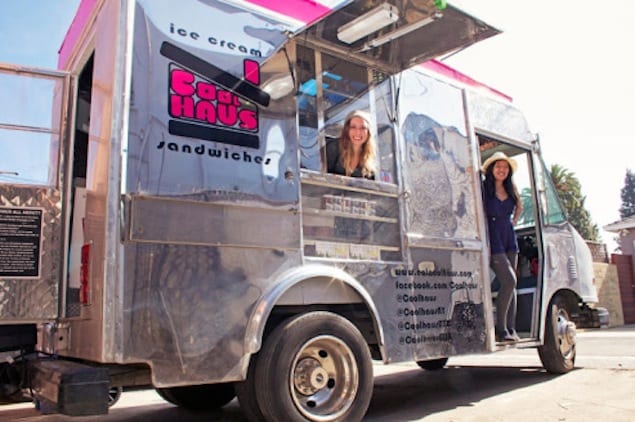 Coolhaus Ice Cream Sandwiches
Where: Los Angeles, CA; New York City, NY; Austin, TX; Dallas, TX
Why They're Awesome: No ice cream truck roundup would be complete without Coolhaus. With four trucks roaming three different states, Coolhaus serves up architecturally-inspired ice cream cream sandwiches with names like I. M. Pei-nut Butter (Double Chocolate cookies with Peanut Butter ice cream). If you don't live nearby one of the four trucks, check out Coolhaus recipes here and here to make your own sandwiches, or pick up theCoolhaus Ice Cream Book for even more options.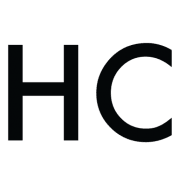 Relish
Offering more than 14,000 recipes plus features and DIYs on cooking, dining and entertaining, Relish celebrates America's love of food. Relish is about honoring cooking traditions while exploring new trends and ideas, which is why millions of people turn to both Relish.com and Relish Magazine for special occasion recipes, quick and easy weeknight suppers and culinary adventures.