Bellevue: LOT No. 3's Pub Grub And Manly Manhattans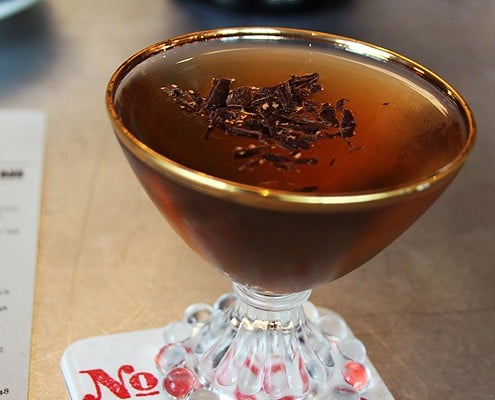 Denise Sakaki checks out LOT No. 3 in downtown Bellevue, WA, and falls in love with both the competent cocktails and the famous bacon appetizer.
By Denise Sakaki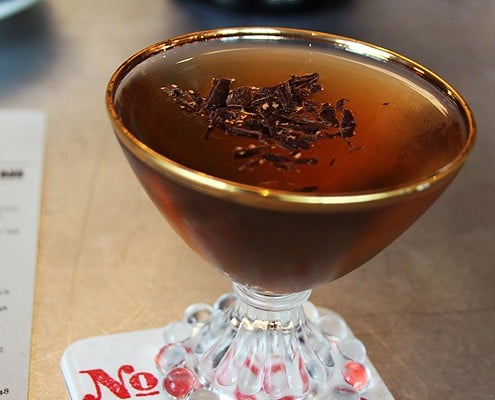 It's been nearly a year since the Speakeasy-style bar and late-night eatery LOT No. 3 opened in downtown Bellevue, and the shine has yet to wear down on this food and cocktail haven. Serving a menu of simple bar food fare elevated with handcrafted artisanal touches and fresh ingredients, along with a drink menu that's the size of the food menu (if not bigger), this is the place that truly rewards those looking for a place to unwind after a long day.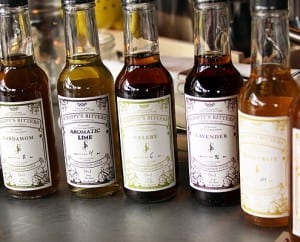 Their specialty is most definitely the drinks. The bartenders  at LOT know their craft and it's the sort of place where you feel confident letting them choose the drink for you. Just tell them what type of spirit you prefer, be it gin, bourbon, rum, etc., and let them know if there's a particular flavor you enjoy. Let the good folks behind the bar take it from there and see what comes your way. There's no Windex blue-tinged drinks or heavily sugared glass rims so as to throw anyone into a diabetic coma.  The cocktails are balanced – never too sweet, strong or bitter, just the perfect combination of all three. They have a special place in their spirited hearts for the brown liquors – whiskey and bourbons. They actually have a Manhattan menu, where you can build your own based on the incredible selection of whiskey and bitters. They offer  different rye whiskey including Old Overholt Whiskey and Michter's Small Batch, as well as bourbons that include a 12 year old Elijah Craig or an eight year old Basil Hayden. Among their choices of bitters, the flavors include the traditional Angostura, orange, as well as a chocolate bitters from Scrappy's. The combination possibilities yield a multitude of complex and richly-flavored results. The chocolate bitters is especially delicious, as it's more of a rich cocoa than a candy bar, which pairs it nicely with the slightly sweeter flavor of rye in a Manhattan.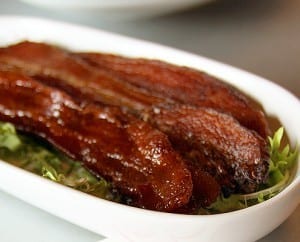 Even if you're not much of a hard liquor drinker, they offer a satisfyingly wide range of unique beers from both regional microbreweries and abroad, including several Belgian styles, light and dark lagers, rich porters and a nice range of ales. The choices are flavorful and pair nicely with their food menu. The pleasant bitterness of a Scottish ale goes marvelously with LOT's famous Plate O' Bacon appetizer, which is just that – a dish of thick-cut, perfectly cooked Nueske's slab bacon, served both candied and savory. Make sure to have a Belgian-style beer with their homemade giant pretzels – the texture of the chewy, bready pretzel as you bite into it leaves no doubt that it was made with a true baker's skill and you'll probably never want to get a mall pretzel ever again.
Their menu offers main courses like roasted chicken or lamb stew, but the best way to enjoy LOT is to go with a few friends and get shareable plates. Or at least a few extra spoons if you get their rich macaroni and cheese made with smoked gouda, gruyere and parmesan. Their appetizer menu offers easy small bites that allow for more things to sample, plus provide a hearty base for their cocktails, since it's hard to resist the pull of trying a new mix of rye, whiskey and bitters when they're mixing up Manhattans. Make sure to take advantage of their daily happy hours from 4-6, where you can sample their different sliders for $3 a piece, that include a spicy short rib, meatloaf and a peanut butter, jelly and yes – bacon.
LOT No. 3 is open 4-2pm Tuesday thru Saturday, 4-12am Sunday and Monday, with happy hour daily from 4-6pm
LOT No. 3 is located at 460 106th Avenue NE, Bellevue, WA 98004 and their phone number is 425.440.0025 Visit them online at lotno3.com
Denise Sakaki
Denise Sakaki is a freelance food writer and photographer who is always searching for the connections between food and personal experience. She is the creator of the food blog Wasabi Prime and contributor to Serious Eats, 425 Magazine and Drink Me Magazine.