Beetroot Gnocchi with Spicy Coconut Sauce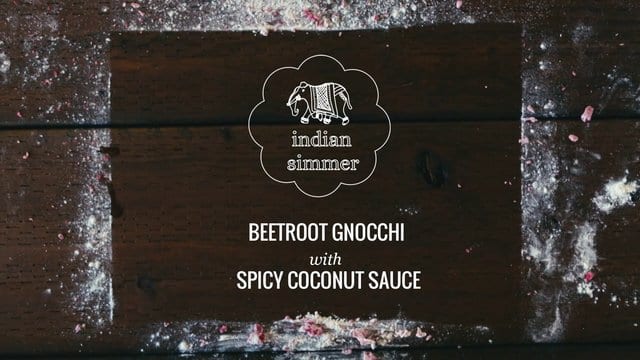 Colorful and delicious beet gnocchi with a creamy coconut sauce. Watch the video to see how to make the shaped dough.
By Prerna Singh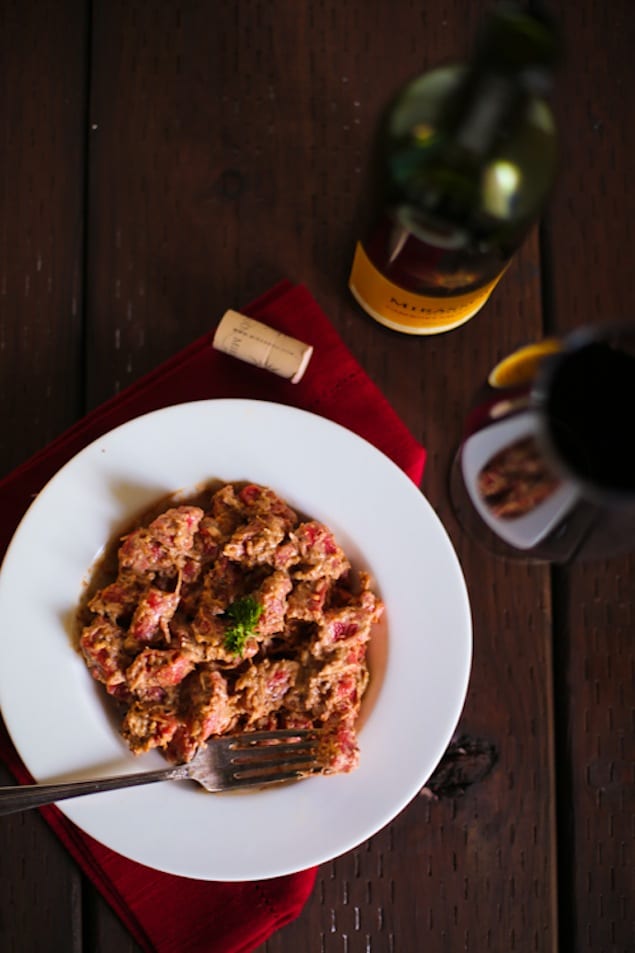 The recipe here for beetroot gnocchi makes double the quantity suitable for the amount of sauce. I usually save one half of the dough for later. You can either do that OR reduce the gnocchi recipe to half OR can also double the recipe for sauce if your are entertaining a larger crowd.
Watch the video to learn how to make the delicious dish for yourself.

Beetroot Gnocchi with Spicy Coconut Sauce from IndianSimmer on Vimeo.

Beetroot Gnocchi with Spicy Coconut Sauce
Colorful and delicious beet gnocchi with a creamy coconut sauce. Watch the video to see how to make the shaped dough.
Ingredients
For Beetroot Gnocchi: Serves 6
500 grams russet potato (yields 2 cups mashed potatoes)
230 grams beets (yields ¾ cups beetroot puree)
2¼ cup all purpose flour + extra for dusting
1 large egg
½ teaspoon salt
For Spicy Coconut Cream Sauce: Serves 3-4
2 tablespoon unsweetened grated coconut (fresh or dry, dessicated)
1 tablespoon ground almond
1 bay leaf
1½ teaspoon ground coriander
1 teaspoon chili powder
2 tsp grated ginger
1-2 cloves garlic, grated
salt
1 cup coconut milk
Instructions
For Beetroot Gnocchi:
Pre heat the oven to 350 deg. F.
Wash the beetroots. Pat dry. Chop the leaves and ends off. Drizzle with olive oil. Bake for 30-35 minutes until fork tender.
Pull out of the oven. Let cool before peeling the skin off. Chop. Puree in a blender or food processor. Set aside to cool.
Boil water in a sauce pan.
Peel potatoes. Chop into chunks.Boil in water until cooked through. Strain water.
Mash potatoes using a masher or food mill leaving no lumps. Set aside to cool.
On a clean counter top bring all the ingredients of gnocchi together.
Mix well and while dusting occasionally, knead into a smooth soft dough, dry to touch.
Divide into two parts. Wrap one half and save for later.
Divide the other half into 3-4 smaller portions. Roll into long dowels about ¾ inch in diameter.
Cut into ¾-1 inch long dowel pieces. Flick pieces into the back of a fork or gnocchi maker.
Boil a pot of salt water. Add 2 tablespoon oil. Drop the gnocchi.
Cook for a few minutes. Once cooked gnocchi float to the surface of the water. Fish them out. Collect in a dish.
For the Spicy Coconut Cream Sauce:
In a medium hot pan, dry roast ground almond and coconut for a few minutes until the coconut turns golden in color.
Add bay leaf followed by ground spices and salt. Quick roast for 10-15 seconds.
Add salt followed by coconut milk. Mix everything well together. Simmer on low heat for a minute.
By now the gnocchi should be cooked. Add to the sauce. Toss to coat gnocchi with sauce.
Serve immediately with your choice of wine.
Prerna Singh
Prerna is a food writer and photographer who contributes to sites like Menuism and WFAEeats (NPR Charlotte). With a goal of making Indian cuisine approachable, she created Indian Simmer, a blog nominated for 2011 Best Food Blogs by Saveur Magazine.