Add vegetables, such as colorful beets, to your favorite recipes for a complete weeknight meal.
By Tania Cusak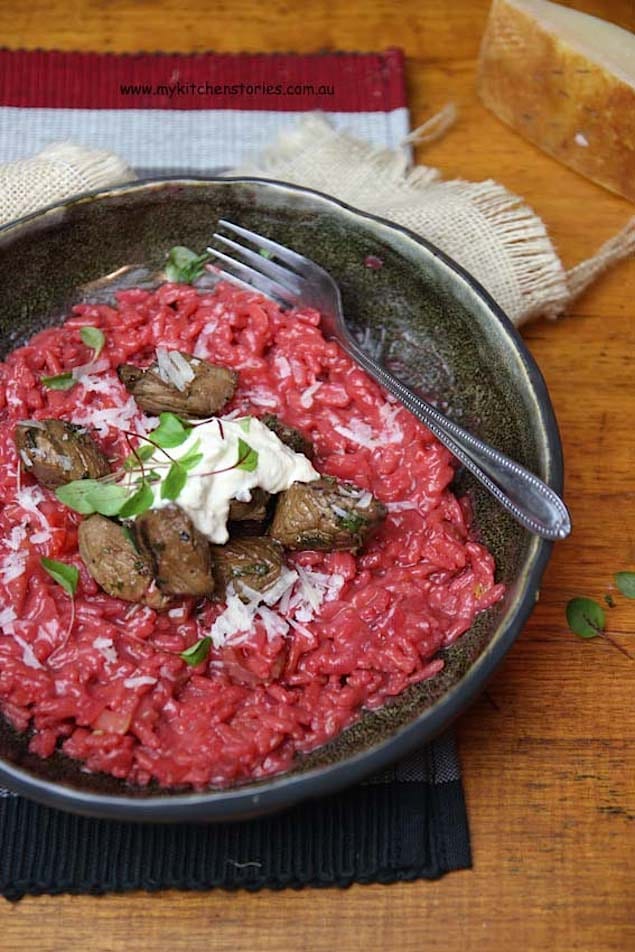 There seems to be a little mystery about Risotto. There shouldn't be. The only mystery regarding risotto is the rice you use.
If you have had a terrible experience making risotto you may have to start again with some more suitable rice. Did your last risotto resemble a pot of glue? Then you probably bought your rice in the supermarket and it was probably called "Arborio". I would recommend buying Carnaroli or Vialone Nano rice to make wonderful risotto; this rice is in the "Arborio" family but couldn't be further away from the rice you bought in the supermarket. For a start it is a protected product of Italy and therefore only grown in Italy. You won't find this rice in the supermarket, you will only find it in specialty stores and deli's.
Carnaroli and Vialone Nano rice are grown in the North of Italy where the rainfall and soil are most suitable for rice. Both Carnaroli and Vialone Nano are rounded short rice grains that can soak up almost double their weight in liquid and still stay firm and whole. Carnaroli is the most well known and the preferred grain It's slightly larger and stays firmer in the centre than Vialone Nano which is often used in Liguria to make beautiful soupy fish based risottos.
There are of course a number of ways to make Risotto, just like most things that come from Italy, every one has their own way of making it. I am known to add various vegetables, on the odd occasion, that don't go into risotto, so that it can become a hidden treasure trove of goodness without any of the vege-phobic residents at our house knowing they are eating good bits.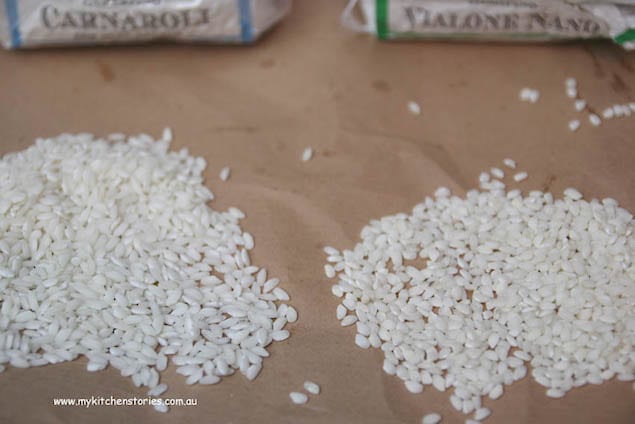 So, don't feel you have to follow any hard and fast rules other than to buy the best Carnaroli or Vialone Nano rice you can find. And start by following the basic principles of making Risotto.
Heat a wide deep pot adding oil and butter and always toast the rice.
Always use hot stock
Add stock bit by bit until the grains are soft and creamy on the outside but have a tiny core of firmness left in the middle.
Add grated parmesan and butter in the amounts you prefer
Always cover and let sit for five minutes before serving.
Print

Beet Risotto with Horseradish Cream and Balsamic Beef
---
Author:

Tania Cusak

Yield:

2

-3

1

x
Description
Add vegetables, such as colorful beets, to your favorite recipes for a complete weeknight meal.
---
1

small onion chopped

2

sticks celery finely chopped

1

small clove of garlic

1 cup

of carnaroli rice

25

gm butter ( 1 Tsp)

2 Tablespoons

olive oil

1.250

litre chicken stock

100

gm grated parmesan cheese (

3

tablesp or as much as you can handle)
extra butter ( as much as you want)

2 Tablespoons

of beetroot powder
Rump Marinade
500

gm tender rump diced (

1

lb)

1 Tablespoon

sweet balsamic ( if not sweet and a teaspoon of brown sugar)

1

small garlic clove

2 teaspoons

olive oil
a sprinkle of salt

1 Tablespoon

chives

2 Tablespoons

of chopped flat leaf parsley

120

gm sour cream (

½ cup

)

1 tablespoon

horseradish (Jar)
---
Instructions
Start by putting the cubes of beef into a bowl with the balsamic, oil and salt. set aside out of the fridge
Chop the herbs and set them aside too
Mix the horseradish into the sour cream and put back into the fridge
Melt the olive oil and butter in a wide low sided pot. Add the onion, garlic and celery and rice and move around on medium heat toasting the rice and softening the vegetables. ( add a cup of white wine here if you like.)
Start to add the stock a cup at a time , stirring while the liquid evaporates. Keep adding stock until the rice is creamy and has a little firm pebble at it's centre. This will take about 15-20 minutes.
Stir in the beetroot powder. The rice should look loose and not too thick. Add a little more stock if it is too thick . You may need less stock or you may need a little more. You can add a bit of boiling water if needed. Add as much extra butter and parmesan as you like and taste before adding salt and pepper, stir well and cover while you sear the beef.
Heat a skillet over a high flame till very hot. Add the beef and cook very quickly tossing in the skillet till just browned. Take off the heat and put into a bowl keeping warm and resting for a few minutes
Divide the risotto between bowls. Put a little of the steak onto each dish and pour over the juices left in the bowl
Top with the sour cream, herbs and some extra parmesan
Category:

Main

Cuisine:

Italian Fusion
Tania Cusack
After completing Culinary School in Sydney, Tania travelled the world working as a Chef in restaurants, doing catering and cooking on road for a travel company in Europe and the US. Once back at home, the birth of her son meant a change, and during his small years, she enjoyed jobs in wholesale food, buying Artisan food products, testing and recipe writing as sales and educational tools. Tania is now back to what she loves, working as an in house Chef for a large retailer, conducting Cooking Classes and writing recipes for her blog.