The penne is cooked directly in the skillet with the rest of the ingredients like risotto so the pasta soaks up all the flavors.
By Amber Massey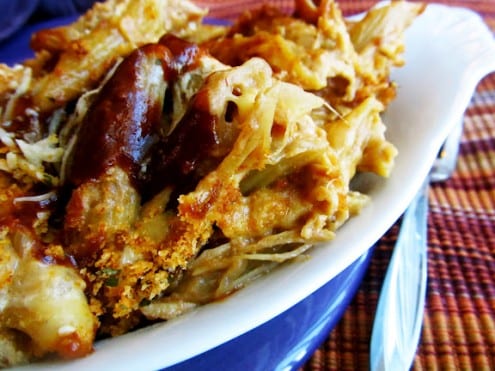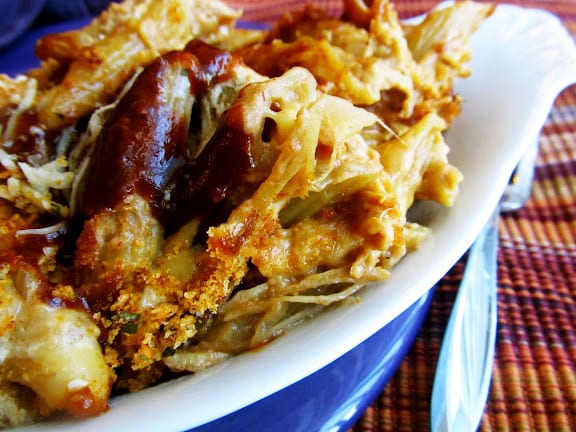 BBQ Sauce Pasta
The penne is cooked directly in the skillet with the rest of the ingredients like risotto so the pasta soaks up all the flavors.
Ingredients
2 cups shredded chicken breast
2 tablespoons honey barbecue sauce
1 teaspoon olive oil
1 medium Texas sweet onion, chopped
4 cups fat-free, lower sodium chicken broth
1 (13.25-ounce) box whole wheat penne pasta
¼ teaspoon kosher salt
½ cup honey barbecue sauce
1 cup fat-free plain Greek yogurt
1 cup (4-ounces) smoked Gouda cheese, shredded
¼ cup panko bread crumbs
3 tablespoons grated parmesan cheese
Instructions
Preheat oven to 350 degrees.
Combine shredded chicken and 2 tablespoons barbecue sauce in a medium sized bowl and set aside.
In a large (12-in) non-stick skillet heat olive oil over medium heat. Add onions to the pan and saute until softened. Add penne, broth and salt, stirring to combine. Bring to a boil and simmer for 12 minutes, until liquid is almost absorbed- the pasta should be tender and the mixture slightly thickened. Stir in the yogurt and barbecue sauce. Once mixed, add in chicken and shredded cheese- stir to combine and continue to heat until cheese is melted.
Pour into a large baking dish and top with panko and parmesan cheese. Drizzle with additional barbecue sauce- about 2 tablespoons. Bake at 350 degrees for 20 minutes until panko/cheese is golden.