Basil, Balsamic Vinegar and Pine Nut Dressing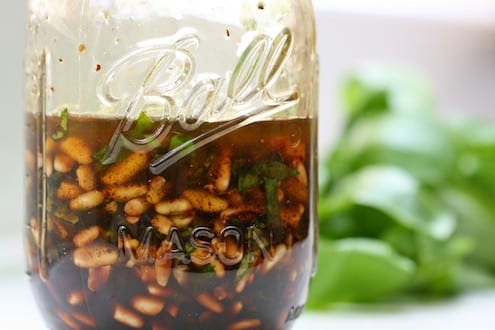 You'll find pleasure for your palate with this salad dressing full of fresh chopped basil and toasted pine nuts.
By Nicole Criss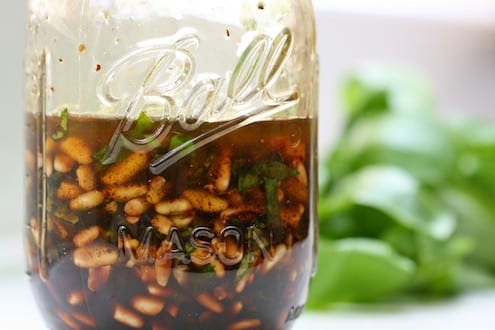 With spring in full swing, the palate tends to turn towards green.  Fresh leaves abound in the green markets in New York City, waiting to be topped with chopped tomatoes, sprinkled with walnuts, adorned with marinated anchovies.  They need fresh dressing like spring flowers beg the sky for water.
Making fresh salad dressing requires such minimal effort. You can store it for several days or even a week in your refrigerator and you'll save yourself the excess salt and sometimes sugar lurking in store bought dressings.  This lovely dressing from Jamie Oliver can brighten any salad with the summery taste of basil, sharp balsamic and toasted pine nuts.
Basil, Balsamic Vinegar and Pine Nut Dressing
You'll find pleasure for your palate with this salad dressing full of fresh chopped basil and toasted pine nuts.
Ingredients
2 tablespoons balsamic vinegar
5 tablespoons extra-virgin olive oil
1 good handful of chopped fresh basil
1 good handful of pine nuts, toasted and chopped (about ¼ cup)
salt and freshly ground black pepper, to taste
Instructions
Carefully toast the pine nuts in a dry skillet.
Watch them closely as they will tend to burn easily.
Cool and chop.
Combine the vinegar, oil, chopped basil and pine nuts in a jar with salt and pepper and shake well.
Nicole Criss
Nicole Criss is passionate about international foods and the cultures from which they stem. Nicole writes the blog 'And Baby Cakes Three,' chronicling stories of her global food adventures from New York City where she resides with her husband and toddler.