You'll be surprised that it still stays very soft and fresh even when it's chilled. Definitely a keeper recipe.
By Ann Low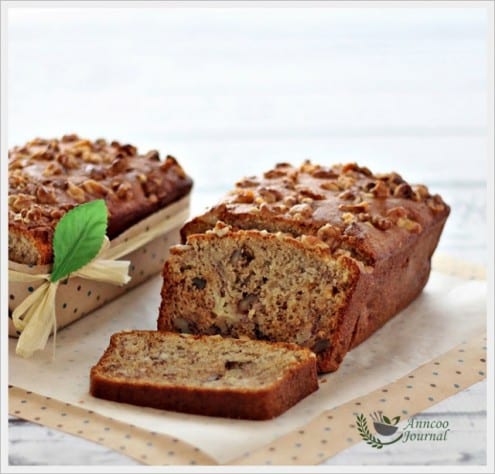 Banana Walnut Bread
You'll be surprised that it still stays very soft and fresh even when it's chilled. Definitely a keeper recipe.
Ingredients
1⅔ cups All-purpose flour/plain flour (200g)
1 tsp Baking soda
¼ tsp Cinnamon powder
¼ tsp Salt
2 large Eggs (70g each)
1¼ cups Sugar (I used ¾ cups - 150g)
½ cup Vegetable oil (85g)
3 large Very ripe Bananas (300g), coarsely mashed
2 tbsp Natural yogurt
1 tsp Vanilla extract
1½ cups Walnuts, toasted and chopped (100g)
Instructions
Preheat oven to 350F/175C. Butter (9 x 5 x 3 by inch) metal loaf pan, then dust with flour, knocking out excess. (my loaf pan is 13 inch long)
Sift together the flour, baking soda, cinnamon powder and salt into a bowl.
Beat together eggs and sugar in bowl of electric mixer at medium-high speed until very thick and pale and mixture forms a ribbon when beater is lifted, about 10 minutes. Reduce speed to low and add oil in a slow stream, mixing, then mix in bananas, yohurt and vanilla. Remove from mixer and fold in flour mixture and half of the chopped walnuts gently and thoroughly with a rubber spatula.
Pour the batter into the loaf pan, spreading evenly and sprinkle remaining chopped walnuts on top.
Bake in middle of oven until golden and a skewer comes out clean, 1 to 1¼ hours. (I only baked for 55 minutes).
Ann Low
Ann Low is the author of Anncoo Journal, and loves to bake and cook for both family and friends. She acquired a strong passion for culinary skills from a very young age by watching her grandmother prepare delicious meals for the family. Ann believes that baking is an art and she wants to share her baking and cooking experiences with everyone in the world.