For Balade, safely reintroducing its homemade Lebanese cuisine is its top priority in light of the pandemic.
In March 2020, when the COVID-19 pandemic hit, like many restaurants Balade closed its dining doors. While it stayed opened using its takeout operation, the Lebanese restaurant struggled to stay afloat. "Even though we never closed, this whole year has been a transition. It was a tough year but thanks to the continued support of our customers we made it through the hardest times" says the restaurant's manager.
A year later, lighter restrictions and signs of summer blooming, Balade is on its way to recovery and takes a piece of the city's sidewalks with it.  While New York's indoor dining capacity increased to 50% and vaccinations are on the rise, many diners fear risk of COVID-19 infection.
Before booking a reservation diners will now typically ask; Is it safer to dine when vaccinated? Is there a higher risk of COVID -19 infection eating indoors versus outdoors?  Clearly, as a result of the pandemic, consumer behavior changed. Hence, the Balade team happily touts their full vaccinated team and adherence to strict sanitation measures.
Balade's Menu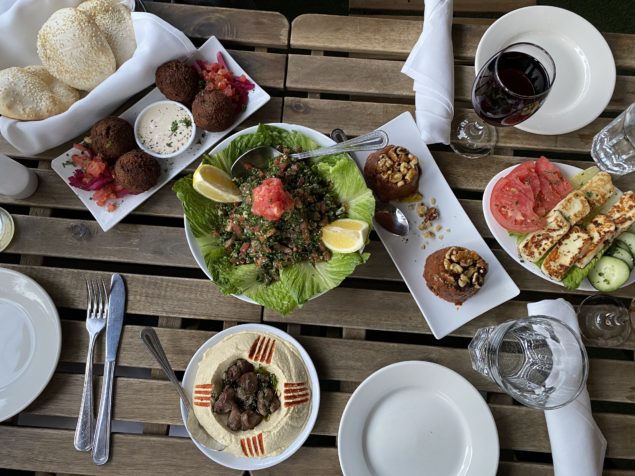 Lebanese cooking is the focus at Balade, and they strive to keep the food's authenticity. You know you've come to the right place when the menu offers entire sections for dips and cheese, with over a dozen options to choose from before you even start your real meal. You can go vegetarian, or you can order the beef or lamb. There are also daily specials to keep you returning, from chargrilled eggplant to Phyllo rolls filled with mozzarella
As for of my dinner experience as I sat comfortably outdoors, of course I started the night with a medley of Mezze plates. The plates included Balade's signature hummus, a delightful chickpeas purée and a rendition that's pureed with lamb and topped with pine nuts. Following the classic chickpea staple of Beirut, there was a plate of the Mouhmara. It consists of a blend of spicy fresh red peppers, walnuts and pomegranate. Next there was the falafel, another classic chickpea meal, sizzling cypriot cheese slices and a large refreshing bowl of Taboulleh salad. Traditional Lebanese bread complimented the small plates. Like many cultures, bread a staple and it's no different for Lebanon. However, Lebanese makes bread that's its thin and hollow. This construct allows eaters to savor the glorious tastes from the mezzes' medley. Wiggling  grilled meat platters.
The benefit to Balade their traditional menu can be viewed as "family-style." Since the pandemic many restaurants adjusted their takeout menus for family style. However this style of eating is ingrained in Lebanese culture. The meal is meant to feed a feed a group of people.
The restaurant also makes pita pizzas topped with marinated beef and tahini, hummus and ground beef. For dessert there's baklava and the beauty mouhallabie. This is a milk pudding topped with ground pistachios. To compliment the desserts, balade, a sweet date drink topped with pine nuts, or slightly sour, slightly savory ayran are available as well.
Putting fresh, Lebanese ingredients and safety at the centre-stage, Balade hopes to diners would leave fully satisfied. Isn't the goal to feel great when you finish eating?
Balade
Website
208 1st Avenue, New York, NY 10009
(212) 529-6868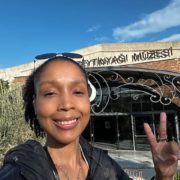 Alyssa Holder
Alyssa Holder is a writer specializing in food and travel topics since 2015.