Make an elegant salad of shredded brussels sprouts topped with heavenly crispy goat cheese and tossed with a tangy and sweet honey-balsamic vinaigrette.
By Cheyanne Holzworth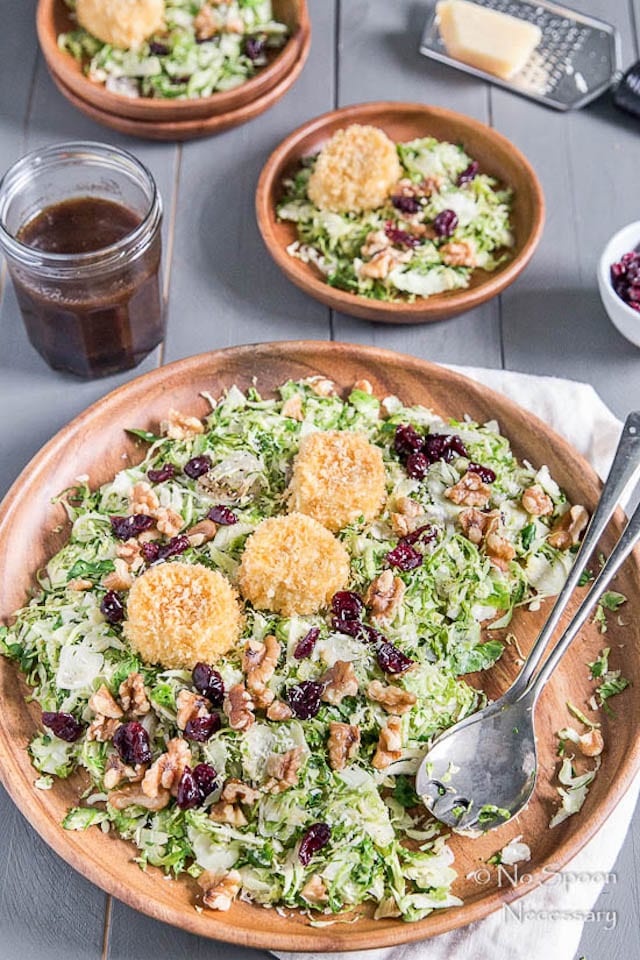 Shredded and Roasted Brussels Sprouts tossed with cranberries, walnuts, shallots; topped with rich, decadent baked goat cheese rounds; and drizzled with a smooth, tangy honey balsamic dressing. Easy enough for a week night and elegant enough for a dinner party!
This is one of my favorite salads but, if I'm being honest, I change my "favorite" something almost as often as I change my pajamas. Life as a food blogger requires continuous development of new recipes, so saying something is my favorite can be fleeting.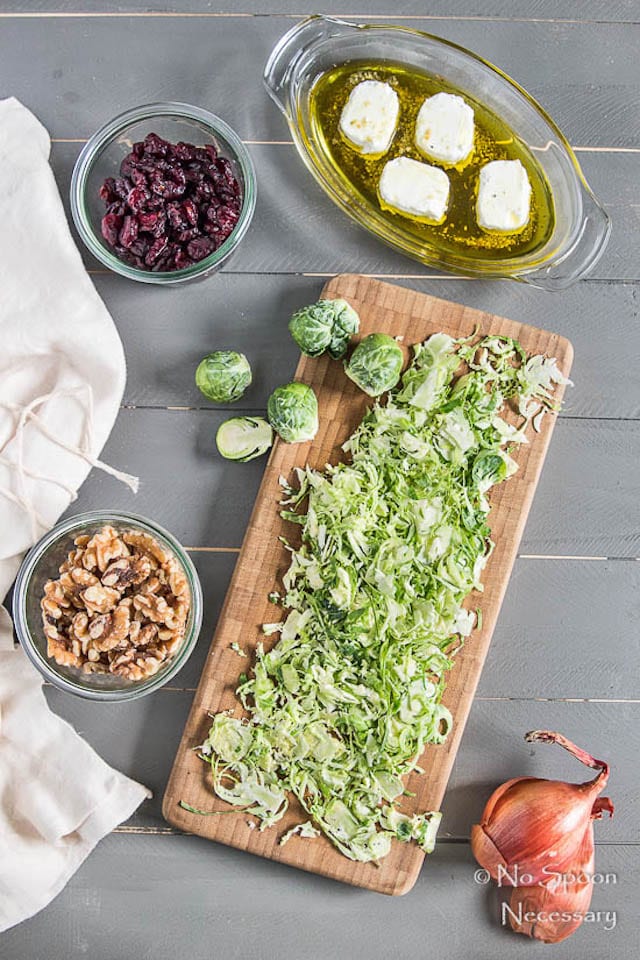 Roasted brussels sprouts on their own are bomb dot com, but when you shred them prior, utilize them as the greens in a salad, and top-lock-n-drop it with deliciousness, they become something so much more.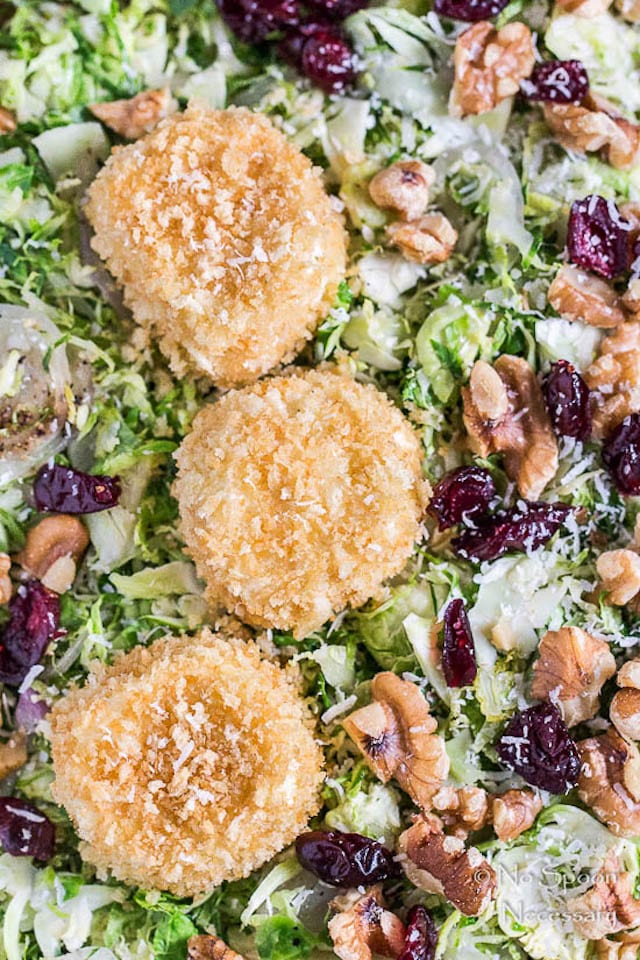 This shredded brussels sprouts salad has all the texture and flavor bases covered. It is savory, smoky, salty, a touch garlicky, crunchy and nutty with pops of sweet cranberry deliciousness.
But, that is before you add the baked goat cheese rounds. The baked goat cheese adds a rich, creamy, cheesy decadence to this salad that will make your culinary heart sing. All it requires is a bit of marinating in olive oil, a quick dredge in panko and a flash in the pan, so there is no reason it should be skipped!
However, every salad needs a dressing (duh) and the accompanying honey-balsamic vinaigrette is scruuuuuuumptious! It adds a touch of tangy, sweet, smooth flava and balances the fully loaded brussels sprouts salad out perfectly.
Print
Baked Goat Cheese and Brussels Sprout Salad
Make an elegant salad of shredded brussels sprouts topped with heavenly crispy goat cheese and tossed with a tangy and sweet honey-balsamic vinaigrette.
Author:

Cheyanne Holzworth

Prep Time:

15 minutes

Cook Time:

20 minutes

Total Time:

35 minutes

Yield:

4

servings

1

x
Category:

Side
1

Pounds Brussels Sprouts – trimmed (outer leaves removed, cut in half & thinly sliced*)

1

large Shallot – cut in half and thinly sliced
? Cup Walnuts – chopped & toasted

¾ Cup

Dried Cranberries
Baked Goat Cheese:
4 oz

. Log of Goat Cheese

1 Cup

Extra Virgin Olive Oil

½ Cup

Panko Bread Crumbs
Honey-Balsamic Vinaigrette:
See the link above for the recipe.
Instructions
Marinate the Goat Cheese: Cut the goat cheese log into 4 equal rounds, roughly ¾'' wide and 1 ounce in weight each. Place rounds into a shallow baking dish and add olive oil. Transfer to the refrigerator and allow to marinate for at least 1 hour, up to 2 days, gently flipping goat cheese over periodically.
Prepare the Vinaigrette: In a small jar add all vinaigrette ingredients except the olive oil. Cover and shake to combine. Add the olive oil, cover and shake again to combine. Place jar in the refrigerator for at least 30 minutes, up to 3 weeks, to allow the flavors to marry.
Toast the Breadcrumbs: Heat a small sauté pan over medium heat and spray with non-stick cooking spray. Add the panko and toast, stirring often, until golden brown and evenly toasted, about 5 minutes. Remove the panko from heat and transfer to a plate.
Prepare the Goat Cheese: Preheat oven to 400 degrees. Line a small sheet pan with parchment paper and set aside.
One disk at a time, remove the goat cheese rounds from the olive oil and place on top of the toasted panko, pressing to adhere. Flip rounds over and onto their sides to completely coat rounds with toasted panko. Transfer to prepared baking sheet. Repeat until all four rounds of goat cheese are coated. Set aside.
Roast the Brussels: Line a large sheet pan with aluminum foil for easy clean up. Add the brussels and shallots. Drizzle with 2 tablespoons of olive oil. Season with ½ teaspoon salt and ¼ teaspoon pepper. Toss to combine and spread into an even layer. Roast in oven 10-12 minutes, or until brussels are tender and golden brown, tossing halfway through cook time. Remove from oven and set aside.
Bake the Goat Cheese: Place goat cheese in oven and bake until soft to touch when gently pressed with fingertip, about 6-8 minutes. Remove from oven and set aside.
To Serve: In a large bowl, toss together the roasted brussels with the cranberries and walnuts. Drizzle in half of the dressing and toss to combine. Transfer to 4 serving plates and top each with a baked goat cheese round. Serve remaining dressing on the side. Enjoy!
Notes
To Shred Brussels Sprouts: Use a mandolin, a sharp knife or a food processor fitted with the slicing blade.
Cheyanne Holzworth
Hi there! My name is Cheyanne. I am an avid foodie, culinary school graduate, recipe developer and newbie blogger. I find peace and joy being in the kitchen and am obsessed with feeding anyone who has an appetite. I am also a lover of food porn. I picked up a camera one day and fell in love with food photography. Then I got a wack-a-me-me idea to start a food blog and the rest is history. No Spoon Necessary is a place where I share my passion for food and photography with all who care to join me. I also rant, ramble on and share my life a little. In a world filled with so many talented food bloggers, I am simply trying to carve my space in www dot com land, take you all with me on the crazy ride and cook 'n eat some delicious food along the way! So, strap on that apron and work some culinary magic with me. Cheers!