Let your eggplant soak up some spice and then sizzle in the oven. Perfectly crisp fries, all you have to do is dip them in garlic aioli or hot sauce and devour.
By Shuchi Mittal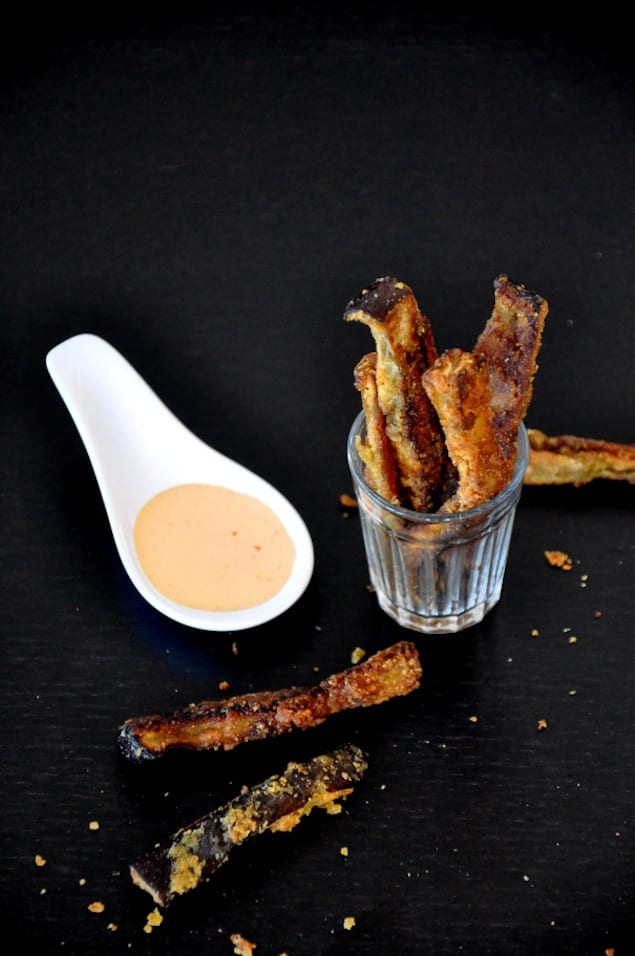 "Eggplant, what can I say
You're my hero true,
I put you in pasta
Or curry for two.
You are filled with iron
And that I like,
You char & sizzle
And soak up spice!
Now you've taken on fries
In an avatar new,
I'm not a stalker
But I'm so in love with you!"
Baked Eggplant Fries
Let your eggplant soak up some spice and then sizzle in the oven. Perfectly crisp fries, all you have to do is dip them in garlic aioli or hot sauce and devour.
Ingredients
1 small eggplant, washed and cut into strips
2 tablespoons gram flour (besan)
½ teaspoon crushed black pepper
½ teaspoon cayenne pepper
2 teaspoons coriander powder
1 teaspoon dry mango powder (amchoor)
2 teaspoons chat masala (Indian mixed spice)
5 tablespoons + 1 tablespoon light olive oil
Salt to taste
Instructions
Toss the eggplant with all the dry ingredients [except the chat masala] and 5 tablespoons of olive oil, till the pieces are evenly covered with flour.
Line on a baking tray and sprinkle the remaining 1 tablespoon olive oil evenly across.
Bake in a 400 F pre-heated oven for 20-25 minutes, turning once in between. The pieces will turn brown and crisp on the outside, but will remain slightly soft on the inside.
Cool slightly [will crisp up more] and eat it all up with some Sriracha or garlic aioli.