Baby garlic potatoes boiled until tender, drizzled in melted butter and tossed with dill and minced garlic. A show stopper side that's quick, easy and freeking delicious!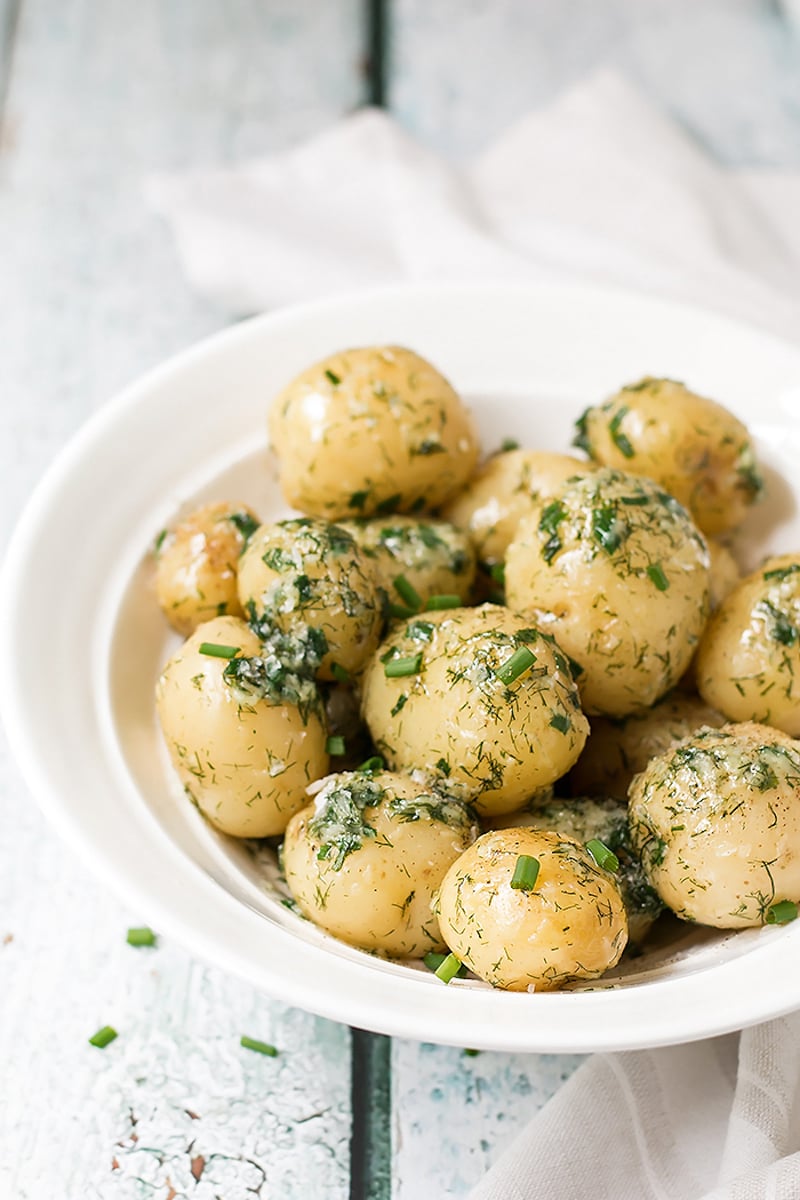 Have you ever had a surprise dinner party sprung on you and you are expected to feed people? What do you make that's guest worthy, but quick and easy! You need a go-to potato side dish that goes with a ton of different meat options and is appropriate for any occasion. We have you covered! This garlic potatoes and dill dish is as quick and easy as boiling potatoes, but will have EVERYONE asking for the recipe.
They are special enough for company, but also quick and easy enough for a weekday dinner with your family. Basically, you boil the potatoes and toss them in the fixings. It's doesn't get much easier than that. And oh man, do these potatoes ever taste amazing! Buttery and soft with fragrant tangy dill and pungent garlic.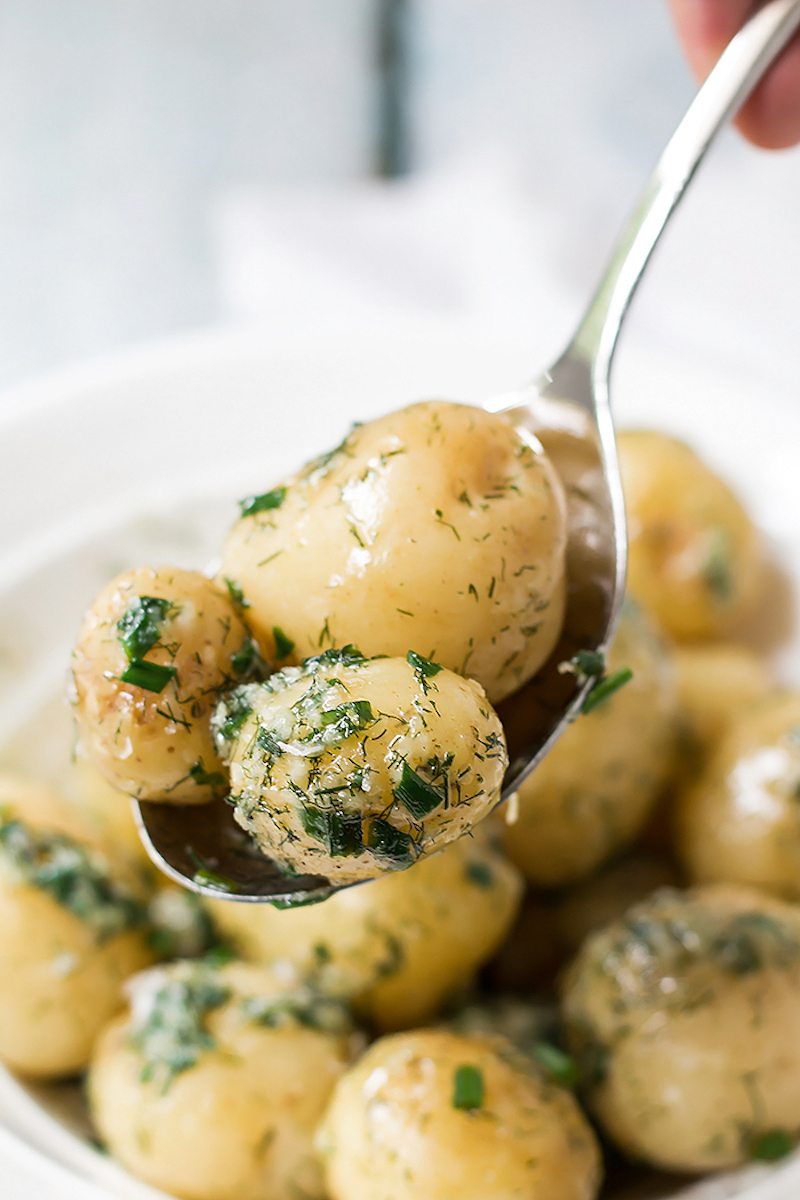 These garlic potatoes side dish fits the bill for any:
Dinner party
BBQ
Potluck
Time you are asked to "bring a side"
Weeknight dinner for your family
The holidays are coming which means dinner parties and get togethers. You need a kick ass potato dish that's really equally easy and delicious. This garlic potatoes with dill dish is all you need. It leaves you time to focus on creating the rest of your meal and time to have a cocktail with your guests!
Have you ever been invited to a dinner party and you ask if you can bring something and you are told to "bring a side"?    Well I happen to think that sides are where its at!   Bring this garlic potatoes side dish and everyone will be asking, "Who made the potatoes and can I please have the recipe?!"
Now the only thing you need is a gorgeous serving dish like this simple but gorgeous one  that I have had my eye on.   Or this beautiful blue one, or this bright red one!  I can't make up my mind which one I like better…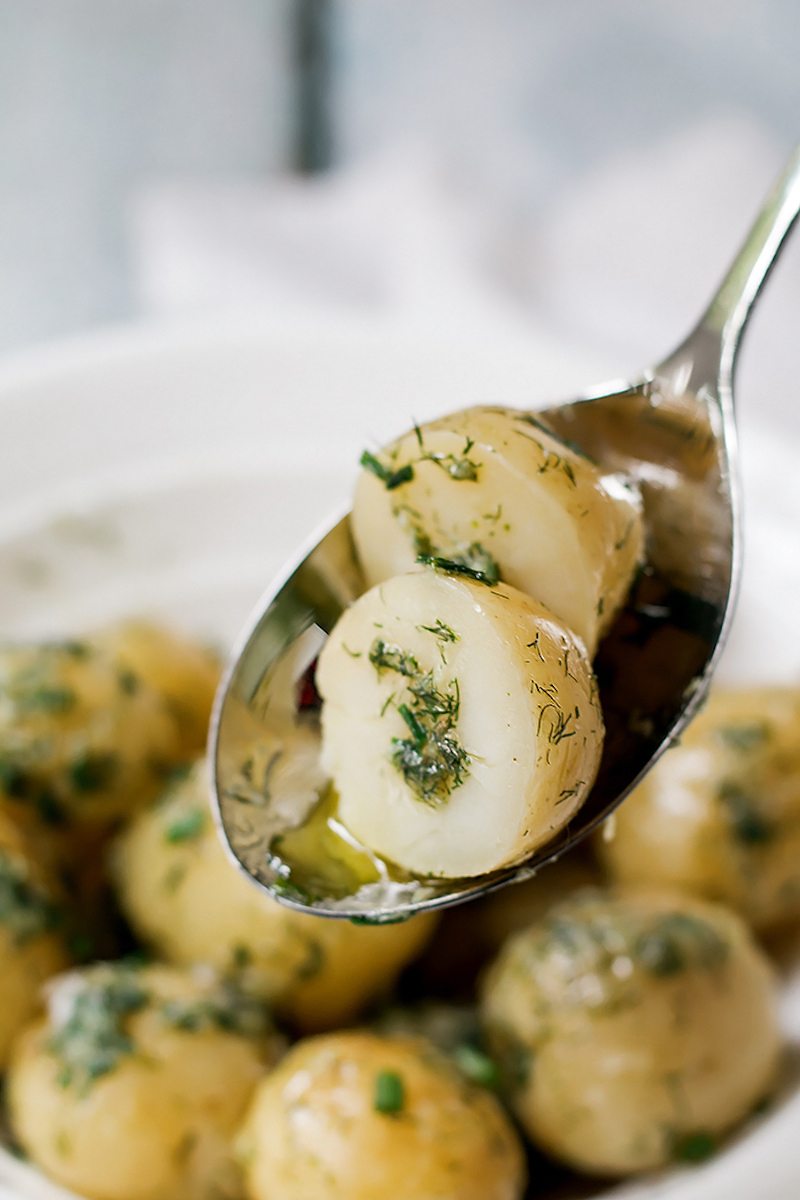 Serve your garlic potatoes and dill with these easy mains:
rosemary & garlic crusted beef
maple plank bbq salmon with roasted garlic, lemon & dill butter
marinated flank steak with chimichuri sauce
lemon and garlic roast chicken
Or these slightly more involved dishes:
pan fried halibut with panko crust and lemon burre blanc
cranberry, goat cheese & wild rice turkey wellingtons
fall off the bone ribs with homemade bbq sauce