Sponsored Post: We're celebrating Vinho Verde wines this season. These Portuguese bottles are vibrant and affordable. It's the perfect wine for all your gatherings.
This sweet and savory Apple and Bacon Stuffing is the best of both worlds. Sweet apples and cranberries paired with savory herbs and bacon then baked into a warm Thanksgiving stuffing… DELICIOUS! Plus, it's the perfect pair with a glass of Vinho Verde wine, a wine that is ideal with all of your Thanksgiving dishes.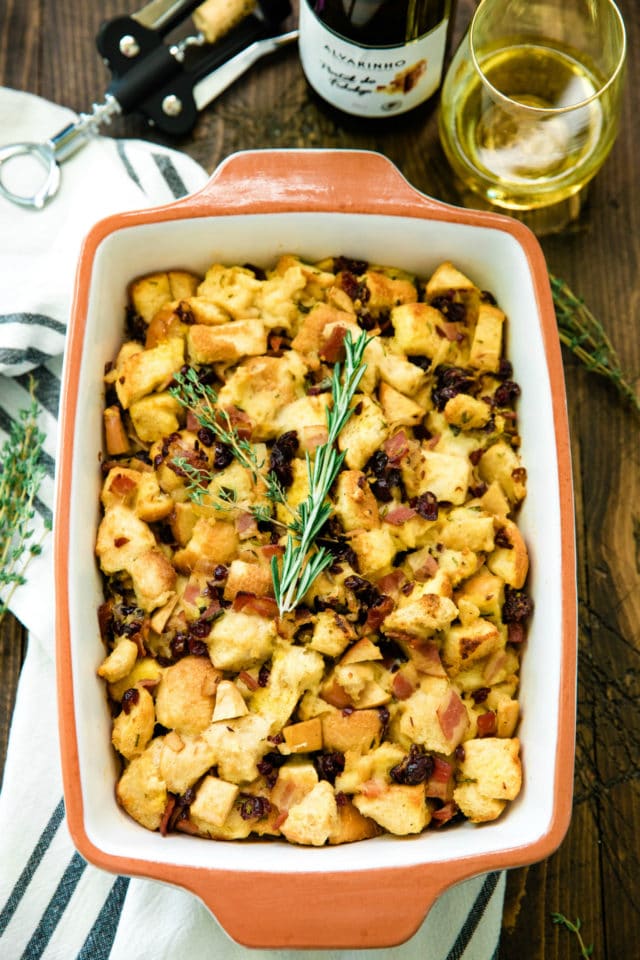 Thanksgiving is right around the corner. I can't believe it and I absolutely cannot wait to enjoy the big feast! The past several weeks I've been testing out Thanksgiving recipes to make sure they're good enough for the big day. I decided to try something new with the stuffing and baked up this Easy Bacon Apple Stuffing Recipe that passed with flying colors. This is my new favorite stuffing recipe and it will definitely be making an appearance at our Thanksgiving dinner table this year.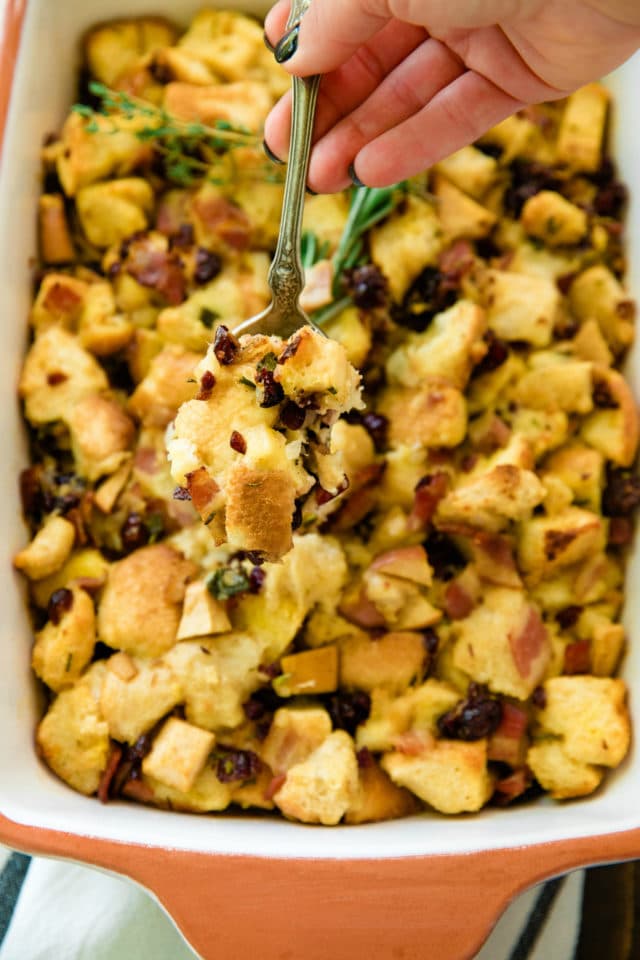 Another delicious addition to our Thanksgiving feast will be Vinho Verde wine. Vinho Verde is like no other wine in the world and is the largest and oldest wine region in Portugal. Pronounced veeng-yo vaird, Vinho Verde does not mean 'green' wine. 'Verde' refers to it being a young wine; the wines are released 3-6 months after harvest.
While 86% of the Vinho Verde Wines are white wines, they also produce rosé and red wines, too. Not many people know this, but some Vinho Verde Wines do age quite well. This single-grape Alvarinho wine from 2011 has begun to get rounder and pick up some more honey and caramelized apple notes that bridge the wine perfectly towards the aromas of this dish. At the same time it still maintains its fresh acidity, so characteristic of the region, that helps dissolve the fatness of the bacon, adding lightness to this pairing.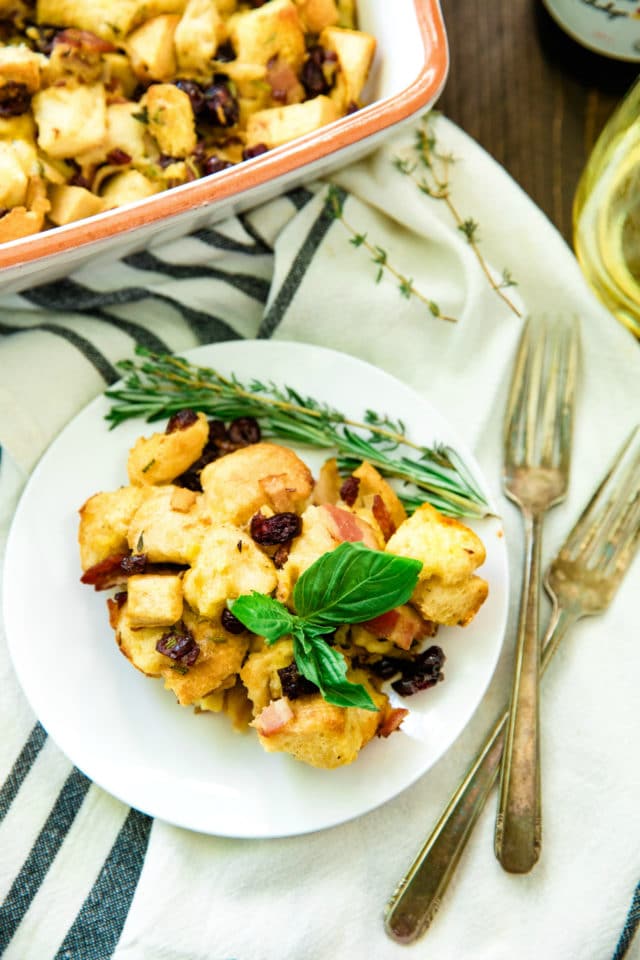 It's my go-to wine for the holidays because it's light and refreshing flavor pairs so well with so many meal options – including of course, some of our favorite American holiday flavors! There aren't many dishes that won't pair well with Vinho Verde Wines. It's also a great value, so it's always my choice when I'm serving a crowd. Whether I'm relaxing at the end of a rough day or hosting a dinner party, it's my top wine pick!
You might think while reading this recipe that bacon doesn't go well with white wines, but that's where Vinho Verde is different. It's a wonderfully diverse wine that is food friendly and can pair with just about anything you have on your table this holiday season.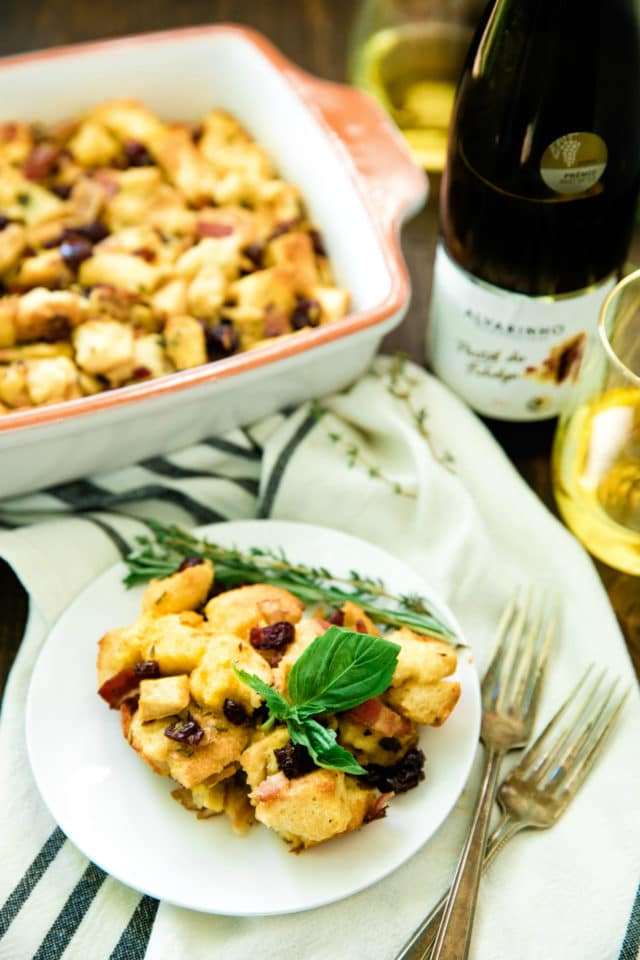 Easy Bacon Apple Stuffing Recipe
The stuffing is made with crusty French bread. There are some stuffing recipes I'm not too crazy about because of the "mushy" texture, but this stuffing is not mushy at all. The sourdough bread softens and is moist, but keeps a nice texture. The bacon, shallot, cranberries, Honeycrisp apples, and fresh herbs add great flavor. I love the slight sweetness the apples add to the stuffing. Such a great combination of flavors!
We baked the stuffing in the oven, but you can go the traditional route and "stuff your bird" with this stuffing. If you are still deciding on which stuffing recipe to serve up this Thanksgiving, look no further. This one is the perfect side dish to complete your holiday meal.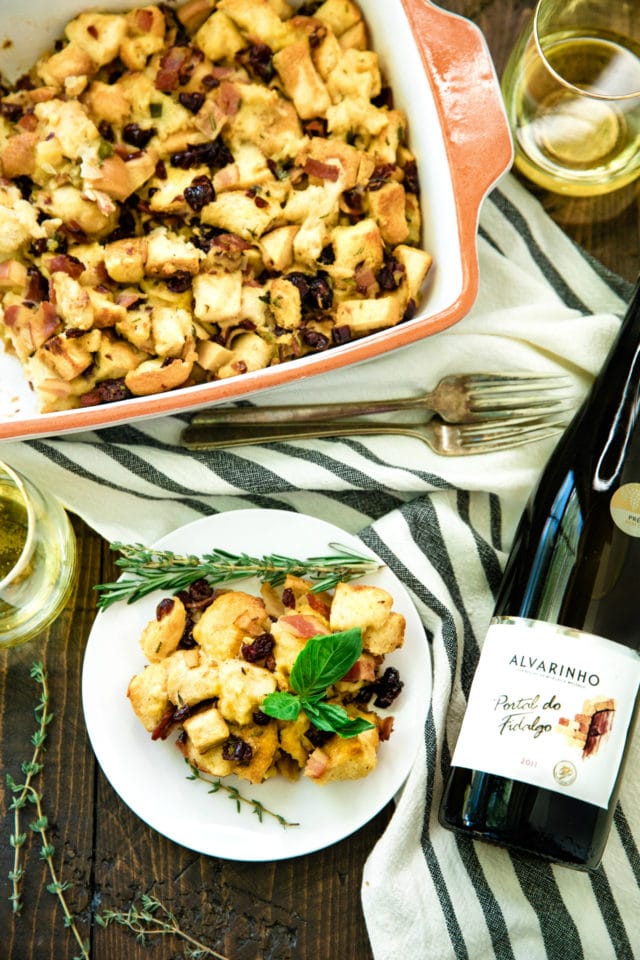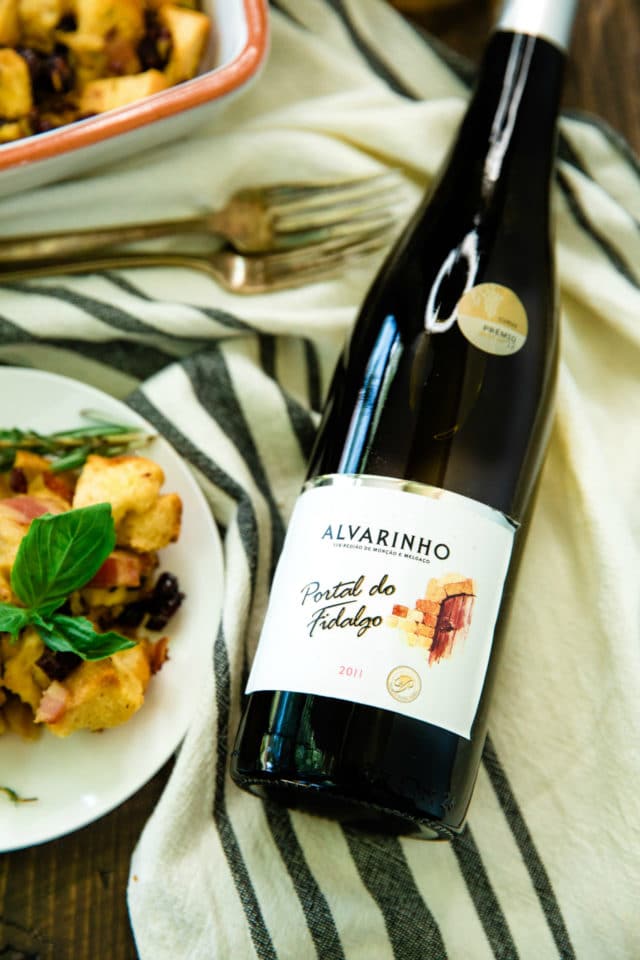 Check out my other favorite Thanksgiving recipes:
Gluten Free Cranberry Apple Crumble Pie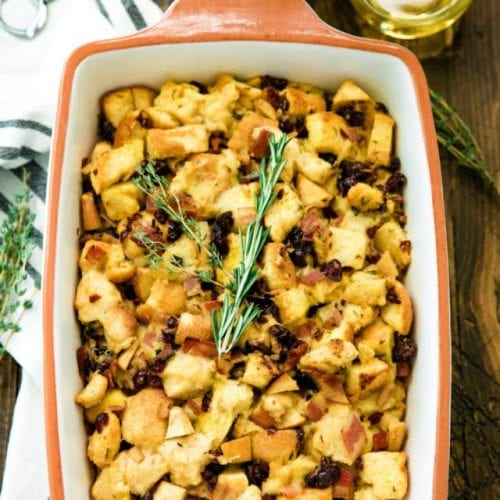 Apple and Bacon Stuffing
Kim Lee
Ingredients
1

pound

day-old white French bread

diced into 1/2-inch cubes and dried

10

slices

bacon

2

tablespoons

fresh sage

chopped

1

shallot or 1/2 onion

chopped

3

tablespoons

butter

divided

1

tablespoon

fresh rosemary

chopped

1 1/2

teaspoons

fresh thyme

chopped

1 1/2

cups

chopped apple

I like gala or honey crisp for this recipe

1

cup

dried cranberries or craisins

3

cups

low sodium chicken broth

2

eggs

whisked
Instructions
Preheat the oven to 400 degrees and spread the bread on a baking sheet. Bake the bread, stirring occasionally for 15 minutes or until beginning to turn golden, but not quite brown. Remove from the oven and place in a very large bowl.

Place the bacon on a foil lined baking sheet and bake at 400 degrees for 15-20 minutes or until cooked. Transfer bacon to a paper towel lined plate and reserve 1 tablespoon of the bacon fat.

In a large skillet, over medium heat add the bacon fat and sage. Stir with a wooden spoon for 1 minute and add the shallot as well as 1 tablespoon of butter. Cook until tender, about 1-2 minutes. Add the remaining herbs and cook for 30 seconds to bring out their flavor.

Dump the butter/herb mixture into the bowl with the bread and add the apples and craisins. Toss everything to coat. Chop the cooked bacon and add to the bowl, tossing again.

In the bacon grease skillet, add the broth and whisk very gently over medium heat until it begins to simmer. Add the butter and whisk until it has melted then pour over the bread mixture. Add the whisked eggs and fold everything together.

Heat the oven to 350 degrees. Grease a 9×10 to 9x13" casserole dish and pour the entire stuffing mixture in. Wrap the top with foil and bake for 40 minutes, uncover the dish and bake for an additional 15 minutes or until the top is golden brown.
Kim Lee
Kim is a freelance recipe developer, writer, and the author behind the healthy living blog, Kim's Cravings. Kim has a passion for sharing nutritious delicious recipes and showing others that eating right can be easy and tasty.