Spring is here and there is no easier time to "Eat Your Colors".
By Alisha Randell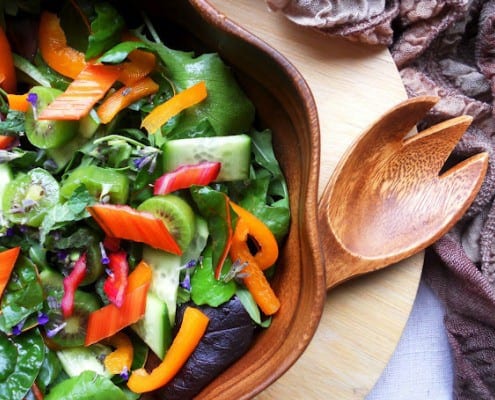 Both the farmers' markets, as well as our gardens are exploding with color right now. And aside from being aesthetically appealing there are some potential health benefits that come along with it.  Adding an array of colorful plants to your diet might just benifit more than your mood.
Phytochemicals, or more commonly know as antioxidants, play a key role in helping to protect our cells from damage. The variety of chemical compounds that make up phytochemicals, are also responsible for giving our fruits, vegetables and other plants their color.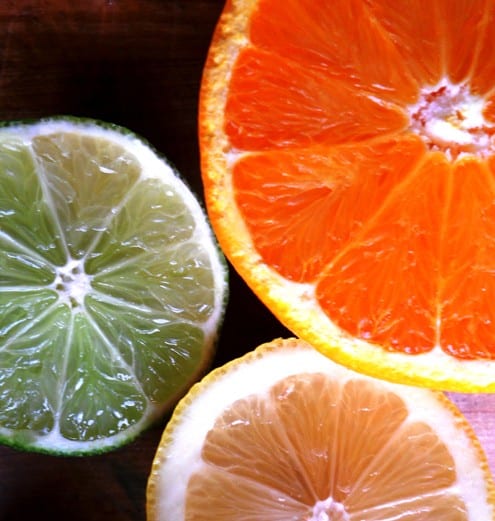 Research tells us that a variety of foods have many different compounds and each work differently on our cells.  As an example of a couple of these components that make up phytochemicals, are vitamins E and C. We know that citrus fruits, dark leafy greens and bell peppers are all good sources for vitamin C. While many of our nuts and seeds are high in vitamin E.
Of course the list goes on, but we can clearly see why adding a variety of colorful foods to our diet can have a healthful impact. If you would like to get more detailed information on the benefits of colorful foods, this article from the American Cancer Society or this article from The University of Maryland Medical Center are two I found helpful.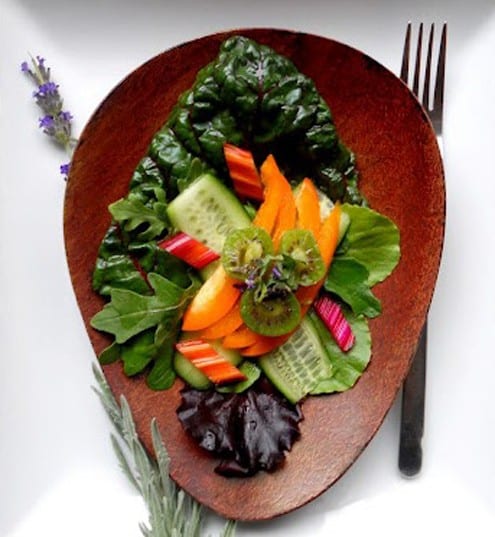 Whether you garden or not there is no better time to add some color to your world.
Print
An Organic Gardener's Salad
Author:

Alisha Randell

Prep Time:

15 mins

Cook Time:

10 mins

Total Time:

25 minutes

Yield:

4

1

x
1/4

th pound (112.5g) young rainbow chard, (leaves and stems sliced)

1

small bunch arugula leaves, trimmed

1/4

th pound (112.5g) baby romaine leaves

4

baby cucumbers, thinly sliced

16

Baby kiwi, halved

1

Tbs (15 ml) Lavender flowers

6

–

8

Apple mint leaves, torn

1

large orange bell pepper, sliced

1/8

th cup (30ml) fresh lemon, orange and lime juice combined

1/4

th cup (60ml)Sunflower oil

1 tsp

(

4g

)raw sugar
Salt and Pepper to taste
Instructions
Trim the stems of your chard, and slice up like you would celery.
Tear or roughly chop all of your greens and apple mint.
Use a madoline slicer or sharp pairing knife to thinly slice cucumbers lengthwise.
Peel and halve baby kiwi.
Thinly slice bell pepper.
Add fruits and vegetables to a mixing bowl, or layer out on individual plates.
Prepare your dressing by adding freshly squeezed juices to a small bowl, while slowly adding oil.
Add salt and pepper, whisking until incorporated.
Add lavender flowers or other edible flowers.
Toss salad with dressing, or drizzle onto individual salads
Notes
Use whatever seasonal fruits and vegetable are available to you, but try to add as much variety of color that you can
Alisha Randell
Alisha Randell is a former Executive Chef turned Private Chef and Culinary Instructor. She is the Co-Creator/Author of The Ardent Epicure blog "An Ode to the Pleasures of Food". Growing up with a dad as a culinary guide, whom was as well an executive chef, food and seeing food as an art form has been a lifelong passion and exploration.