PARTNER POST – Be inspired to create beautiful cheese boards with Castello cheese. And what goes better with cheese than wine? Enter to win a trip for two to Napa, California.
Dark chocolate, salty meats, creamy cheeses, sweet candied nuts. Here is everything you need to create a sexy Valentine's Day cheese board.
By Tina Putzing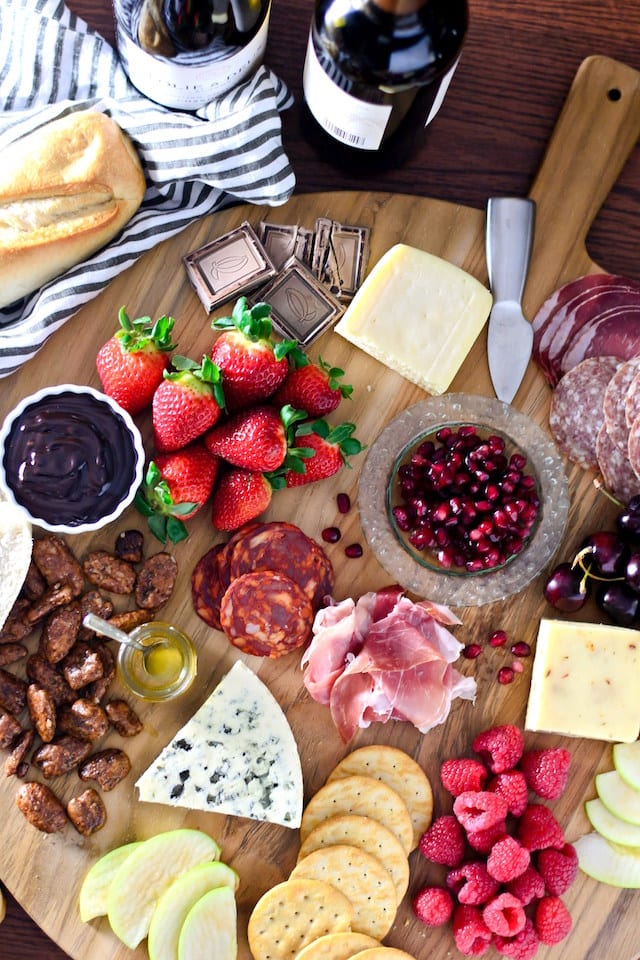 In the last few years, I've really became a fan of cheese boards for my dinner parties. They're the perfect appetizer and mood setter – a feast for the eyes as well as the stomach, there's something for everyone, each bite is totally customizable by the eater, and nothing is so filling that your guests' appetites will be spoiled. And, because everything is grab-and-go, everyone can mingle and chat and enjoy the party organically.
Even when you're not having a party, cheese boards are something that can be enjoyed any time. Some days I'll throw one together just for me and Dan for dinner. Because cheese + cured meats + crackers + fruits + dips + wine = a perfectly respectable, well-rounded dinner.
To share the cheese love with you, I've joined forces with Castello Cheese to put together a tutorial on how to create an epic cheese board for Valentine's Day. Who needs flowers when you can have cheese, right?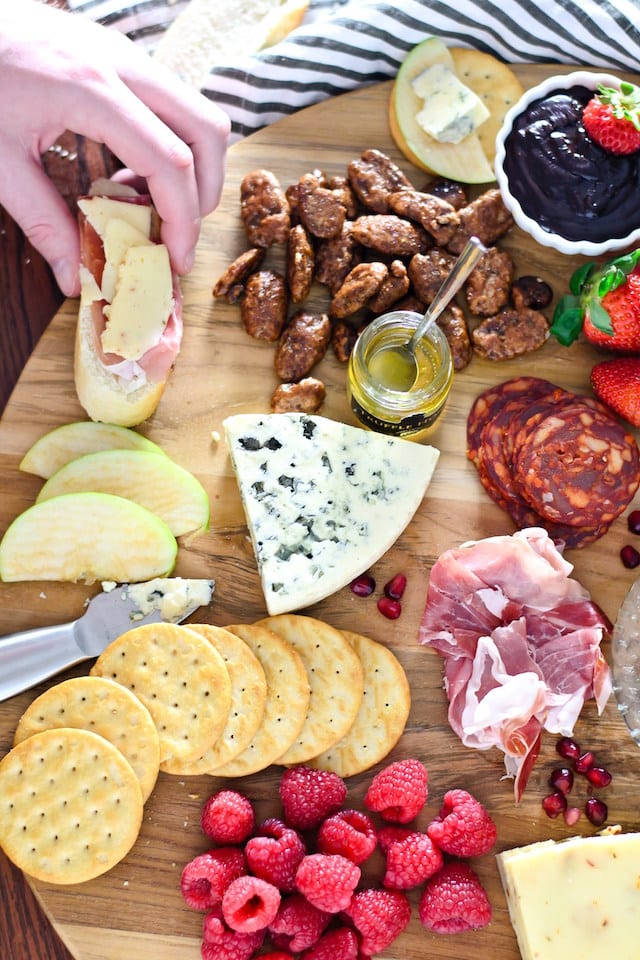 Cheese.
Every cheese board "how-to" I've ever read says that it's important to have a variety of cheeses on hand – different ages, milk-types, textures, flavors, etc. When making your selection, it's nice to pick cheeses that are pretty different from each other in those respects, because you want each one to stand out and not all blend together. My general starting point is to have at least one soft cheese (usually double or triple-cream brie), one hard cheese (like Asiago), and a really bold, smelly cheese (blue cheese). Dan isn't as big a fan of those particular varieties, so I will also usually also have a basic sharp cheddar or buttery Havarti to please his palate. Know your audience!
For this particular board, I opted for a Castello Traditional Danish Blue (creamy and slightly bitter), a Jalapeno Havarti (for some spice), and an Aged Havarti (buttery and very slightly crunchy). Unique but complementary flavors and textures, perfect to build up the base of my board.
When serving, make sure that your cheeses all have their own space on the board – you don't want them to touch and have their flavors blend together.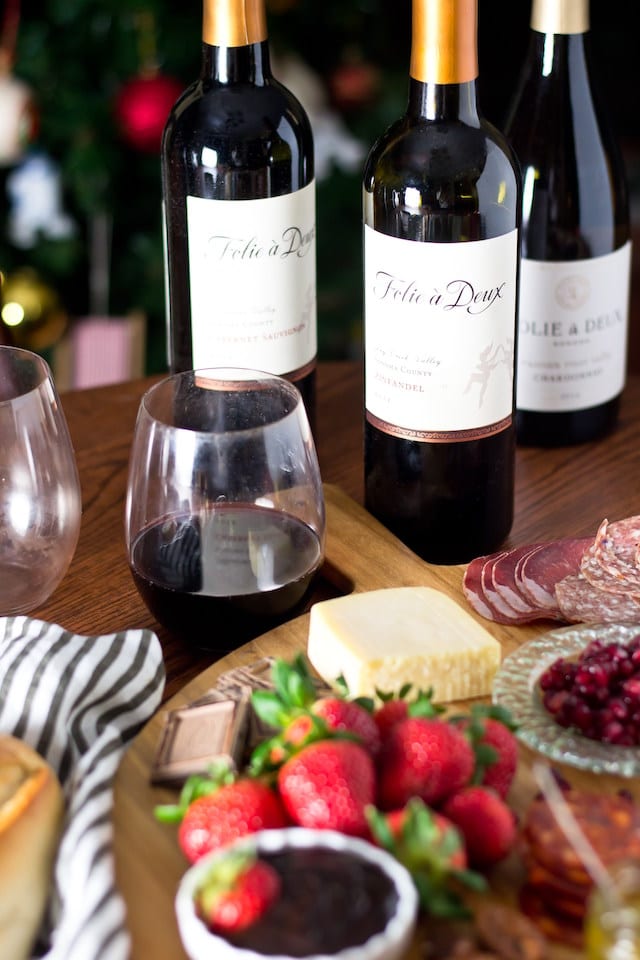 The fixings.
I used to be a very plain cheese and crackers kind of girl, but a friend of mine introduced me to the joys of bold flavor-mixing, and I've been hooked ever since (have you ever tried blue cheese drizzled with honey??). These days when I'm picking what to serve with my cheeses, I try to make sure that all the things on my board hit all the different flavor notes – salty, sweet, spicy, sour, and bitter. Doing this covers my bases, because some cheeses pair best with sweets (honey, jam, fruits), while others are best with spicy/tangy flavors (pickled veggies, mustard). And, of course, you can't go wrong with salty cured meats, buttery crackers, fresh bread, and even chocolate!
When assembling your board, if you have a theme, you want to make sure that the items on your board are consistent with that theme. For this Valentine's board, I wanted to evoke love and romance with my fixings – things that would get a person's blood flowing and would maybe also be fun for people to feed each other.
In the end I went with the following:
ripe strawberries + raspberries + cherries for fruity sweetness and color
dark chocolate-chili ganache for some heat (also, for dipping fruits!)
candied pecans for crunch
granny smith apples for tartness
truffled honey for its silky texture and unbelievably luxurious flavor
pomegranate seeds because of the whole sexy "forbidden fruit"/Greek mythology thing
various cured meats for color and deliciousness
crackers + fresh bread to go with all of the above
Plating.
You can use whatever you want to plate/serve, but try to make sure that it's flat (and food-safe, i.e., not coated in poisonous paints). I own all manner of cutting boards, marble slabs, metal trays, and slate pieces, and they're all perfect for serving.
Presentation.
See Also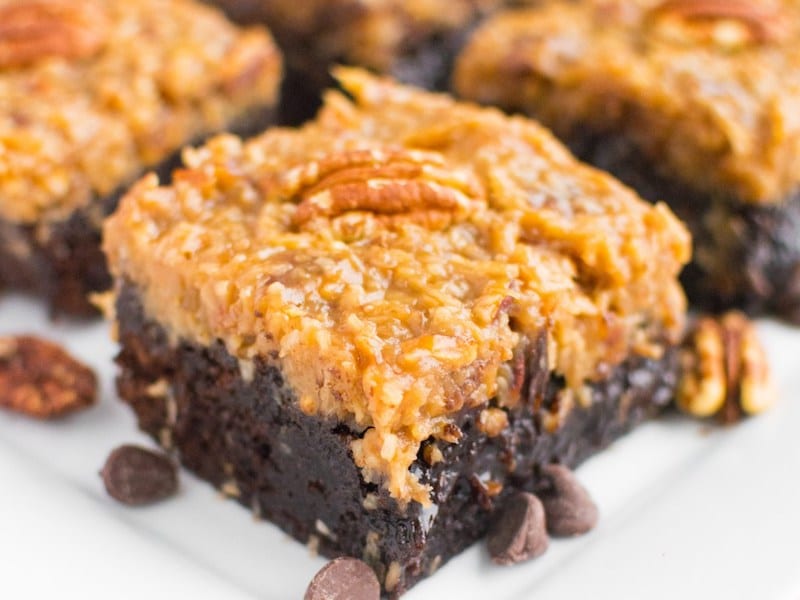 For me, a cheese board always looks the best when it's piled high with stuff; the more the better. If you want to be fancy, throw some herbs or cut lemons on there for visual appeal, and try to ensure a good mix of colors.
Pairing with wines.
And, of course, no cheese board is complete without some great wine to wash it all down. Dan and I tend to prefer reds, but a lot of people like whites, so it's important to have a selection of different wines available.
For this post, I paired with three gorgeous bottles of Folie a Deux wine: a jammy Zinfandel, a complex and fruity Cabernet Sauvignon, and a crisp Chardonnay. All three paired wonderfully with my selection of Castello cheeses, but my personal favorite was the Zinfandel – great mouth-feel, balanced acidity and tannins, and bright fruit flavors.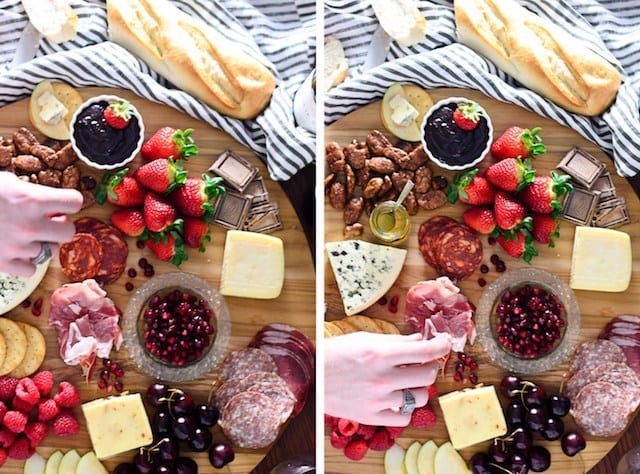 Want to try these wines for yourself? Good! Because Castello wants to send one lucky winner to Napa Valley, California to try some Folie a Deux wines! Click here to enter!
For another great cheese board addition, try this sweet and spicy carrot chutney.
Print

An Epic Valentine's Day Cheese and Chocolate Board
---
Description
Dark chocolate, salty meats, creamy cheeses, sweet candied nuts. Here is everything you need to create a sexy Valentine's Day cheese board.
---
ripe strawberries + raspberries + cherries
dark chocolate-chili ganache for some heat (also, for dipping fruits! See the recipe below)
candied pecans
granny smith apple slices
truffled honey (or regular honey)
pomegranate seeds
various cured meats
crackers + fresh bread
Castello Traditional Danish Blue cheese
Castello Jalapeño Havarti
Castello Aged Havarti
Dark chocolate-chili ganache
1

3.5oz bar of dark chocolate (I used Perugina, but you can use whatever you like)

1 tbsp

light corn syrup

¼ cup

heavy whipping cream + 1-2 tbsp extra (if necessary)

1 tsp

vanilla extract

½ tsp

ground cayenne pepper
---
Instructions
Arrange a selection of the items above on a large board.
Place items next to each other that go best together.
Serve with Folie a Deux wine.
Dark chocolate-chili ganache
Break up your chocolate bar into individual squares.
Place the chocolate squares, corn syrup, and ¼ cup cream in a microwave bowl or cup.
Microwave on high for 30 seconds, then stir.
Continue to microwave in 15 second intervals as needed, stirring after each time until the chocolate is smooth and melted.
If necessary (it usually is for me), add 1-2 tbsp extra cream and stir vigorously to smooth out your ganache until it is silky and pourable.
Stir in the vanilla and cayenne pepper.
Spoon ganache into a small serving dish/bowl.
Enjoy, with fresh fruits!
Tina Putzing
I am an attorney, a lover of reality television (esp if food is involved), a stress-eater, a voracious reader, and a shameless sci-fi/fantasy nerd. I love to eat, I love to cook, and I love to make other people eat what I cook.