If you have vacationed in the Austrian Alps, you may be aware that the dining experiences can be hit or miss – particularly if you visit off season when many restaurants are closed until the next tourist season.
By Sarah Lambersky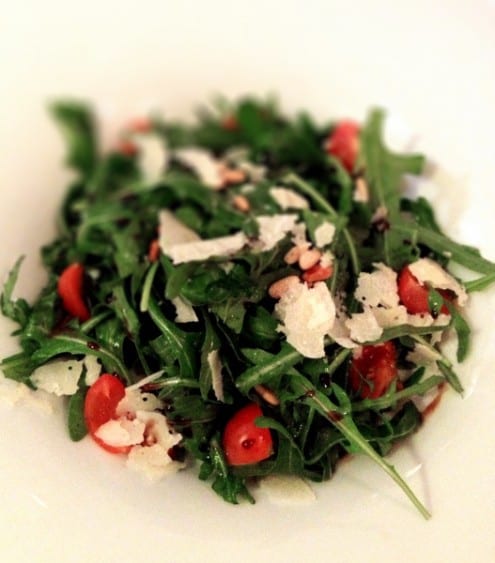 Throughout the network of towns and villages, one can always find a simple meal of pizza or schnitzel, but if you are looking for an experience that might surpass a college eatery or a smoky old hotel restaurant, the options are few and far between.
On a recent trip to the Alps, my husband and I decided to make a 1.5 hour detour to the Aqua Dome therme in the town of Langenfeld (Tirol).  We knew we would need to figure out a dinner option after our soak and steam and threw it up to chance to find a restaurant on the way home.
Don't ask what made me say "STOP" as we drove through the town of Oetz, but my Michelin-dar sensors lit up as we passed Il Giardino.  We parked the car outside of the apartment-hotel and walked inside the all white, French-Scandinavian, cosy dining room.  I saw the two big red Michelin nominated stickers posted on the door from 2008 and 2009- a good sign and a significant boost from all the pizza I've been eating over the weekend.  The restaurant and hotel is owned by husband and wife Peter and Christine Singer and has been around for 22 years.
We were one of four table that night (off-season) and had almost an entire section to ourselves.  We were seated in a sunken, garden room with sliding windows that opened on-to the outdoor seating (in nicer weather).  The room was dimly lit with candles, soft lights and decorated with framed black and white posters, a few plants and white orchids.
To start, we were served an amuse bouche of cooked beef in a jelly roll, a tomato puree and a fresh slice of baguette.  It was delicious and I am not one to scarf down a beef jelly roll.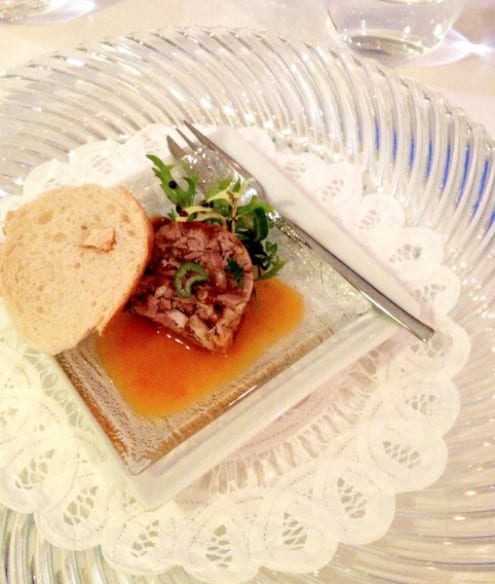 We both had the ruccola and Parmesan salad, a habit from earlier in the weekend.  Il Giardino's rucola salad was excellent.  It was spicy, salty and tangy all at the same time.  There was generous shavings of Parmesan and the pine nuts were perfectly toasted.
For our main courses, my husband ordered the pork schnitzel (he was sick of pizza) which came with sauteed cabbage, a homemade cranberry sauce and roasted cauliflower.
I was sick of pizza so I ordered pasta!  I chose the mascarpone and tomato pasta which was a little bowl of heaven. You could actually taste the acidity of the tomatoes among the creamy mascarpone cheese.  Typically it is all cream and no tomato.  The flavours were very balanced and very satisfying.  I devoured the entire mound of pasta.  When pasta is cooked by a top chef, it tastes extra good.
To finish, we had espresso and tea and could not resist an ice.  Over the course of our weekend in the Alps, at every restaurant we ate at, we saw order after order of ice cream sundaes coming out of the kitchen.  We figured if we were going to have ice cream on the trip, it might as well be here.
We chose the 'Nutty' ice cream which came with two very long spoons to scoop out cashew and walnut ice creams topped with whipped cream and a tart raspberry sauce.
At the end of the meal, Chef Wolfgang Scalet even popped his head out to say hello.  What a wonderful treat after a weekend of mediocre dining.  I could not recommend this restaurant enough if you happen to be passing through this part of the world.  You will not be disappointed.
Il Giardino,
Hauptstrasse 86,
A-6433 Oetz, Austria
www.ilgiardino-oetz.com
Sarah Lambersky
Sarah Lambersky was born in Toronto, Canada and caught the travel bug early on in life. She has had the opportunity to live in Hong Kong, Shanghai, Beijing, New York, Prague and currently resides in Copenhagen, Denmark. Sarah is the co-founder and editor of Countlan, a quarterly digital magazine dedicated to exploring how people all over the world entertain at home and lectures undergraduate marketing strategy courses.