Bria Helgerson stopped trying to de-glutify recipes, and instead went for naturally gluten free foods for the cabin weekends with her girlfriends. Enter Valrhona.
By Bria Helgerson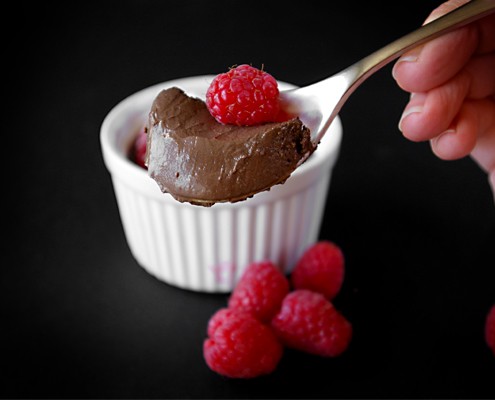 I have this friend. She is a mom-to-be, a teacher, and an overall wonderful person, oh yes, and she is allergic to gluten. Why should this be important? Well, I suspect like many of you reading this, our get-togethers with friends have a tendency to center around food. We plan all our meetings around what we will be cooking, who's making what, and how many calories we can safely stuff into our bellies during the allotted time frame. It has been this way for years and years, since we all found an appreciation for good food and drink. You know, since we graduated from Funyuns and Mountain Dew to caramelized onion crostini and Sauvignon Blanc.
Maybe because I claim to know my way around the stove, or maybe because I am a total control freak, I have been in charge of the main meal for our bi-annual cabin weekends for the past four years or so. When my friend found out she had celiac disease, we all tried to cater to her special dietary needs throughout the weekend. The first year was a little rough. I found myself squeezed into a tiny five foot by five foot kitchen, preparing two pasta dishes and two gluten-free "pasta" dishes. I ended up with two potfuls of tomato flavored disintegrated gluten-free pasta mush, and about three hours of dish washing ahead of me. The next year I produced a three layer lemon pistachio gluten-free birthday cake, which tasted lovely, but was as dense as a brick.
Over the years, I have learned from these gluten-free disasters, and have changed the way I approach cooking for someone with a dietary restriction. Instead of picking a recipe, then adapting it to suit my needs, I now try to seek out naturally gluten-free foods to feature in my meals. Fresh vegetables, rich cuts of meat, cheese-laden potatoes, savory rices and grains…how hard can it be to plan a gourmet meal when you have all this at your disposal? Soon, it became a pinch to plan a completely gluten-free meal that we can all enjoy, with no substitutions, and no sacrificing.
This year, I finally applied this approach to dessert. Rather than making a tart shell or pastry with all kinds of crazy rice and spelt flours and xanthan gum, I sought out a dessert that was already gluten-free. I needed something that would be the crowning touch on a lobster dinner, something rich and decadent, where no one would miss a flaky, buttery pastry dough.
Enter Valrhona Chocolate Pots De Crème. These are really simple chocolate custards, just kicked up a notch or two with the addition of some of the best chocolate in the world. Featuring one single, amazing ingredient can be a great way of simplifying a dish when there are dietary restrictions at play. The taste of the Valrhona custard is so intense and deep, the gluten-free gal and the rest of the party, never even noticed the lack of flour that is usually so noticeable in american desserts. The most important part though was ending the meal with full bellies, happy hearts, and memories of time well spent with wonderful friends.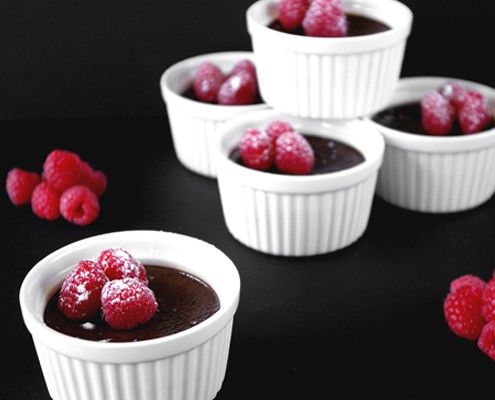 Dark Valrhona Chocolate Pots De Crème
adapted from Cinnamon Spice and Everything Nice
makes 8 individual custards
1 1/2 cups (355 ml) whole milk
1 1/2 cups (355 ml) heavy cream
2/3 cup (1,56 dl) sugar
6 ounces (170 grams) dark Valrhona (or any other brand high quality) chocolate, chopped
6 egg yolks
1/4 cup (0,6 dl) Dutch-processed dark chocolate, sifted
1/2 teaspoon cinnamon
1 teaspoon pure vanilla extract
1/8 teaspoon salt
In a medium sized saucepan, over a medium-low flame, heat the milk, cream, sugar, and chopped chocolate, whisking constantly, until chocolate is melted and sugar has dissolved, and comes to a simmer.
While this is heating, combine the egg yolks, cocoa powder, cinnamon, vanilla and salt in a large bowl.
Preheat oven to 325°F (160°C).
Once the cream mixture is at a simmer, it's time to temper it into the egg yolks. Pour a small amount (about 1/4 cup) of the hot chocolate milk into the egg yolk mixture while whisking constantly. Repeat this process two or three more times, whisking constantly, until you have a hot, loose, liquid mixture. While whisking, slowly pour the remainder of the chocolate milk into the yolks, and stir until completely incorporated.
See Also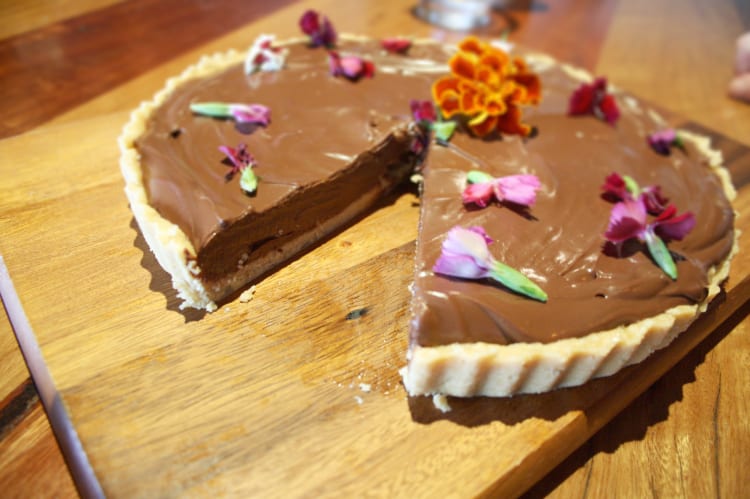 Pass the liquid through a fine mesh strainer into another bowl, or a pitcher for easy distribution into the ramekins. Arrange eight ramekins on a baking sheet and fill each one about 3/4 full with the custard mixture.
Place the baking sheet on the middle rack on your oven, and carefully pour hot water into the sheet pan, filling it as full as possible, without overflowing. Bake custards for 35-40 minutes, until they are set. They will have a uniform, even jiggle when done, meaning the center should move just as much as the outer rim when jostled.
I have found that the easiest way to remove the custards from the oven is to use tongs to remove each ramekin separately, then turn off the oven, leaving the sheet pan full of water in the oven until it is cool. This way you wont have to try to carry a large sheet pan full of 325 degree water across your kitchen.
Let custards cool for about 20 minutes, and then refrigerate for a few hours, or optimally overnight until completely set and chilled.
For best results, top with fresh raspberries and freshly whipped cream, and serve in good company.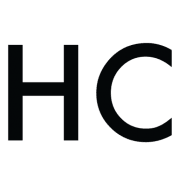 Bria Helgerson
Bria Helgerson is a Chicago based food blogger and pastry school student. Lover of all things sweet and savory, she cooks, bakes, and blogs as she navigates her culinary life at her website These Peas Are Hollow.