A Southern Table: Pumpkin Bread
This spiced pumpkin bread, studded with dates and walnuts, is a delicious for breakfast or snack. It can be served plain or toasted with butter or apple butter.
By Laura Davis
It is the beginning of Autumn in the Northeastern US.  The trees have just barely begun to change so it is not really noticeable yet.  It is still raining a lot and very warm and muggy for this time of the year, so it doesn't feel like Fall.  Even though it does really look or feel like Fall, the pumpkins have definitely made a showing at the farmers markets and each week there is another variety.  I love fresh pumpkin but rarely use it in baking or pies because of the time it takes to prepare it.  We usually roast or bake fresh pumpkin and prepare it as a savory dish and there is usually very little left over for anything else!  I should probably plan for leftover pumpkin because it would be perfect for pureeing the next day.
Pumpkin bread is one of my very favorite treats of the fall.  I have been making this recipe with a few tweaks since my kids we very young.  This recipe is adapted from Joy of Cooking  1997 edition which is the same recipe as the 75th Anniversary edition, 2006.  I just happened to have both editions.  Can one ever have enough cookbooks?  My husband would definitely answer YES, but enjoys the results of their contents.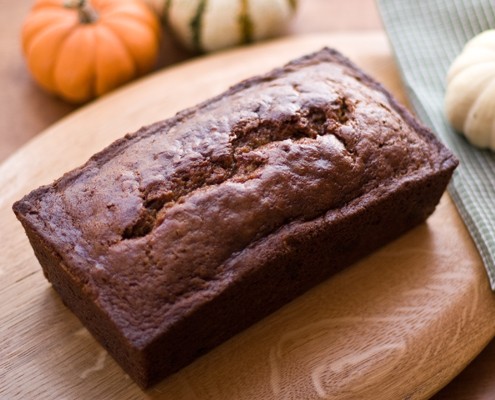 A Southern Table: Pumpkin Bread with walnuts and datesL
This spiced pumpkin bread, studded with dates and walnuts, is a delicious for breakfast or snack. It can be served plain or toasted with butter or apple butter.
Ingredients
¾ cup (75 g) all purpose flour, unbleached
¾ cup (90 g) white whole wheat flour
1 teaspoon baking soda
¼ teaspoon of baking powder
1 teaspoon salt
1½ teaspoons ground cinnamon
1 teaspoon ground ginger
½ teaspoon grated or ground nutmeg
¼ teaspoon of cloves
⅓ cup (78 ml) milk
½ teaspoon vanilla
⅓ cup (78 ml) canola oil
¾ cup (144 g) white sugar
⅓ cup (66 g) dark brown sugar
2 large eggs
1 cup (180 g) canned pumpkin or homemade pureed pumpkin
½ cup (58 g) chopped walnuts (or pecans, 60 g), lightly toasted
⅓ cup (50 g) chopped dates (or raisins, 50 g)
Instructions
Mix all the dry ingredients (including spices) together in one bowl. Mix the milk and the vanilla together in another bowl or container.
Mix the sugar and the canola oil in a mixer until it is completely blended. This will take about 2 minutes on medium speed.
Add the eggs one at a time. Add the pumpkin and blend well.
Add the flour mixture in thirds alternating with the milk, starting and ending with the flour mixture. Mix until just blended. Stir in the nuts and dates.
Place in greased 9 X 5-inch loaf pan and bake at 350 degrees for 1 hour or until done (my loaf took 1 hour and 15 minutes). Test for doneness with a bamboo skewer or toothpick, when it comes out clean or with just a few crumbs the loaf is done. This is a very moist bread.
Let the loaf rest in the pan for 10 minutes or so. Remove from pans and place on cooling rack for 30 minutes before slicing.
Notes
Plain is how I like it but toasted with butter or apple butter is divine. And if you have a maple flavored spread, I don't know how that could go wrong! YUM. This recipe originally had 1 cup of granulated sugar (192 g), so if you like a sweeter bread then use this amount but I like a less sweet bread and I think the other flavors come out better with this version. This recipe can be easily doubled and the second loaf frozen.
Laura Davis
Laura Davis is the author of the blog Sweet Savory Planet and has a life long culinary passion with southern roots originating in her home state of Alabama. She has a degree in nutrition from University of Texas at Austin.