Traditional New England clam chowder, inspired by James Beard, with salty pork and creamy broth.
By Dawn Myers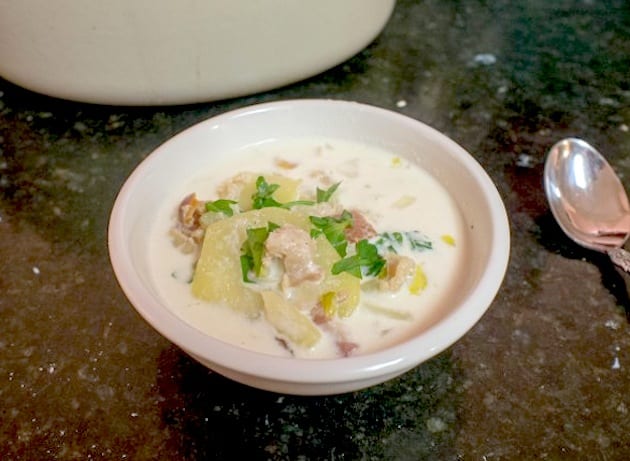 I vividly remember the moment when I, as a child, ordered Clam Chowder at a restaurant and something very much not New England Clam Chowder was put in front of me: Manhattan clam chowder. For the longest time, I just thought it was me who found the Manhattan version awful. When searching for a recipe to try for New England Clam Chowder, I came across James Beard's opinion on the Manhattan Version. In his introduction to Miss Farmer's Recipe for Rhode Island Clam Chowder his American Cookery:"This is the closest bridge I have found to that rather horrendous soup called Manhattan clam chowder. It is a sensible recipe and takes away the curse of the other, which resembles a vegetable soup that accidentally had some clams dumped in it."
Traditional clam chowder has the following narrative: Cook clams, chop clams, reserve cooking liquid. Render fat from salt pork, sauté onions in salt pork fat. Parboil potatoes for 5 minutes. Arrange onions in the bottom of a heavy sauce pan and top with a layer of half of the potatoes. Add the salt pork pieces, chopped clams, second layer of potatoes and salt and peppers. Cover with boiling water and cook. Add scaled milk, bring to a boil, add crackers soaked in milk and the reserved clam liquid. Lastly, add a bit of flour and butter that have been kneaded together, return to the boiling point and serve. You can find the above version in Fannie Farmer and other famous New England cookbooks. I agree with James Beard that it appears this recipe allows the clams to cook for too long. So, I came across a little recipe in Beard's American Cookery that seemed easy, yet captured the spirit of the New England Clam Chowder. The recipe below was inspired by Beard's "My favorite Clam Chowder" recipe from American Cookery.

New England Clam Chowder
Ingredients
3 slices of thick slab bacon
1 medium onion, finely chopped
2 stalks of celery, finely chopped
2 cups of water, salted
2 medium potatoes, thinly sliced
Salt and Pepper
1 pound frozen clam meat with frozen clam juice (or cooked clam meat with juice)
3cups heavy cream (may substitute half and half)
Butter
Thyme
Chopped parsley
Instructions
Cook the bacon in a sauté pan over medium heat, until fat is rendered and bacon is crisp.
Remove bacon and add the onion and celery and sauté until translucent, or just slightly brown and remove from heat.
In a 4 quart sauce pan, bring the salted water to a boil. Add the potatoes, cooking until just tender.
Add the bacon, onion, celery, salt and pepper to taste, and the clams and heavy cream, simmering until the clams are no longer frozen. Bring to a boil and remove from the heat.
Correct the seasoning.
According to Mr. Beard, serve with a "dollop of butter, merest pinch of thyme, and a bit of chopped parsley".
Dawn Myers
Wife, mother of 2 lovely children, MBA, lawyer, bureaucrat. I adore reading old cookbooks and am endlessly inspired by their simplicity, economy, and true connection with the food being prepared. My blog explores "historic" recipes and more modern recipes that embody the same ideals.