Alex and Stacy, the Meringue Girls, have taken London by storm with their light meringue kisses.
By Reena Pastakia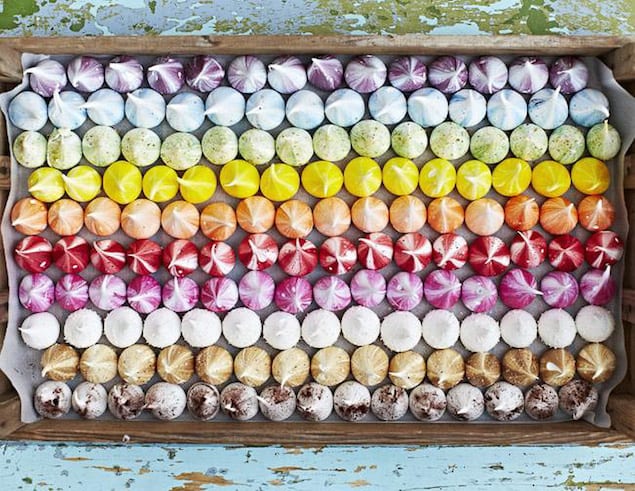 Alex and Stacey met whilst working as chefs in a hot kitchen in Hackney, East London.  They bonded over their love of food and set up the Meringue Girls.  They have taken London by storm and sell their beautiful meringues kisses in Harvey Nichols and Selfridges as well as their own bakery and various street food events.
 Why did you choose meringues?
Cupcakes had had their time and we were looking for the new sweet treat. We decided to make meringues cool again by handcrafting the best meringues you have ever tasted – mallowy in the middle with a melt in the mouth texture.  They are hand-piped, bite-sized and gluten free – what's not to love?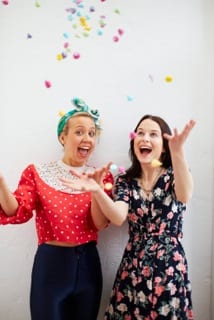 You are like the Willy Wonkas of the meringue world with flavours including candy cane, watermelon and my personal favourite gin and tonic.  Where do you get the ideas for new flavours from?
We are always experimenting in the kitchen with new flavours.  Meringues are quite temperamental things, so that's probably why most people have just stuck to simple flavours in the past.  We have always had keen eyes for colour and design, and this is where we draw most of our inspiration. We keep on top off all the latest colour and flavour trends in the culinary world, as well as drawing on flavours from our childhood.
What are your favourite flavours?
Ooh there are so many.  That's a difficult question.  I would say the Manuka Honey.  We fly the Manuka honey powder in from New Zealand and it reminds me of home.
What are your top tips for making excellent meringues?
Our top-secret method is to spread the sugar over an oven tray and heat slightly in the oven, just until the edges begin to caramelise.  Only then do you add it to the egg whites.  The result is beautiful melt in the mouth meringues every time. Using good quality ingredients really pushes your meringues from ordinary, to extra-ordinary.
 What's coming up next for you both?
Lots of exciting stuff – most of which I can't tell you about but we have a new book coming out in the spring and are hoping to open a franchise in New York!
The Meringue Girls support Sound Seekers, a small deafness charity working in Africa.  Find out more here:  https://www.justgiving.com/hearinmalawi/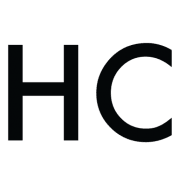 Reena Pastakia
Reena grew up thinking Indian cooking was a dark art where the quantities of spices required in each dish were innately known to a chosen few. It was only after she married an Englishman with a voracious appetite for Indian food that she started phoning home for cooking tips. She started her blog (coconutraita.com) in an attempt to document her family's recipes and make Indian cooking accessible to all.