PARTNER POST: Explore new and surprising ways to incorporate potatoes into your favorite recipes.
Try this quick and satisfying bowl of vegetarian miso ramen with a twist of potato noodles.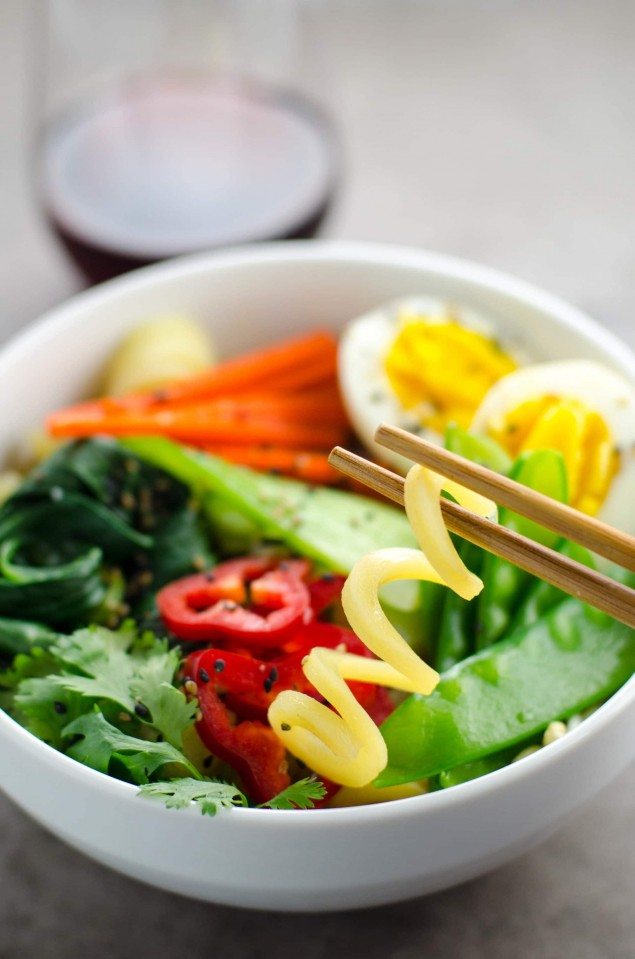 I'm 25% Irish and 100% fond of potatoes, so if my math is correct there's a 75% chance that these numbers are irrelevant to the point I want to make here. The point is: potatoes are a healthful, inexpensive and super flexible ingredient. I knew that. You knew that. But maybe you didn't know that you can even make a fun, satisfying and veggie-packed twist on ramen in 30 minutes with spiralized potatoes standing in for noodles. I said SUPER flexible, and I meant it.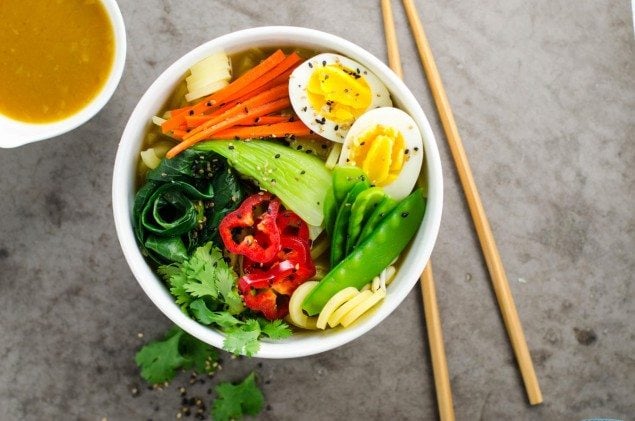 The savory vegetarian broth for this ramen packs a whole lot of flavor into 30 minutes, and I got maybe a little obsessive about assembling a beautiful rainbow of colors and textures into one bowl. We really enjoyed this combination of veggies, but you can swap them in and out to suit your tastes and the contents of your fridge.
For the potato noodles, you've got two options: give them a quick boil in salted water like you see in the photos, or go totally rogue and roast them to crisp, tender deliciousness. I won't say you'd be adding curly fries to your soup if you used the second method, but I won't say it doesn't maybe a little bit TASTE AWESOMELY like you put curly fries in your soup, so. Up to you.
See Also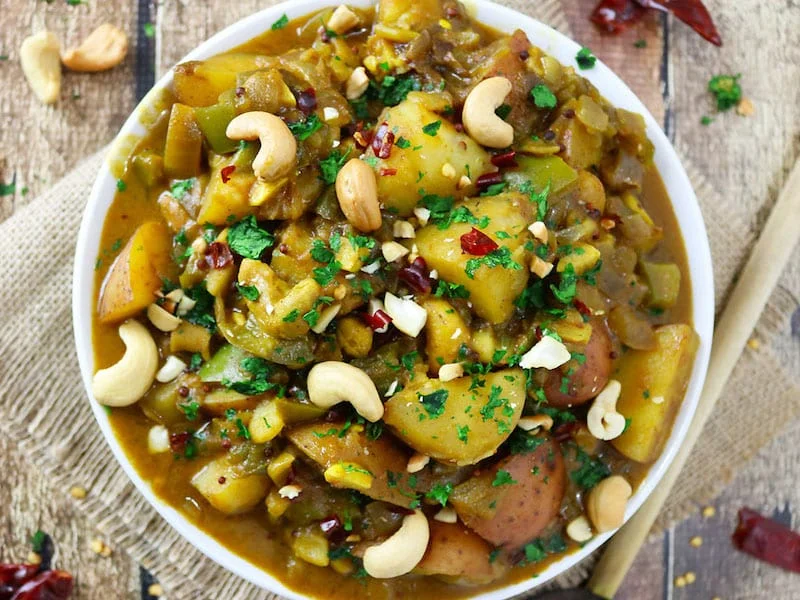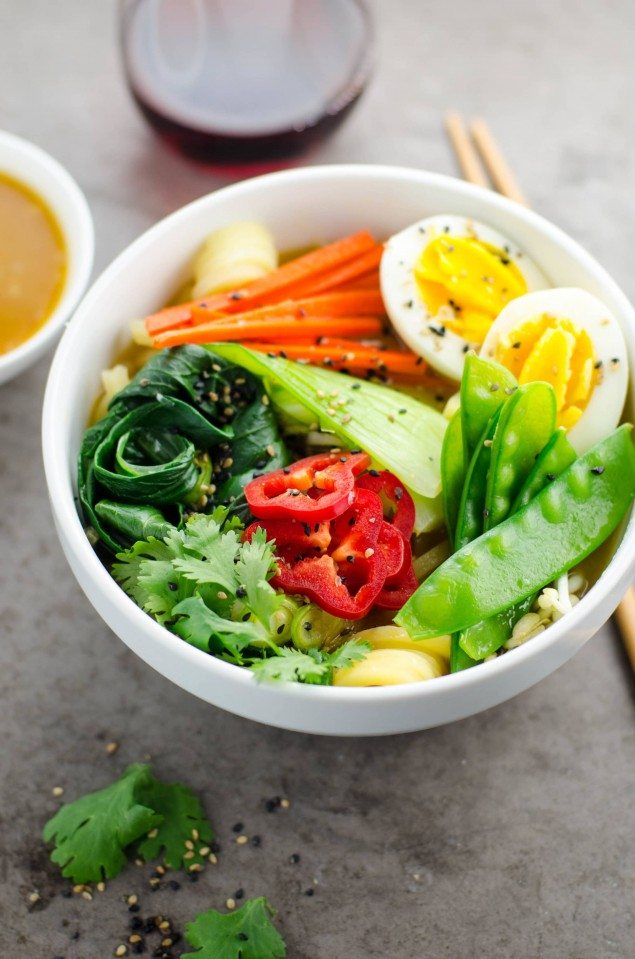 Here's a recipe video for potato farl bread. Farl is the flatter style of soda bread that hails from what is now Northern Ireland. This recipe tops it with lobster and garlic butter, so just go ahead and try to get that out of your head next time you get hungry. Written recipe here.

Print
Author:

Carolyn Cope

Prep Time:

16 minutes

Cook Time:

15 minutes

Total Time:

31 minutes

Yield:

4

servings

1

x
Cuisine:

Vegetarian
4

medium Yukon Gold potatoes
For the broth
2 tablespoons

butter

1

large shallot (minced)

2

garlic cloves (minced)

½

– inch piece ginger (peeled and minced)

6 cups

low-sodium vegetable broth

3 tablespoons

reduced-sodium tamari

1 tablespoon

mirin (Japanese rice wine)

2 tablespoons

white miso paste
For the ramen bowls
4

eggs

8 ounces

bok choy (root end trimmed)

2 cups

snow peas (trimmed)

1

medium carrot (cut into matchsticks)

1

red Anaheim pepper or ½ red bell pepper (sliced)

½ cup

bean sprouts

½ cup

cilantro leaves

2

medium scallions (thinly sliced)
To garnish
Gomasio (Japanese sesame seed and salt blend)
Toasted sesame oil (with or without hot chili)
Lime wedges
Instructions
Fill a large bowl halfway with cold water. Peel the potatoes and spiralize them with a medium-sized blade according to manufacturer instructions. Submerge spirals in water and set aside.
In a medium pot, melt the butter over medium heat. Add the shallot, garlic and ginger and cook, stirring occasionally, until softened, about five minutes. Pour in the broth, raise heat to high, and bring to a boil. As soon as the broth boils, cover and reduce heat to maintain a bare simmer.
In a small bowl, whisk together the tamari, mirin and miso until smooth. Set aside.
Meanwhile, bring a large pot of water to a boil, then reduce to simmer. Carefully lower the eggs into the water and simmer for seven minutes. Remove eggs with a slotted spoon and set aside to peel and halve when slightly cooled.
Bring water back to a rolling boil. Add the bok choy and cook for two minutes. Remove to a large plate. Add snow peas and carrot matchsticks to pot and cook for 30 seconds. Remove to plate.
Add two tablespoons salt to the boiling water. Cook potato spirals for about three minutes, until just tender. Divide potatoes among four bowls.
Remove broth from heat and whisk in the tamari mixture. Ladle some broth over the potato noodles in each bowl.
Top each bowl with little piles of bok choy, snow peas, carrots, peppers, bean sprouts, cilantro and scallion, along with two egg halves. Sprinkle with gomasio and sesame oil. Serve immediately with chopsticks, a big spoon and a lime wedge on the side.
Notes
Use a spiralizer to get these perfectly shaped noodles.
For a fun twist, instead of boiling the potato noodles you can toss them with two tablespoons vegetable oil, sprinkle with salt and divide between two large baking sheets. Bake at 400°F for 20 minutes, tossing carefully with a spatula and rotating the pans after 10 minutes. The potato noodles will be crisp on the outside and tender on the inside.
To make it vegan, replace the butter with vegetable oil and omit the egg. Replace with shelled edamame or sliced tofu if you like.
Carolyn Cope
Carolyn is the voice behind the popular blog Umami Girl and writes frequently for other food-related publications. Equal parts live-to-eat and eat-to-live, she holds certificates from both the French Culinary Institute and the eCornell Plant-Based Nutrition program. Carolyn has lived and worked in New York and London and currently resides with her husband and two daughters in a sweet little seaside town in New Jersey.